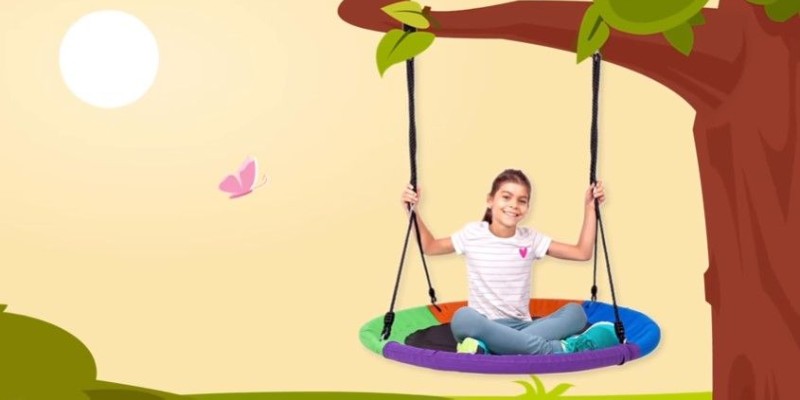 By intellectually designing and decorating with some attractive and eclectic add-ons, you are ought to transform your garden into a delightful place.
To engage your kids and also to replenish your childhood memories, coming up with creative yet budget-friendly ideas that help to sparkle an intense, eternal relationship with nature requires some skill set.
Thus, we have simmered down the list by combing up a bunch of ideal tips to making your garden kids friendly. We hope these innovative, budget-friendly ideas and tips come into great use in decorating and re-kindling the child within you too! Read on:
1. Install a "surprise" element that your child loves
Sitting for hours to feed your cranky, naughty little monster can be quite overwhelming. Instead of falling a "prey" by stepping into the so-called digital world, try something fun, something interesting.
Add in a kid-friendly element such as a hammock or a saucer swing in your garden. Well, this lets your kid occupied and thus giving you quite some time to linger your relaxation!
Thus, you can feed your kid without having to make them seem like a punishment, and take some time out of your never-ending house chores!
2. Introducing the art of planting
This does not demand a larger space or fancy decor. Introducing them to get in touch with the magic of mother nature is something that every child (be it of any age) is a must.
Let them sow the seeds of a plat, water the seed, and watch the plant grow. By doing this, you are not only getting them closer to nature, but also enriching their knowledge about the art of planting.
It's so soothing to see a sprout emerging from the seed that you made your child stick in soil. Watching the sprout grow tall into a healthy plant is something that your child is excited for! Gift him/her the wisdom. Gift him/her the reality.
3. How about having a vegetable garden?
Does this excite you? You are the one that your child is going to imitate. So, be careful f what words or action you are up to!
Show some interest in cultivating a habit of spending a couple of hours nurturing your vegetable garden. It doesn't need to be fancy; it doesn't need to be expensive (unless you want them to be!).
If you want your edible garden to be replanted or you are starting from scratch, in, either way, involve your kids in every step in the process.
Take them to the nursery, have them choose the seeds or plants for vegetable and herbs. This gesture is likely to spark a little joy in every kid. Thus, they voluntarily start to enjoy the rest of the process.
Be it planting, watering, weeding, or harvesting, your kids will just love to be a part of this lovable and delightful art!
Secret bonus:
If your kids are cranky when it comes to eating vegetables, then, having them grow the vegetables of their choice can make them less cranky and more desirable to have to eat the vegetables they grew!
4. Hand them a project of their own
Having kids own up a certain garden project can strike up curiosity and interest in gardening. Start by asking them to create some plant labels for all the vegetables and herbs that you have in your garden, ask them to water the plants every week.
These facts let them think that they too have helped in nurturing the plants and also they will know the plant names and how much water will suffice for those particular plants to thrive.
5. Reaping something sweet
Well, most children love to eat sweet dishes. Know what excites your child and plant the same in your yard.
Take some time out of your daily routine and spend some time with your child by playing, running around, and eating the fruits and berries from the trees you planted in your yard.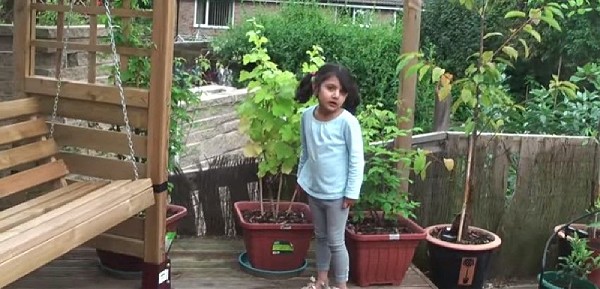 Get them in touch with how exactly the world outside the "inside" feels like! Now, this will get them out of their TV, video games, smartphones, and other deadly gadgets!
Having them watch and observe you plucking the ripened fruit will help them recognize the difference between the same.
6. Decorating your garden with an attractive bean teepee
Having this beautiful and natural decor to your edible garden will give your child a reason to hop into the garden during their playtime.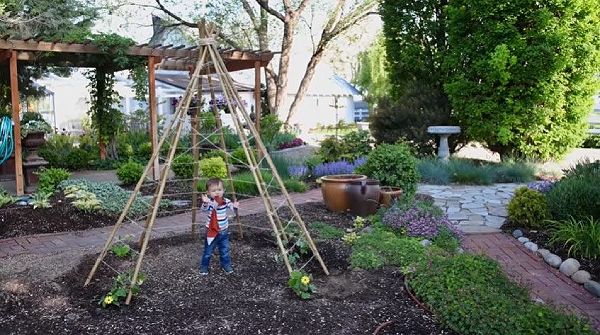 You can create an outdoor playroom for your little one by simply laying out the bamboo stakes forming a raising semi-circle. You can make it more luring by letting the garden twine wrap the top of the bamboo stakes.
By leaving a section as the entrance, you can turn a trellis into an attractive, playful teepee!
7. Show some love on "Fauna" too
Enrich your child's knowledge by letting them know about wildlife creatures too. Be it birds, rabbits, butterflies, lizards, or deer. Help them recognize the species, pronounce their names, and let them know what they consume as their food.
It's not about how much effort you put in while planning, decorating, or re-organizing your garden. It's all about how effective it is to spend some time in it by playing, hopping, running around or simply relaxing in the place that you and your child created. Together!