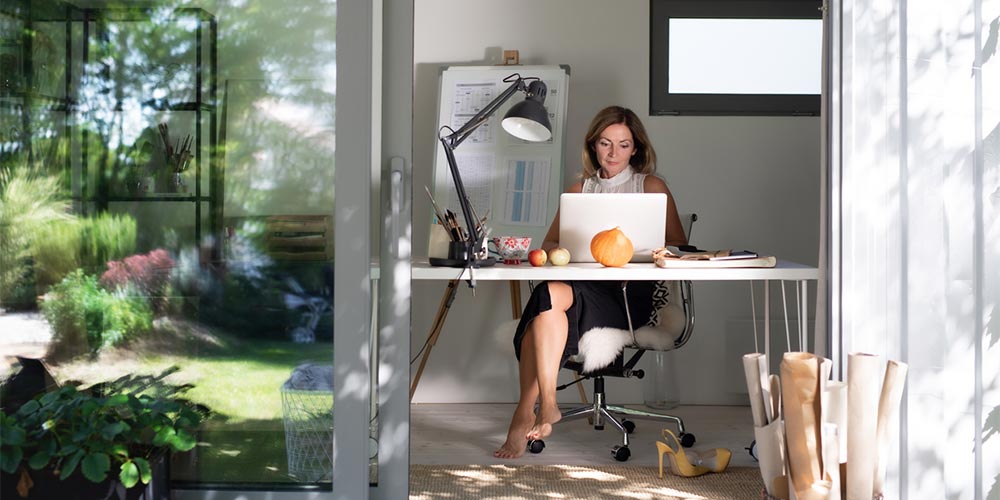 A garden room is a separate living area located in the garden. It offers a multi-functional space with furnishings and versatile designs ideal for storing items, or simply maximising your outdoor living space.
Whether you want to convert your Surrey garden room into a garden office, a garden gym, or a garden games room, they can all be excellent additions to your home.
In this article, we have compiled a list of 10 unique projects that will help transform your garden room from an unused space into a functional, beautiful area!
Garden Pub
With the rise of home pub culture, people are turning to garden rooms for their unique and cosy atmosphere.
A garden pub is a small room that is designed to resemble a traditional British pub. Garden pubs aren't meant for large groups; instead, they're best used as private social spaces where one can drink a nice and cold beer in their garden.
A garden pub is one of the best ways to spend time outside while also enjoying fresh food and drink without leaving your home!
Garden Office
Who doesn't enjoy the freedom and flexibility that comes with working from home? Working from home is an excellent option for those who dislike commuting, want to spend more time with their families, or wish to devote more time to their hobbies after work hours.
However, not many homes have a dedicated space for one to have their own office. Making use of a garden room by converting it into a garden office is an excellent solution to this problem!
Garden Studio
A garden studio is ideal for hairdressers, beauticians, chiropractors, and other professionals who want to welcome clients from the comfort of their own homes.
What's better than having a dedicated space to see your clients, away from the chaos of the city centre?
Besides, keeping the studio separate from your home allows you to decorate it however you want without having to match it to the rest of your home's decor!
Storage Room
Is your house starting to feel a little cramped? Well, don't worry, because using your garden room as a storage area is an excellent and practical way of using this space.
You could store a range of things such as toys that your children no longer play with, garden tools, memorabilia, and more.
The days of throwing stuff out of the house in search of extra room are over! A garden storage room is all you need!
Garden Gym
Wintertime can make going to the gym a chore. You need a lot of willpower to venture outside when it's so bitterly cold!
Nonetheless, staying active is extremely important, and having a garden gym may be the answer to your winter struggles.
As a bonus, you'll get to keep your body in shape without having to pay for a gym membership!
Setting up a garden gym in Surrey is a great way to stay fit all year long in the privacy of your own home.
Children's Playroom
Parenting is a wonderful experience, but we all know how much room kids need to play with their toys! In fact, children get spoiled with so many toys that it can be challenging to store them all in the house.
A garden playroom can offer kids a safe and exciting environment to enjoy themselves, play, relax, and even host birthday parties! It's a place where your child's imagination can run wild.
What's more, you will be able to enjoy some quiet time as well, and you will no longer have to worry about tripping over toys that have been left in the middle of the floor!
Guest Room
Does your house lack a spare room where guests can spend the night? Perhaps you should consider converting your garden room into a guest room.
With the proper insulation and decor, you will be able to provide a comfortable and private space for family and friends to enjoy for free.
You could also install a toilet to give them even more privacy!
In addition, if you ever decide to sell your home, the garden guest room will be counted as an additional bedroom, thereby increasing the value of your property.
Art Gallery
If you are a collector, a garden room can be the ideal place to store all types of artwork, from sculptures to paintings.
Having a dedicated area where you can enjoy your collection while sipping on a good cup of coffee is the best thing you can do for yourself.
Besides, owning your private art gallery is something you will definitely be able to brag about to your friends!
Garden Music Studio
If you're a singer, musician, or producer, you know that the acoustics in your home can never compete with those in a music studio.
Music studios are equipped with padding on the walls to give a controlled response to sound, ensuring that the environment does not become acoustically dead.
In addition to having a designated space for music, a garden studio will provide you with adequate acoustics and the privacy you require to compose your music.
It may seem like a significant investment upfront, but it will pay off in the long run!
Garden Airbnb
Are you looking for a way to earn some extra money from the convenience of your own home? If that's the case, setting up a garden Airbnb can be an excellent way to turn an unused space into a profit-making haven for you and your family!
Whether you live near the beach or in the heart of the city, you could earn £70 per day or more by renting out your garden room.
You can personalise it to include as much or as little character as you like while still providing your guests with the comfort and privacy they need after a long day of sightseeing.
FAQ
Can I put a hot tub in my garden room?
Garden rooms can be transformed into year-round retreats with the addition of a hot tub. In fact, there are numerous benefits to doing so, including protecting the hot tub from adverse weather and enjoying your spa while maintaining your privacy.
All you need is the appropriate insulation, and you'll be able to use your hot tub at any time of year!
Do you need planning permission for a garden room?
It's common for garden rooms to be built without planning permission. Garden rooms are considered outbuildings, so constructing one is usually not a problem.
You will, however, require permitted development rights, which you may not have if your home is a listed building. Always double-check with your local planning office to ensure that you're following the rules.
Do garden rooms add value to a house?
Some people choose to extend their home in order to increase its value. Full-fledged home extensions, however, are costly and take several days to complete. A garden room allows you to add extra space to your home for a lower cost and with minimal disruption.
Additionally, if you decide to put your home on the market, a garden room will be very enticing to potential buyers. Furthermore, it can add between 5% and 15% to the value depending on size and quality.
What's the difference between a conservatory and a garden room?
What distinguishes the two is the fact that conservatories are attached to your home, while garden rooms are built as separate, stand-alone structures in the garden.
In addition, while most conservatories are made of uPVC and glass, a garden room is generally made of wood and other materials.
Can you use a garden room as an office?
Yes, garden rooms can be transformed into a lovely office space. Working from home is becoming increasingly popular, so setting up your office in the garden room can provide you with the opportunity to work from the comfort of your own home and avoid the commute. After all, working in an office that's overflowing with distractions isn't the best way to get things done!
How long does it take to build a garden room?
Building a garden room can take anywhere from one day to one month! Garden rooms can be constructed in a relatively short period of time due to their modular design.
In fact, most garden rooms are built off-site, then transported to your home in sections and reassembled. Some suppliers construct their garden rooms on-site from the ground up; this will, of course, mean that the garden room will take longer to build.
Conclusion
A garden room allows you to enjoy your outdoor living space at any time of year. They are perfect for entertaining family and friends, as well as a place to play with your children or read a book. Transforming your garden room in Surrey would be an excellent addition to any home. So what are you waiting for? Go ahead and unleash the DIY expert within you!