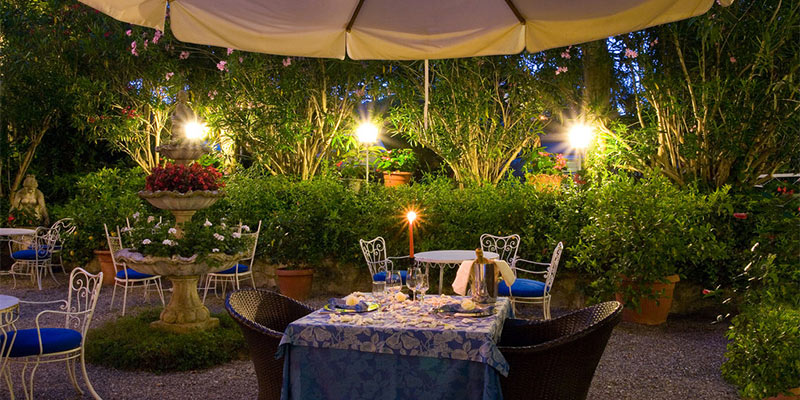 How we love beautiful gardens. Whenever we plan an outing, especially a romantic one, a possibility of spending some peaceful time in a garden, filled with vibrant flowers and lush greenery, increases our excitement multiple times.
Nature has a deep and meaningful effect on us. We can easily picture ourselves having a lot of fun while close to nature. The sound of running water, the music coming from countless rustling leaves, the tangible beauty of thriving nature and the chirping sound of birds, everything invites us in. They don't say it for nothing, "HEAVEN IS A GARDEN".
So why not create a heaven of your own. Especially when it's easy and viable. Having a garden at your door-step holds many merits. Lots of additional beauty to your place, the sense of peace nature brings with it, the omnipresent smell of freshly bloomed flowers and a perfect retreat from outside world whenever you want, especially when you don't have a mood or enough time to go out.
Let's have a quick tour on how you can create a personal garden of Eden at your own home, without much effort and investment. This idea works with all kind of houses, like- apartments, small independent houses, bungalows and so on.
The beginning by Choosing The Perfect Space- If you get to use the whole garden area its good but it's not necessary. We use our garden for parties, lunches, birthday celebrations play dates and so on. By choosing a special corner for our fantasy garden, we can all have what we want without disturbing each other's life. First of all, choose a spot which is easily accessible from the house, yet, not a much-used path by kids. Although a big area has its own attractions yet to maintain a bigger area, you would need some extra help. For a smaller area though, you yourself can take care of everyday maintenance. Plus, not that everyone has a big garden area.
Try to create complete privacy by separating it using some temporary outdoor partitions. This way, you can use the garden both ways-socially and personally. In case you are having a private party or birthday party remove all the partition and when you are in a mood of some peaceful quality time with your partner put in the partitions again and your cocoon is ready in no time.
Go With Your Heart– Trends can say many things and sometimes can represent a completely different idea from your heart's wish. Always go with your heart. Trends can misguide you by pushing you towards something completely opposite to your nature but your heart won't do that.
Experiment In plants- While creating our garden, we try to get a lot of flower plants to add more colours and variety. Flower plants are surely a great idea but these small fragile babies need a lot of care. Thus, in a garden where you are putting a lot of plants, small flower plants can make you work extra hard in staying healthy.
Instead of these, if you choose plants with vibrant leave colours like- Sugar Maple, Red Maple, Black Tupelo etc. or flower pants but big and sturdy ones like- Cassia fistula, Bauhinia, Saraca Asoca etc. your targets would be achieved without much trouble. You would be surely having a lot of colours in your garden without much work. To cover the area on the ground, some other plants like Ferns, Black Scallop Bugleweed, Candytuft and Liriope would be more easy to maintain.
The important point to consider before choosing the plants- Don't choose any plants with a lot of thorns in it. I would be "a hard to forget" incident if your partner's arm hugs these little devils instead of hugging you.
Outdoor Furniture And Different Choices– After enveloping your garden with the plants of your choice, next comes the sitting arrangements. Comfort and luxury both are equally important. Nowadays a great variety is available in outdoor furniture creating even more confusion for a buyer what to choose and what to leave. Choose furniture which is highly comfortable. Looks and luxury can vary as per the owner's taste.
Putting a hammock in your garden can convert your life into a never-ending vacation. Lie down with a book in a lazy after-noon and let the Sun shine over you while cool breeze is tickling your toes.
Lights Are The Soul Of Scene – What do you like most about a romantic place which you visit often?
There can be many things like- cosiness, peacefulness, natural surroundings and a dark background. Yes, darkness makes everything more romantic. Obviously not the haunting kind of darkness but a carefully designed one in which your vision is limited till your partner.
In creating a perfect romantic place lighting plays a great role. Low hung, dim yellow lights create a perfect glow under which every romantic couple would want to bask. Again, there is a wide selection available in garden lights. You can decide a theme or pick randomly, either way, your garden would be 1000% more welcoming after hanging the lights.
If you love to read, maybe a reading lamp with a long and flexible neck would add extra merit to the whole scene. Sit and enjoy the power of words as long as you want.
Music Takes Us High- Arrange your music thoughtfully. Music can play a great role in changing a person's mood. Even for people who don't like listening to music, a happy song sometimes uplifts their mood. It goes without saying that people who love listening to music, feel refreshed listening to any song even if they have had a very tough day.
Fixing a permanent music player in your garden is a good idea. Just plug-in your play-list and start humming the tune. No need to waste time arranging things. Just sit back and relax.
Little X factor- Water is the most peaceful element of the universe. When you are near water the chaos of life fades away. No wonder, listening to the sound of running water is a way of meditation. You can bring this magic into your private sanctuary by placing a water body with running water feature in your garden. These beautiful home decor pieces are easily available in many shapes and sizes in the market. Just chose one as per your space and feel elevated.
Privacy- Keep it private. Choose the most secluded corner for your privet heaven. That way two things would happen. One, you would be using the most unused area in the best possible way and second, while you are taking a much-deserved break from your busy life no one would disturb you.
Having Said All That– I hope that I was able to draw a near possible picture of the best corner of your house. Having a garden in your home is a great idea in many terms. For starters, gardening is a great hobby. Helping and seeing nature to grow, even in small amount, connects us with the ultimate magic of recreation of life.
You love it. Your Family loves it. It is a great time pass. It brings a lot of extra beauty and comfort to your home. What more could one ask for?
If you have little or no experience in gardening, still no worries. Start with few plants. Plants themselves tell us how to take care of them exactly like kids. As, for a first time mother, everything can look very tricky until her child is born but the moment mother holds her child in her arms for the first time, she immediately knows that everything will be fine.