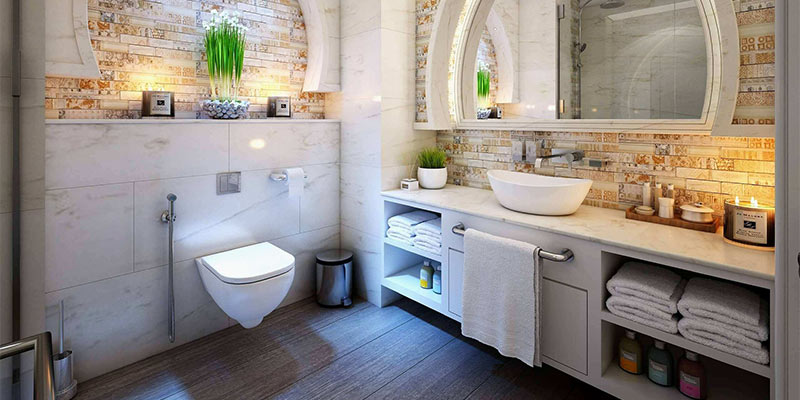 After a long and tiring day, all you could ever think is a long soak in a bath or a warm shower before getting on the bed to relax. That is unless your bathroom is outdated with the peeling paint, moldy grouts, and those dripping taps.
In this case, you need to have a bathroom makeover to get your sanctuary back on its shape or make it even better. The best way to start your bathroom remodeling is to get inspired by the best design ideas you could search in the web. You can take your cue from these five of the best bathroom design ideas you could apply to revamp your own.
A Refreshing Garden-like Bathroom
Adding a greenery touch in your bathroom can connect between the outdoors and the indoors. To achieve a garden-like bathroom in your home, you can incorporate an organic design that coincides with modern design. That means natural outdoor space should easily connect with the indoor area you are plotting. You can do that by bringing indoor plants inside your bathroom.
Take a Bath with a Waterfall Style Walk-in Shower
If you dreamed of taking a shower under a refreshing waterfall in the middle of a tropical forest, you could bring that energizing feeling inside your bathroom. You can incorporate a luxurious waterfall-style walk-in shower that gives that feeling of a special little cave on some private tropical island, with a natural, rough-hewn stone wall inside your home.
Change your typical rain shower heads to a waterfall-like shower to experience another level of bathing. To achieve the perfect bathroom design you created in your imagination, you can hire a professional, or search for some sites like Gia Renovation and some home renovation pages to get in touch with the best interior designers in town.
A Stylish Children's Bathroom
The fruity and fresh palette of orange and green is the perfect shade combination for a small and narrow bathroom. The colors make the room not too bright and not washed out. You can incorporate an alternate storage solution like a pedestal vanity if you want your kids to keep their bathroom always clean and organized.
When talking about decors, make your kids enjoy and feel a marine-like life when they pee or take a bath by bringing the best elements of the sea into their bathroom as decoration. Instead of a generic towel rack, you can replace it with a smiling sea creature hooks in vibrant and eye-catching colors and place it in an equally bright backboard. You can also paint the walls blue and add fish and corals to make it look like underwater scenery.
Relax in a Mediterranean Style Bathroom
If you want a bathroom design with a more traditional look incorporated with all the modern conveniences and luxuries available today, the Mediterranean style is what you are looking for.
The key element of this bathroom aesthetic is the use of assertive and bold colors such as brassy orange, burnt terracotta reds, and primary blues. The amount and type of shade used will set the standard of how casual or sophisticated space is.
Another hallmark of Mediterranean style is the use of mosaic tiles especially the Moroccan style zellige. This type of mosaic is composed of tiny chips of enameled terracotta that are traditionally set to form an astonishingly colorful, complex piece of artwork.
Make Your Bathroom a Bohemian Dreamland
If you are a fan of a bohemian chic look, maybe 2019 is the perfect year to make your bathroom a boho dreamland. Vintage is not always boring and outdated. In fact, you can achieve a bohemian aesthetic when you embrace classics like a funky vintage cabinet or an elaborative vintage mirror inside your bathroom.
To achieve a bohemian inspired shower room, you can put oriental rugs and heavy brocade curtains inside the space, make sure they're out of the splash area. You can also incorporate some accessories like boldly patterned towels, indoor plants, and Moroccan lanterns.
You need to remember that the key to getting a boho bathroom heaven is by combining vintage furniture and mirror plus a modern sink, lavatories, and bathtubs.
Takeaway
When talking about great bathroom styles, the inspiration is endless. Whether you are overhauling a masters bath or beautifying up a small powder room, the best way to start is to get inspired.
The bathroom design ideas listed above can help you think outside the box. Revamp your sanctuary according to your preference with the help of the ideas and tips mentioned in this article to upgrade the function and aesthetic of the bathrooms inside your home.