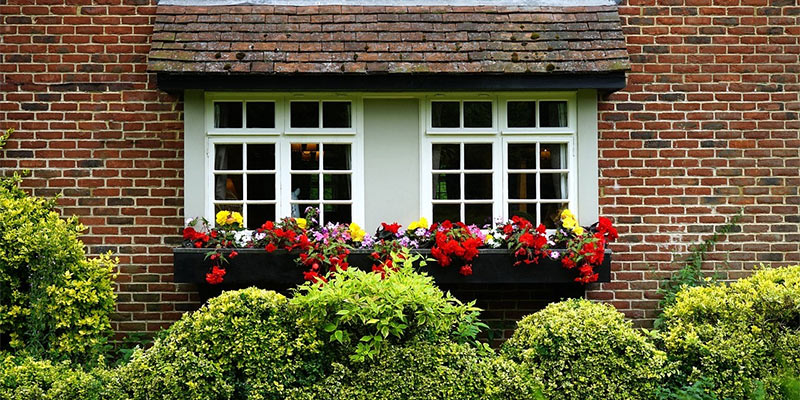 An attractive garden not only adds value to your house but also boosts the chances of a quick sale, whilst an unappealing one will have the opposite effect!
In this post, we'll share some tips for your garden to help the offers start coming in as quickly as possible.
1. Mow the Lawn
The first tip is a simple one – if you have a lawn, wait for dry conditions and cut the grass! This is essential for creating a good first impression of your garden.
Also remember to tidy up borders where the lawn meets flowerbeds – use a grass trimmer, or a more permanent solution is to lay down wooden or stone edging.
2. Tidy Up and De-clutter
Like the interior of your home, de-cluttering the garden will make it look spacious, and also more neutral so that prospective buyers can imagine their own take on the garden.
So, remove unnecessary furniture and pieces that take up too much space. It's also a good idea to store away toys, bikes, empty plant pots, and if possible hide the bins!
However, don't go overboard and depersonalise the garden too much – show viewers what an attractive space your garden can be.
3. Clean Outdoor Flooring and Paving
If your garden has hard surfaces such as a patio, decking, steps or stone paths, give them a thorough sweep and clean.
You might also need to jet-wash these surfaces as it will make your garden look fresher. It will also be much safer as leaves, moss and debris can become slippery and dangerous – which could put off potential buyers.
4. Trim Bushes and Hedges / Cut Back Trees
Trimming hedges and bushes and cutting back overhanging trees will make your garden look much tidier and create the impression of an easy-to-manage garden.
Not everybody is a keen gardener or able to dedicate the time or money needed to maintain a garden, so doing this well help your garden have universal appeal.
5. Freshen Up Flowerbeds and Add Some Colour!
First remove old or withered-looking plants, pull out any weeds, and then add some colour by planting blooming flowers like sunflowers or geraniums. Fill empty patches with fresh soil, and top with mulch to reduce weed growth and improve the look of the flowerbeds. Bark and slate are also good options for empty flowerbeds.
You can also add extra colour elsewhere around the garden by planting bright flowers in plant pots and planters, but don't overdo it and clutter up your garden too much.
6. Sheds and Garages
If your garden has a shed or garage, make sure they are tidy and, if needed, freshen them up with varnish or paint. Check that all the light bulbs work, and that windows and doors open and close correctly.
If you can park your car in your garage, otherwise park it in the street nearby as a clear driveway in your front garden looks much more appealing for viewers.
7. Garden Furniture
If you have enough space, the right garden furniture such as loungers, swings, tables and benches, wicker chairs and sofas etc. can create a great impression as people can imagine themselves spending time relaxing outdoors.
Just try to make sure that the furniture in your garden is matching, and not old and tired-looking, or it will produce a negative impression.
8. The View from Inside
It can be easy to forget, but you should consider the view from the rooms looking out onto the garden too.
So make sure all the windows have been cleaned, and perhaps consider adding some hanging baskets or windowsill planters to add a nice, colourful touch when looking at the garden from the inside.
9. Garden Photos
Photos of the garden are included in property listing, and just like the other parts of your home, the garden is a feature that can entice potential buyers. Take photos at the time of year when your garden is at its best, which is typically in the summer.
These photos can be used throughout the year to showcase the potential of your garden, even in the greyer winter months.
10. Property Boundaries
In addition to everything inside your garden such as the lawn, plants, furniture and so on, you need to consider the property's perimeters. This includes walls, fences and gates – if they look shabby, then treat them with fresh paint or treatment product. This kind of problem is easy to fix and helps to create a good impression.
Similarly, although your back garden may be the larger one, your front garden is the first and last thing that viewers see. As they are usually smaller, it's not too hard to tidy up to improve your property's 'kerb appeal'.
Finally, if your neighbour's garden is not in the best state, you could even offer to tidy it up yourself – most people won't turn down the chance to have some gardening done for free!
Need more pointers? Check out our 101 Tips on How to Sell Your Property Fast.
Ruban Selvanayagam and James Durr are co-founders of the hybrid estate agency Property Solvers that offers quick cash sale and low-fee express estate agency services across the UK.