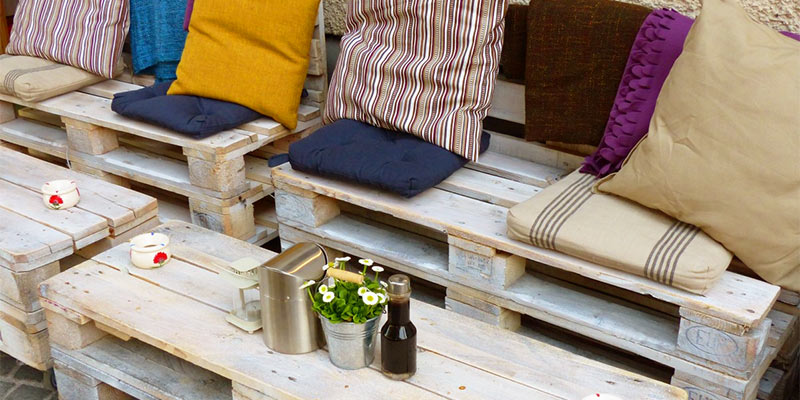 Buying furniture for your patio doesn't have to be a costly project. If you are working with a tight budget, you can still get quality pieces without breaking the bank. This post will give you some practical patio furniture ideas that you can consider if you are on a budget. Some of these ideas are DIY, so get ready to put in some work to achieve a beautiful outdoor space for relaxing and spending time with family.
1. DIY Wood Pallet Sectional
Do you have some wood pallets that are in excellent condition and are just lying around in your shed or garage? If so, you can make an outdoor sectional sofa out of them. Buy cushions to place on pallets, and you have yourself a beautiful sectional sofa. You can even set the seat against the exterior wall of your home and use some pillows and throws to further spruce up the couch and create a comfortable backrest.
2. DIY Outdoor Bench
Perhaps you don't have wood pallets, but you have a 4×4 lumber lying around. You can make use of this as well. Prop it up using a bunch of cinder blocks to create a DIY bench. Place cushions on the bench and pillows and throws in appealing colors to improve its appearance. In fact, you can even buy a piece of lumber for this DIY project if you don't have one. You can create a beautiful outdoor bench and decorate it the way you like without spending a lot of money.
3. Hanging Lounge Chair
Hanging chairs and patio swings are great additions to the outdoor space. You can relax on the chair as you read a book or enjoy the afternoon breeze. You can have a DIY patio swing or buy a hanging chair and set it up in your patio. Whichever option you choose, ensure that you secure the seat properly to a stable anchor at the top so that one doesn't fall off while on it. Also, make sure that it can support the weight of the users.
4. Hand-Painted Wire Basket Table
If you have a wire basket that's lying around, you can transform it into a table with a few simple tricks. Just place the basket upside down and paint it with your favorite color. You can use spray paint as it is easier to use and will give excellent results. Once the paint is dry, get a wooden top, stain it, and attach it to the basket using cable staples. You have yourself a DIY table that you can use to place your outdoor vases or drinks and books as you chill on the patio.
5. Wicker Furniture
Wicker furniture can give your patio area a rustic yet classy look and feel. This furniture has been around for decades now, and it is incredibly affordable for the budget-conscious homeowner. Invest in a few wicker chairs and wicker table for your outdoor dining area. You can spruce up the chairs by adding cushions and throw pillows in fun and bright colors of your choice. Also, wicker furniture can be stained to your preferred color if you don't want to go with the traditional earthy shades.
6. Ottomans from Car Tires
Another affordable DIY option is making ottomans from car tires. All you need are old car tires, rope, and stain. Wrap the rope around the car tires in a circular trend so that it covers the entire outer surface of the tires. Secure the end with glue and stain the ottoman to give it a rustic look. You can add pillows on top of your DIY ottomans to create visual appeal.
7. DIY Patio Table
If you wish to host lunches or barbecues on your patio, you will need a table. Luckily, you don't have to spend hundreds of dollars on a table. Build one using wood that's lying around in your shed. You can even buy wood for this project as it would be cheaper than getting a ready-made table. Have your tools ready, build your table, and finish it to protect it from the damaging weather elements.
8. DIY Summer Hammock
How would you like a hammock on which to bask and read your favorite books during the summer or spring? Like patio swings, hammocks are excellent additions to the outdoor space. What's more, they can transform your patio area without costing you a lot of money. You can opt to build it from scratch using materials from your home if you want to make more savings.
9. Hanging Daybed Sofa
If a nap on an outdoor couch is your thing, you should have a hanging daybed sofa on your patio. This sofa can be used by both adults and kids for chilling, reading, or even sleeping. You can buy a cheap readymade sofa for this purpose or make one using reclaimed wood or pallets. Whichever you choose, ensure that you stock up on the cushions and pillows as these are what will transform the sofa.
10. Pallet Wood Outdoor Dining Set
An outdoor dining set is an excellent addition to every home, especially if you wish to have meals on the patio with your family. Be it breakfast, lunch, or a simple snack, eating from the patio as you enjoy the blissful landscapes can be incredibly relaxing. Instead of buying a dining set, consider making one from pallet wood. Pallet wood can be used to make chairs and tables as well. Stain these using your favorite colors to add visual appeal to the furniture.
Choosing furniture for your patio doesn't have to involve trips to top furniture stores in the state. You can work with what you have to make beautiful, rustic pieces that will transform the space. However, if you opt to buy, take advantage of sales and coupons so that you can get the best deals and save money on your patio décor project.