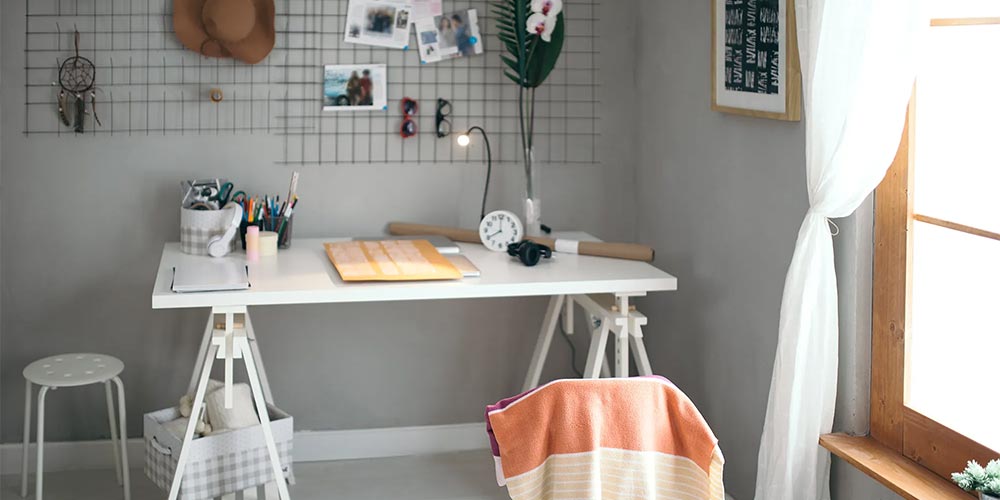 A college dorm room might only seem like a place where you will study and sleep, but it's actually an important space that you will associate to some of the best years of your life.
When you look at it that way, it's definitely worth it to go the extra mile and invest a bit to make it personal, unique and pleasant to be in! Great decoration can also increase your productivity, allowing you to tackle your student obligations more easily.
1. Take Advantage of Multipurpose Furniture
One of the greatest challenges in dorm rooms is the issue of space. At the same time, furniture generally takes up the most part of the space in any room, especially in a dorm.
That's why you can benefit from using multipurpose furniture that will eliminate the need for having bulky pieces of furniture that serve only one purpose.
Here is an amazing example of a multipurpose furniture piece:
"When you live in a dorm room, each furniture piece has to have the ability for additional storage if you want to have extra space and cleanliness. For example, you should never choose a minimalist desk without any drawers or shelves. Your books, papers and study materials will end up all over the place", says Kylie Gene, a writer at GrabMyEssay and TrustMyPaper.
2. Use Wardrobe Hacks to Save Closet Space
Another challenge in dorm rooms, especially for girls, is the often tiny closet space that you have to work with. However, if you use the space wisely and employ some hacks to maximize the efficiency of your wardrobe space, you will have enough room for all your awesome outfits:
Use separators – precious space is often lost in "empty air" sections of your closet. You can prevent this by adding separators that will serve as shelves.
Utilize doors – closet doors are often ignored, but they are also a space where you can store some of your accessories. Install some hooks and hangers and you can store hats, scarves, jewelry and other accessories on your wardrobe door.
Multi-level hangers – this is a famous hack that saves space in your hanger area. Instead of hanging one item next to the other, you can buy or make a hook that will allow you to hang another item on a hanger that's already occupied!
"Surprisingly, factory-made, generic closets actually leave you a lot of options to maximize the wardrobe space even further. You want to take advantage of this as much as possible and avoid having clothes scattered around your room", says John Phillips, a writer and advisor at Studicus and BestEssayEducation.
3. Make it Personal
Many students ignore decorating their dorm rooms because they feel it's temporary and is not really home. But, just like we previously mentioned, a dorm room is a space where you will spend a certain deal of time in one of the best periods of your life.
"A popular way to make your dorm room interestingly decorated and unique is to add posters or paintings of your favorite movie, band, book, quote, or similar. Not only will this add a layer of personality to your room, but it's also a great conversation starter!", says Mary Florence, a writer at WowGrade.
It would simply be a shame to miss the opportunity to personalize your space and make it as enjoyable as possible during your time there.
You can put up personal photos with family and friends that will remind you of all your loved ones (especially during those hard times of cramming for finals!).
A dorm room, however generic, will also allow you to incorporate your own decoration style. While browsing for items or shopping, choose items, pieces of furniture or decorations that trigger positive emotion in you. When you surround yourself with items that you enjoy looking at or touching, your time spent in your dorm room will be a relaxation oasis.
Conclusion
Even though it seems like decorating a student dorm room can be a challenge, you can definitely make it work by using appropriate layouts and some of the most effective space-saving hacks.
Even the tiniest dorm room can be catalog-worthy, only if you decide to put in time and effort into making it work!