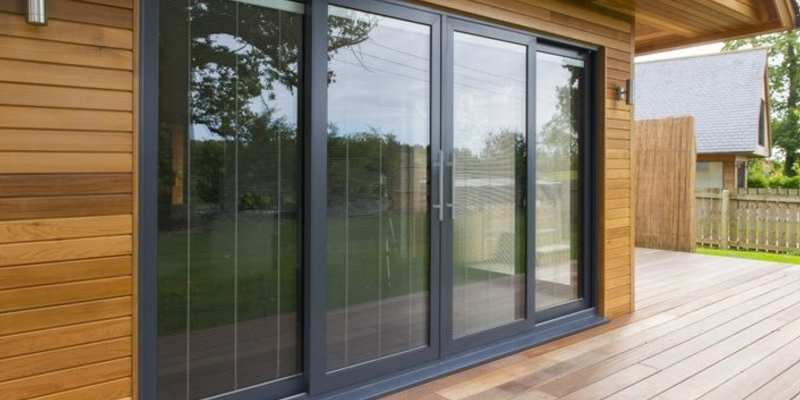 If you have a taste for 80's music, you might be familiar with the Kim Mitchell song, Patio Lanterns. It's a timeless summer rock anthem synonymous with warm nights out on the patio. Canadians love patio season, and whether or not you love the song, it's impossible to ignore how good it feels to have a good patio. That's why patio doors are an important part of a home's functionality, style, flow, and curb appeal.
With the right patio doors installed by a reputable window and door company, you can take your outdoor living to the next level. Maybe your current doors are outdated and faulty, or you want to open up a space that had no doors, or you've spotted the problems that occur when windows start to fail and know it's time for an upgrade. As you start to dream up your own warm summer nights, here are some of the benefits of patio doors and how they affect your home.
1. Bring the Indoors Outdoors
Excellent sliding patio doors and terrace doors have different features, but they both play a major role in extending your living space to include the outdoors. It's a popular trend to make a portion of your outdoor space as an extension of your indoor space with some tie-ins with patio furniture, cushions, and décor.
Barbecue stations can come in integrated models that are built into the infrastructure of your backyard, which can work as a second kitchen for when the weather's right for outdoor cooking. A good-looking set of sliding patio doors make it easy to go from outdoors to indoors and encourages us to get outside as much as possible.
2. More Glass Means More Light
Sliding patio doors are an excellent light source and they serve to add the same elegance to a home as floor-to-ceiling windows might. Expansive glass allows for more natural light to enter your home, which is a huge benefit to our mood and wellbeing as well as a home's resale value.
One way to further complement the glass of sliding patio doors is to have windows built around your patio doors to increase the effect of natural light. You could opt for some large, architectural windows or if you want an option that allows for plenty of ventilation, slider windows might be the best for you.
3. Clean Lines, Contemporary Look
Slim frames from patio doors give your home a sleek, contemporary look that looks good in any surroundings. You don't have to worry about how your new patio door's style will age since a contemporary style doesn't draw attention to itself. It's all about the view and the ability to move easily between indoors and outdoors.
Find Exactly What You Need
These clean lines also serve to keep things simple and draw your eye simply to the view from your door. If you're worries that a largely glass door will negatively impact your home's energy efficiency, you don't need to worry.
There are all sorts of energy efficient options you can choose for your home. You'll know you've found a good window and door installer when they are eager to work with you to make sure you know the best options for door frames, glass coatings, and installation. Renovate your home with design in mind with new sliding doors and you'll find yourself with an end product that improves the practicality of your space tenfold.