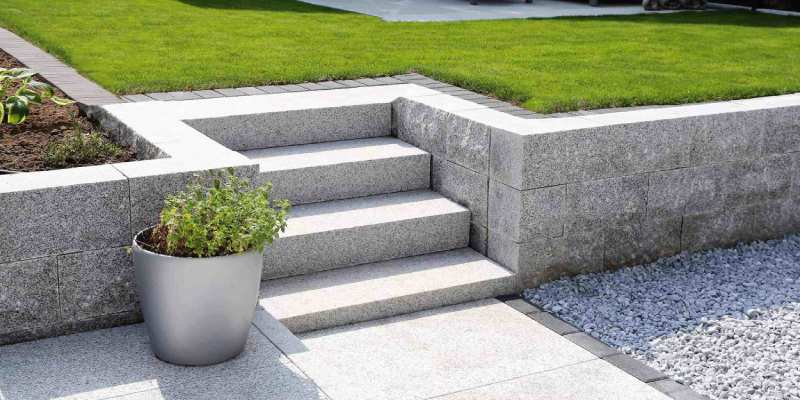 With the summer months fast approaching, it's time to get your garden in tip-top condition for its busiest period. You may think having the perfect garden is a full-time job and it can be, but there are plenty of tips and tricks for creating a stunning green garden that doesn't require constant upkeep.
A low maintenance garden is perfect for someone who's too busy to always be in the garden,  someone who's not as active as they once were or simply for someone who isn't interested in gardening but wants to make the most out of their outdoor space.
For this post, we've put together some ideas on how you can create a garden that's easy to maintain whilst it still looks beautiful.
Remove the Lawn
As every gardener will tell you, a lawn is the most time-consuming part of having a garden. Once the weather starts to warm up in spring, you'll likely have to mow it every couple of weeks until the late autumn months. If you live in a hot place, you may not even get a break from mowing.
That's why replacing your lawn can save you hours of hard work every year. Instead of a lawn, you could add in pebbles, paving slabs or decking. If you are replacing the grass, make sure you add a high-quality groundsheet to prevent weeds from growing through.
If you do love having a lawn but hate the maintenance, you do have a couple of options. Simply downsize the lawn to a smaller section of your garden with easy to trim edges. This will give you less to keep on top of and should remove the need for strimmers and manual cutting. You could also automate the grassing cutting with a robot. It works in the same way as the automated vacuum cleaners, taking the effort out of the task but letting you keep your grass.
Alternately, you can keep the look of a lawn and take away the maintenance by adding artificial grass. Artificial grass has dramatically improved over the last few years. There's a huge variety available with some looking even better than the real thing. This is a great option for those who like the grass appearance but not its upkeep.
Add Low Maintenance Plants
Second to your lawn, your plants will likely be the next area of your garden that needs the majority of your attention. The first way to tackle the time spent on plant maintenance is to reduce the number of plant species and plants in general. Try to stick to a few species that require similar attention that can be done in one easy job.
For the plants you do add in, choose the right kind of varieties. Avoid anything that's annual and needs a lot of watering or pruning. Plants like evergreens, lavender, holly, rosemary, ferns, hostas, trees and the like are great as they need little to no attention apart from brief water in summer.
You can additionally add a few plants in containers as they won't be as susceptible to weeds. They're also easy to move around so if you need more space for a summer BBQ, just relocate them to another area in the garden.
Instead of traditional borders with flower beds, why not try planting shrubs or low lying bushes. They're much easier to upkeep as they're long-lasting and not affected by the weather. You can also add mulch or stones on top of the soil, finishing off the look whilst helping to protect from weeds as seeding is harder. Mulch can also reduce the need to water.
Add an Irrigation System
If you do want to have a plant-filled garden but would prefer to cut down on the watering, especially in the summer months, an irrigation system will be perfect. You can purchase a dedicated garden irrigation system or create your own.
For a DIY irrigation system, all you need is a long garden hose and an outside tap. Run along the surface of the ground without burying it. Once the hose is in place, fix to the ground to prevent it from moving. Then, cut small holes around the plants. Slowly run the hose for short periods throughout the day.
If that sounds like a little too much work, you can buy a ready-made irrigation that's much more simple to install. You could also add a sprinkler system if you have a large area to cover.
An irrigation or sprinkler system is ideal for someone who enjoys their garden but also loves to travel. They can help keep your garden alive whilst you're away from home and be remotely controlled in some cases.
Add Hard-Wearing Furniture & Storage
When it comes to your furniture and storage, ideally you don't want to give it a second thought once you've stopped using the garden at the end of summer. You shouldn't need to faff around, trying to squeeze everything into the garage until the following year.
When buying your tables and chairs, sheds, summerhouse and even barbeques, check they're high-quality items from reputable retailers. It's also recommended you check the materials they're made from aren't prone to rust or rot. If you do choose something that may rust or rot, treat it with an appropriate preserve. If you're buying wood, only buy hardwood for a maximum lifespan.
For expensive items, as long as they're secure, using a cover should be sufficient to protect them from the winter elements.
For a low maintenance BBQ for the majority of the year, you can add a fixed design made from brick and metal grills. This will last you a lifetime, with little to no protection needed. They also look great and help you cook delicious food. If you want to prepare tasty food but don't want spend much on grill then you can buy a nice portable gas grill, on which you can cook in your garden and and carry around in your car or RV when going on picnic with friends.
Are you looking for the perfect gift for a gardening fanatic? How about some gardening cufflinks to show off their passion?
Final Thoughts
A low maintenance garden is becoming an increasingly popular choice, especially with younger homeowners. If they're done right, they can easily have a striking look that requires minimal upkeep.
To have an effective garden that looks after itself, make sure you do plenty of research when buying anything for your garden. Choose plants and features that are appropriate for your style and desired results.