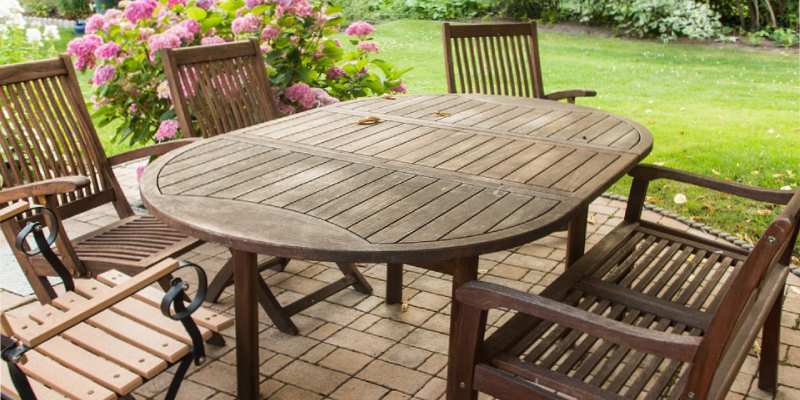 The right furniture will make you want to spend more quality time in your garden. However, before you run off and invest in multiple pieces, there are several things to consider in making sure you're purchasing the best furniture for your outdoor space.
Size of Your Garden
Not all gardens are the same size. Some people have large, lavish gardens, while others have quaint, cosy ones. Measure the area to make sure you buy appropriately sized furniture.
For example, if you're planning on furnishing a small patio, you need to make sure you have enough room to manoeuvre around the furniture. A compact bar set, or a small bistro table may be a better option than a full dining set.
Placement
Depending on your garden, you may need furniture for the lawn or a paved surface. This is an important aspect to consider when shopping for garden furniture. If you want your furniture to rest directly on the lawn, the furniture will be exposed to moisture from the grass.
This may lead to wood rot, mould, or even rust. Choose pieces that are durable enough to withstand moisture from the ground.
The Weather
As you already know, the British weather is unforgiving. You need to make sure the garden furniture you purchase can withstand whatever Mother Nature sends your way.
Look for pieces that are made from high quality materials, such as teak, cast iron, or aluminium. However, even these water-resistant materials may fade or rust if they're not properly protected. Be sure you also have somewhere to store your furniture in harsh weather conditions. A timber Summer House would need treating for a long lasting build.
Personal Comfort
No one wants to rest in an uncomfortable chair. Most outdoor furniture is designed with function in mind. It's up to you to make sure your furniture is also comfortable and inviting.
Purchase some cushions to add both a pop of colour and comfort. Choose materials that are waterproof and mildew-resistant. Solution-dyed acrylic fabric is a great choice. Pillows and cushions should always be stored inside on stormy days if you want them to last longer.
Budget is Key
Never spend more than you can afford on garden furniture. Before you head out shopping, figure out how much you can comfortably spend. Make sure you don't go over this amount.
If you're unable to buy everything you want at once, don't fret. You can always save up to purchase additional pieces in the future. Choose the highest quality materials and pieces that you can afford. Consider shopping second hand stores for used furniture. There are many ways you can save money without sacrificing quality.