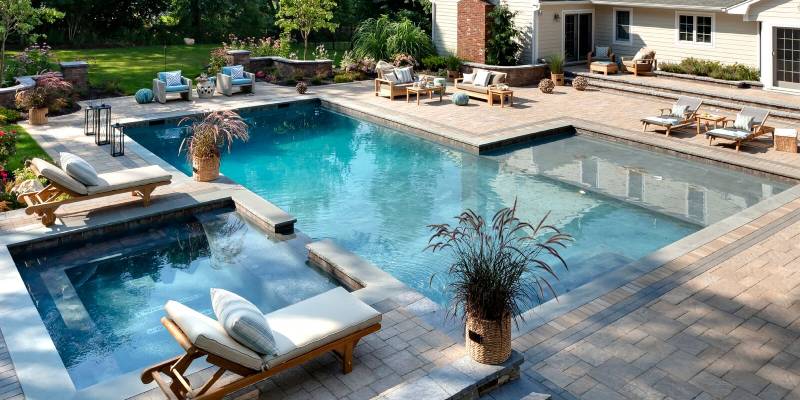 Many homeowners believe no landscape is complete without a swimming pool. These versatile features can be used for exercise, play, and relaxation in equal measure and contribute a great deal to the aesthetic of a landscape design. If you're going for luxury in your summer landscaping, it's essential that you incorporate the same theme into the design of your pool. Here are a few pool accessories and modifications perfect for achieving a greater level of luxury in your landscape:
Consider the Shape
The shape and size of your pool contribute a large deal to determining its aesthetic. Slim lap pools tend to have a resort-like look and feel, while larger freeform pools can mimic natural bodies of water with a tropical appearance. Lap pools are sleek and simple and are likely to appeal to homeowners with contemporary homes, who seek to install a pool for display rather than function. High-quality materials showcased in the coping and surrounding patio, paired with elegant underwater lighting, can have a five-star effect. These single-depth pools can still be used to practice laps and water sports or cool off on a hot summer's day.
An Unexpected Color Scheme
While gunite pools can conform to virtually any shape and size, they often stick to predictable color palettes containing light, cool blues. Your pool can have a greater visual impact by containing unexpected colors. You can achieve this by installing colored finishes on the interior of the pool or fitting colored underwater lights. A dark interior can leave your pool water looking dark, even slightly green, and natural. It is an excellent option for pools attempting to mimic natural bodies of water. In sleek, geometric pools, a dark interior functions to make the pool stand out and look more mysterious.
Fire Features for Added Drama
Fire features are renowned for their ability to wash an outdoor living area in warm light, an intimate atmosphere, a pleasant scent, and a relaxing soundtrack of crackles and pops. The overall effect is beautiful and inviting, lengthening the time you can spend outdoors in comfort after dark. Fire features lining the poolside offer all the above mentioned benefits, as well as an added touch of luxury created by juxtaposing two contrasting materials—fire and water. Enjoy watching the golden flames reflect off the surface of your pool, giving it a more exotic look and feel.
Plenty of Room to Relax
It is essential that a luxurious pool provides enough space to lounge, tan, and enjoy a cocktail or a good book. A tanning shelf is a wide ledge nestled snugly against the edge of a pool and submerged in a foot of water—just enough to keep you cool while your upper body is dry and free to do other things. Say goodbye to hanging off the edge of the pool by your elbows or sitting on the steps like a little kid—tanning shelves provide picture-perfect poolside relaxation.
A Versatile Island
Islands are wonderfully versatile and can be filled with plants, used to prop up a slide for the kids, or house a fun tiki bar. What you perch upon your island will depend on the level of luxury you are aiming for. Consider having a bridge or system of reliable stepping stones constructed to provide access to the island without getting in the pool. An island bar creates the potential for a swim-up bar in which coping doubles as the bar top and a ledge similar to the way a tanning shelf seats guests who remain mostly submerged while enjoying their drinks.