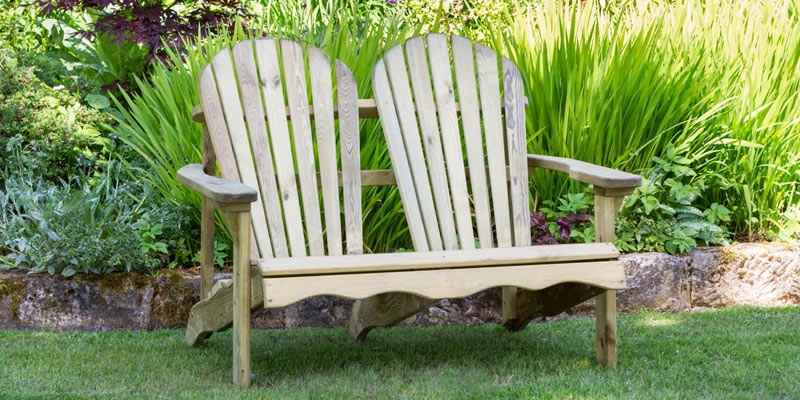 Does your backyard look slightly incomplete? Well then, it's time to bring home a set of Adirondack chair to give your backyard the perfect appearance. Whether you're looking for something to unwind and relax on, or just enjoy a cup of tea while your kids enjoy themselves playing, Adirondack chairs are the perfect outdoor furniture.
Here are 5 things you need to consider when shopping for one.
1. Shape and Size
Adirondack chairs come in a variety of sizes and shapes for you to select from, depending upon the size of your backyard and your specific needs. Ranging from folding to curved backs, these chairs are commercially available in the form of gliders, benches and even porch swings.
The perfect shape depends upon what age group you're looking at and what purpose you will be using it for. If you have a house full of kids, you would want to bring home porch swings or bench shaped Adirondack chairs. However, if you're looking for something to relax on and read a book on a Sunday afternoon, a reclined back chair would be a great option.
If you plan to make a purchase, read these reviews of the top rated Adirondack chairs.
2. Back Curvature and Slats
Adirondack chairs come with different degrees of back curvature and reclining. Although conventional chairs have a considerably reclined back, it is entirely your choice. While it may appear so, more reclined backs are not necessarily more comfortable than straight back chairs. Similarly, curved backs apparently seem to be offer more comfort but flat back chairs have proved to be better for your posture with maximum comfort.
When purchasing Adirondack chair, make sure that your chair is strengthened with at least two back braces. More back braces ensure that your chair bears maximum weight without collapsing.
3. Material
The material of the Adirondack chair has a key role to play in how long it will last. Since you're making an investment here, you need to go through the material specifications before clicking on the Buy Now option. Conventionally made of wood, Adirondack chairs are now available in a wide variety of materials: oak, cedar, teak, pine, mahogany etc.
While wood is often chosen for its strength, alternatives like cedar and teak are rot and termite resistant alongside being strong and durable. This, however, comes with a premium price tag. There are always inexpensive alternatives available like pine (which are more vulnerable to weather changes and rotting), for users of all kinds, who are not currently looking for a pricey chair.
4. Leg Support and Arm Rest
Additional features that come with Adirondack chairs are arm rests and leg support. They may not seem to be of much importance apparently, but once you're kicking back and relaxing on the chair, you will ultimately feel the need of both, an arm rest and leg support.
When you're out purchasing the chair, look for one whose leg support is made of a considerably stronger material and has a front rail attached to the legs of the chair and arm brackets to support arm rests.
5. Easy Maintenance
Lastly but most importantly, Adirondack chairs must not be high maintenance since you will ultimately be leaving them in the garden/backyard for all kinds of weather to come. Chairs that can be stained are more customizable and can give an entirely new look to your backyard. Weather and rot resistance is a must-have factor and one that can't be compromised on.