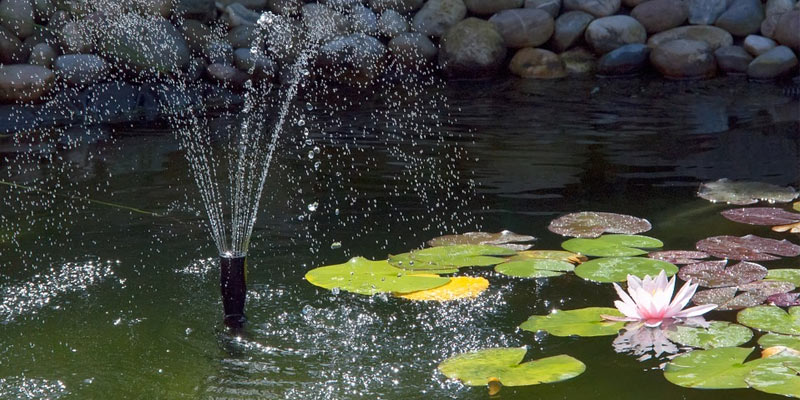 There's nothing that enhances the beauty of a place than a pond with a fountain. The rising flowing water is a view to behold. But this fountain's beauty doesn't come naturally. You have a role to play in caring for it.
Here are 5 things you should know about caring for a pond fountain:
1. Don't Use Your Fountain During The Winter Season
It's highly advisable that you do not run a fountain during the winter season when the water is freezing as this will result in ice building up on it. You may leave the pump in water but be sure to turn the power supply off to prevent the fountain from powering on. With ice building up around it, powering it on may damage the fountain unit.
The winter season may be a good time to remove the fountain from the pond, clean it up, and do some servicing and maintenance on it.
2. Remove Any Debris That Build Up On The Fountain Pump
Since the fountain is placed inside a pond with water, leaves, weeds, and other debris will tend to build up around the fountain's intake making the motor pump to overheat and not function properly.
It is important that you perform periodic checks on the fountain pump and remove any debris buildup that may cause blockage. The frequency of the cleanup will depend on the kind of pond you have. If you have a pond that's located next to trees or in a public place where people tend to litter a lot, you'll have to do a debris cleanup on a regular basis.
3. Keep An Eye On The GFCI Plug
Your fountain's Ground-Fault Circuit Interrupter (GFCI) may trip in the event that the power cords are destroyed. It is vital that you keep an eye on the power cords to check for any looming damage. If you do find some damage, take action and remove the fountain from the pond.
Any cuts on the GFCI can result in water getting into the pump motor and causing permanent damage. As part of caring for the fountain pond, avoid placing the GFCI adaptor or plug on the ground as this will give moisture access to it, causing it to malfunction.
Make sure that you use a properly sized extension cord. Using an undersized one may cause a drop in voltage which will affect the pump's operation. Keep the fountain connected to the right power source as an improper connection will destroy it.
4. Use Vinegar To Clean Off Algae
Garden fountain ponds tend to collect a lot of algae which is a major hindrance to the smooth functioning of the fountain pump. There is a simple way to remove these algae and that's by using vinegar.
Here's how it works; Remove the fountain pump, drain all the water, and then wipe it with a rag. For the tougher algae, use white vinegar and a bristled brush to scrub it off. Vinegar has no negative effect on the fountain.
5. Replace The Fountain Pond Water Regularly
Pond water can become grimy and dirty if kept in there for too long. You need to keep the pond clean and fresh to get that beautiful visual appearance of a fountain. Drain off the water every now and then and replace it with new fresh water.
Conclusion
Need supplies for a pond fountain? You can get them today at https://www.livingwateraeration.com/.