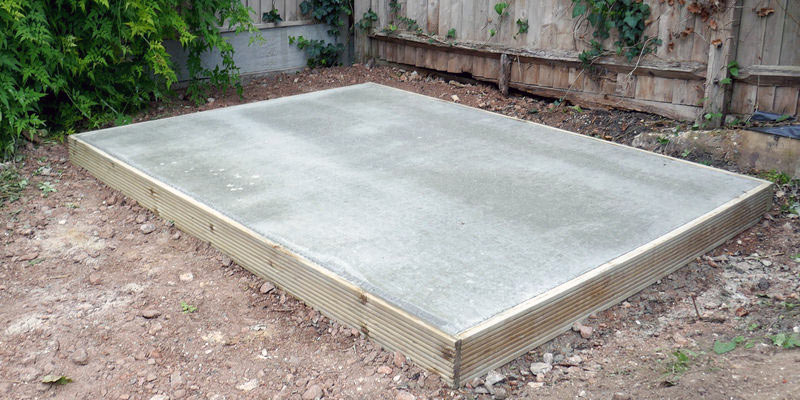 If you are thinking about building a new building in your garden – whether it's a shed, a home office or a conservatory – you need to first understand the base. Before you can think about the building itself, you need to add foundations. The base needs to be the same size as the building planned and it is unwise to build a foundation that is larger than you need, as this simply adds a risk of water ingress.
Here we take a look at the things you need to understand in order to build a concrete base for your garden building.
Choosing a location
The first thing that you need to do when you are planning a concrete base for a garden building is to find a location that is going to be suitable. It is important to consider where the building will stand and to understand how the roof will overhang the building. When you are thinking about the border of the building you need to be leaving half a metre or so to make it easy for you to carry out maintenance.
You will need to plan this in to your positioning of the base. Additionally, when choosing a place for the base you need think about how you are going to use the building. Consider how sunlight will hit the building, for example.
How to lay the foundations
Firstly, you need to prepare the area. This starts with marking out the portion of land that you have selected and then excavating it to the correct depth. You should then infill and compact using a vibrator plate or a roller. Next you need to build your shuttering – this should ultimately lay so that the top of the concrete base is around 5cm above ground level. And the inside dimensions of the shutter that you have built should be exactly the same as the dimensions of the building. You should also lay a damp proof course before you begin pour concrete.
Next you need to get concrete poured into the excavated area. Ready mix concrete specialists 3 Counties Concrete have a helpful calculator that can help you to establish exactly how much concrete you need for you for your project.
What does a high-quality concrete base have?
When constructed and installed correctly, a concrete base should be built to the exact desired depth and size. It also needs to be entirely flat and level to allow for the future building to be carried out easily. It is also advisable to have some sort of border around the edge of the building, allowing of run off.
When you are creating a foundation for a building, remember that you are also going to want a path that leads to the building and decorative areas around it. This is something that needs to be factored into the work for the base.
Common mistakes and issues
Unfortunately, it can be all too easy to fall into traps and make mistakes. Here are some of the most commonly seen concrete base mistakes:
The base is the wrong size – building you base the incorrect size is a nightmare as you will likely have already ordered the materials for the upcoming construction, and none of these will now fit. It is difficult to extend a concrete base, and you may even need to completely remove your first base to start again.
Failing to take decorative features into account – often bases are built along with decorative features such as posts. However, it can be easy to forget to factor these decorative features into the size of your base. This can take a base that would be an ideal size for your needs, and make it unusable.
The base isn't flat – you need to ensure that the concrete base that you are building is completely flat. It doesn't take much for a base to be unusable – if it is more than 20mm out of level then it can be very difficult to install a building on top of it. This is a fixable issue, but it's also one that is easy to get right first time.
Using an existing hard surface – perhaps you are considering using an existing garden surface such as a tiled or concrete patio. It should go without saying that these surfaces are not suitable for use as a building base.