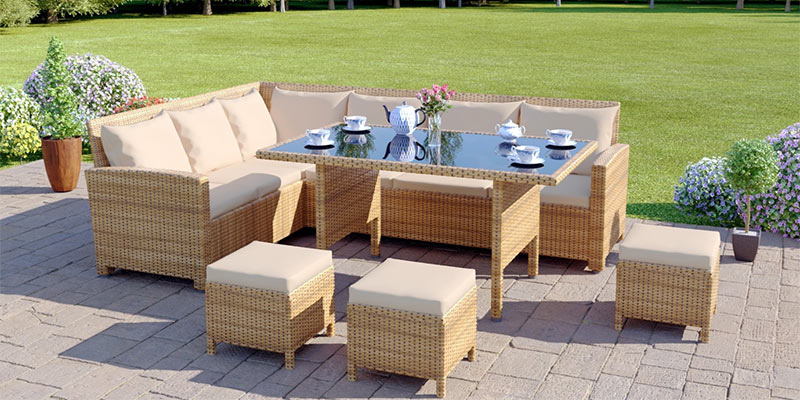 Summertime is well and truly here and if you are looking forward to relaxing in your garden and revel in the soothing comforts of nature you need an outdoor retreat in your yard or patio to recharge and centre yourself.
However, if you think creating that perfect outdoor escape is a huge project, then you are in the right place.
Here I have rounded up a few simple steps incorporating the elements you need to create an outdoor retreat.
Look for Space
The first thing to create an outdoor retreat is to choose the area that will serve as your haven for maximum relaxation. You can consider your front porch, balcony, your back patio or the area under the tree in your yard. However, if you lack the spot in your yard for comfortable furniture, don't panic. You can create a retreat anywhere. You can install a swing next to your side garden for an ideal spot to sip your nice cool drink, read a book or bird watch.
A spot with some shade in your yard is the best location. Use your imagination and work with space you have to create something uniquely yours. Once space is selected, give it a thorough cleaning before you move items like furniture, statues, tables or potted plants. Maintenance is always more manageable when you begin with a clean space.
Privacy is Important
When you are creating a retreat, it's all about escaping uninterrupted. You do not want your neighbours staring at you from their kitchen window. Enclosed or semi-enclosed outdoor spaces like the porch or a deck tend to be cozier and more relaxing, especially if your neighbours are close by. However, if you have set up the retreat in exposed space, you can surround it with tall plants and shrubs to create a barrier.
A free-standing canopy like a big tree is a great way to add shade; you can even enclose yourself inside by adding outdoor curtains on each side. Head to your local hardware store and look for solutions that will keep you closed off from onlookers.
Add Lighting
Lighting is important if you want to spend the evening in your outdoor retreat reading a book, eating or having a conversation with your family. So, incorporating some lighting can only benefit your cozy escape. Outdoor string lights can be added as they are an excellent way to create a relaxed environment in the evening. String lights are readily available at your nearest megastore and they are affordable too. You can also hang light shades with unique designs to create a dramatic effect. Bugs may pose a particular threat during muggy summers, and to keep them away you can use tiki torches or scented bug candles. These candles add a pleasant aroma to your area, add lighting, and ward off pesky mosquitoes and flies.
Add Seating
Once you are set with everything, it's time to fill your space with durable and comfortable weather-resistant outdoor furniture. If you are creating your retreat along your front porch you can't go wrong with outdoor Zambezi lounger. The low maintenance lounger provides hours of comfort with cushions thrown in. If you have a great view and prefer reading or knitting stick with it.
If you intend to warm up next to roaring fire, consider poly rattan seater set. Rattan furniture is the top choice for casual comfort, and they are eco-friendly as well as easy to clean and maintain. Bright, vivid colour options are also available and are great for a light-hearted and fun space.
Don't Ignore the Comfort
When you are creating an outdoor retreat, comfort is of utmost importance. You should take the time to elevate the comfort with added accessories. Add cushions to your seating and for extra comfort place two or three extras. You can buy weatherproof cushions online from websites selling furniture and home wares. Another way to incorporate plush comfort is to keep outdoor blankets and pillows within reach of your retreat. In case of rainy weather, you can store these in a waterproof container underneath or near your outdoor furniture.
These are the 5 tips to help you create an outdoor retreat.