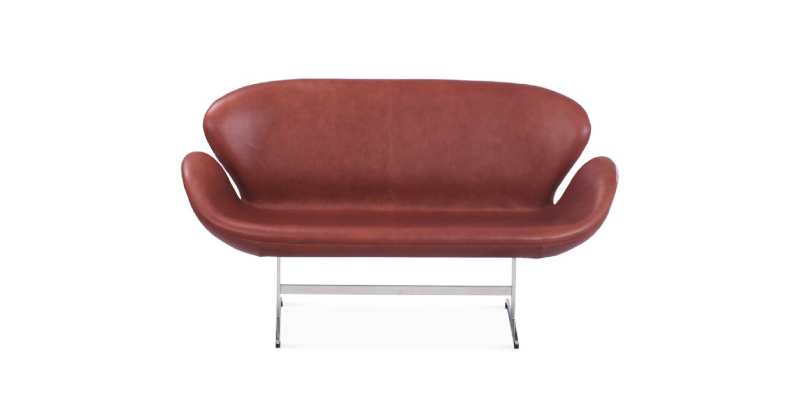 Originally created for the super-modern Radisson SAS Royal Hotel in Copenhagen, the Swan Loveseat is versatile piece of classic Scandinavian design. Here are just 5 ways you can use it in your home:
Entrance
First of all, the Swan Loveseat not only caters to the practicality needs of an entrance, such as putting on shoes or waiting around, it is also perfect simply to sit and relax for a bit. The Swan Loveseat also showcases your style immediately to your guests when they enter your home as the design is a centerpiece and can be customized to your specific wants.
As a matter of fact, the Swan Loveseat was originally designed for the Radisson SAS Royal Hotel in Copenhagen, and we all know that hotels have their guests' comfort at the front and center of everything they do – why should your home offer any less than that?
Office
The Swan Loveseat is a nice piece of furniture to literally add comfort to your hard work. If you work from home, or just have a home office, the sleek swan loveseat is a must-have in any home office space. What could be better than having comfortable seating if you have clients or people over for inspiring meetings? Or perhaps to have an additional piece of furniture where you can collect your thoughts and cater to your inner creativity – nothing could be more fitting than this timeless, Danish-designed Swan Loveseat.
Bedroom
In a bedroom the energy should be romantic and relaxing, and each piece, texture, and design play a huge role in the harmony of a room and its entirety. The Swan Loveseat comes in all types of materials and can, therefore, be matched to various styles to a tee, whether you are looking for romantic velvet or a style that contrasts from the coziness of the bedroom. The soft and sleek style of the elegant swan loveseat is the perfect addition to your bedroom when you want additional seating. There are few things more relaxing than having a nice conversation or reading a good book in an equally gorgeous and comfortable piece of furniture.
Living room
What is a living room without comfortable and stylish seating options? It is typically the heart of the home and a room that needs to fit whatever your lifestyle is. It should encourage conversations and bring people together through all the seasons of the year and life. By adding the swan loveseat to the living room, it will complement the rest of the furniture while adding additional elegance to this area of the house with is all about comfort. With this swan loveseat, you get that classy feeling and unique Danish design in your home.
Game room/ Playroom
We never get too old to play. Whether you have a playroom for your young children or a game room for your adult children, the Swan Loveseat adds elegance and a lightness to the room without sparing on the incredible design and comfort. All materials are both fire-retardant and non-toxic which means it is baby friendly, and since the swan loveseat is customizable you can pick whatever material that suits your needs and lifestyle the best.