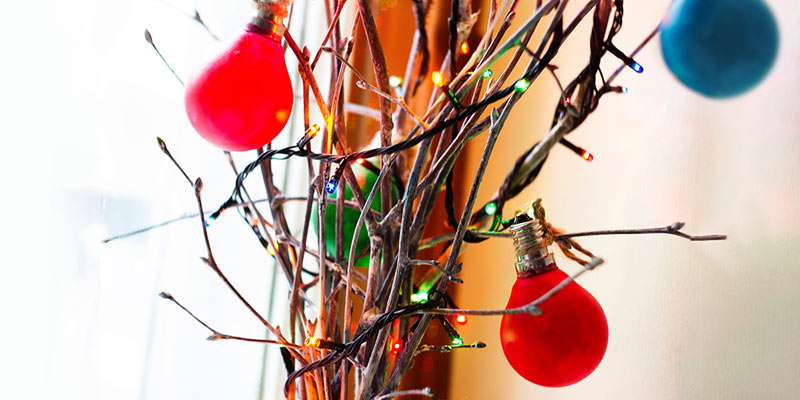 The art of DIY crafting has taken the internet by storm in the past few years. Partly pushed by the rapid mass production of many products and the increasing popularity of minimalism, the trend's easy, do-it-yourself solutions have given many people the opportunity to explore their creativity and even make money out of a simple, enjoyable hobby.
One of the best things about crafting and DIY is the variety of products you can work with. A common favorite is incorporating organic design elements to redecorate the home. Not only are these materials cheap and easy to manipulate; they can also freshen up your home in the most natural way. Wood utensil boxes, painted mason jar holders, DIY pallet crafts, and even driftwood and tree branches can be remade into beautiful, sellable home-decor materials that cost no more than a few dollars to make.
Tree branches are some of the most versatile DIY materials that require little to no further modification to look fantastic. Here are just some of the most creative ways you can turn tree branches into magnificent decorative items for your home.
Woodsy Chandelier
How about a cozy, nature-inspired chandelier to add a bit of character to your kitchen ensemble? This decorative project is a perfect finishing touch especially if you're redesigning your home to adopt a more country-style ambience.
For this project, you need to find the right shape and size of tree branch. A single stick will look too wispy and narrow; select one with a few forks on its ends. This ensures that the light bulbs you're going to hang from the branch are evenly spread on both sides.
You can use a single branch or multiple ones, depending on the size of your kitchen. If you're going to hang it outdoors, it's better to use a denser collective of tree branches.
Instead of using opaque light bulbs, you can also use clear ones that can create that fairylike, magical effect outdoors. You can also use candles hung from the twigs using a twine.
You may also choose to paint the branches instead of just glossing them over. And if you're an advanced crafter, you can experiment with bending multiple twigs to create a more complex chandelier shape.
Get inspired by these woodsy chandelier ideas from Homesthetics.
Creative Tree-Branch Shelf
Got a fancy for unconventional bookshelves? Bookworms will rejoice with this lovely addition to their reading nooks. A tree-branch bookshelf works best with a white background since it provides a stark contrast against the polished, rich wood finish.
This Bilbao tree shelf by Sebastian ErraZuriz is an intact piece of branch coated with black paint and installed with glass panes to hold the books in place.
This one made use of cut branches to provide support for the shelves.
You may also use polished branches growing through layers of cut log slices for a more interesting finish.
Wall Hanger
Apart from being a really interesting piece of organic home design, tree branches' sturdy composition makes them the ideal hanging apparatus. No curtain rod? No problem. Simply affix a straight branch, all with branching stems on one side, and you have a cool curtain rod for your or your kid's bedroom.
You can also use the branches to hang those infant toys you put above the crib. Or you can use them to neatly arrange the pots and pans that clutter your cabinet space.
In the wardrobe, they make good hanging implements for your clothing. And in the sitting room, a vertically arranged larger tree branch makes a lovely decorative display that can also double as a coat rack.
Driftwood Center Table
This project would require more branches than all the other projects listed in this article do. But if you can pull it off, it will certainly earn you some bragging rights.
Simply clump tree branches until they make one solid square block. Preferably, use branches of the same size at the center, occasionally interspersed with branches an eighth of the bigger branches' circumference, and place the small branches to line the block. Cut with a mechanical saw for an even finish on both ends.
The final product should look like this.
Before you proceed with the woodwork, it's important that you treat the wood pieces first to make sure they are adequately dried and compact enough to withstand pressure and normal wear and tear.
Woodsy Candleholders
Using no other than a reliable gluing material in addition to your tree branch collection, take your ordinary glass candleholders, and start pasting the branches on the side of the glass holders. You don't have to cut the branches at uniform lengths. An uneven cut gives the finished project a more stylish look.
You can glue them all in vertical lines or get extra creative by forming shapes and patterns with the branches. Just make sure that the wick does not touch any part of the wood decor.
Creative Room Dividers
These creative tree branch room dividers look like they popped straight out of the concrete floor. They're a great idea for huge spaces—not too bulky, interestingly peculiar, and definitely serves the purpose.
Final Word
Working with tree branches is a fun DIY project that any self-confessed DIY home decorator should try more than once. The final products are simply stunning, and there are too many creative designs to explore. If you're looking to freshen up your home in a natural yet inexpensive way, try out one or a few of these simple tree-branch hacks.