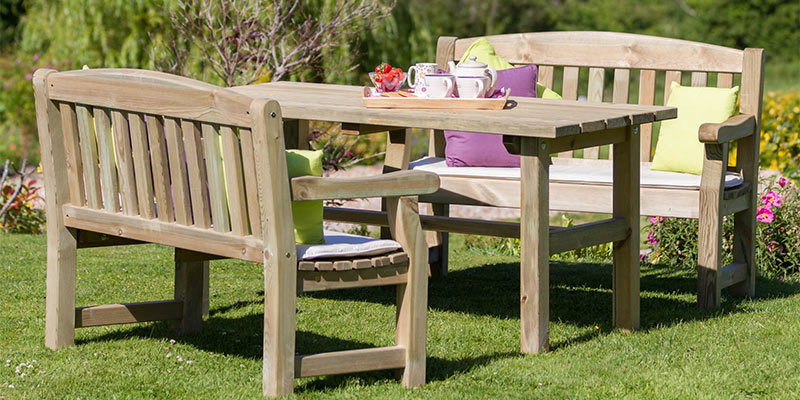 Patios and outdoor spaces become a favorite spot for most homeowners to spend time, especially in the warmer months. A patio is an outward extension of a house that can have an array of uses. They can be a space for entertainment and relaxation among other purposes. When getting outdoor furniture for your patio, you should take into account the following things so that you make the right choices:
1. Consider Your Weather
What is the weather in your area? It is humid, dry, wet, or hot? By answering this questions, you will be able to buy furniture that is suitable for the weather condition where you live. Wet and humid conditions can cause wooden furniture to swell and rot while dry and hot conditions cause cracks and splinters. On the other hand, guile winds can send light sheets of metal on some furniture flying.
2. Measure Your Space
You should take into consideration the amount of space you have on your patio to help determine the size of the pieces you will buy. Are you working with a broad balcony or is it a narrow deck? Take into account the dimensions of the porch, balcony or patio as you buy and ensure that the furniture will leave adequate room for walking about. In short, you should consider the traffic flow of the courtyard.
For instance, stools will be a suitable choice over chairs and a bar table better than a standard dining set. If you are thinking along the lines or chairs, then consider getting bistro or café tables that have a small profile.
3. Placement Of The Furniture
Does your porch or patio have an overhead covering or is it open? How is the floor, is it wooden, tiled, concrete, or grass?  Knowing these issues helps you find the perfect match that fits the surroundings or environment and will not damage the floors or get damaged.
For instance, a ground that has moisture will not work well with wooden furniture or those made from metals prone to corrosion. If you are to use wooden piece made from hardwood, ensure it is treated to withstand exposure to the elements. If the furniture is to place in an open space, then consider buying porch umbrellas that will provide shade for them when the sun is too much.
4. Decide On Material
When thinking of the type of furniture you want to get for your patio, give some thought to the materials used to make the items. Regarding the material, take into account the maintenance needs, weather, and overall looks of it before you make any decisions. The weather in your areas will influence what material to, and you should get something that can withstand all weather conditions including the extremes in your location.
The care needs to keep the material looking new should also be factored in when buying patio furniture. Materials such as teak, aluminum, and resin are not too much of a hassle to care for, but softwood and wrought iron are materials that are susceptible to heat and moisture. Resin is an excellent choice because is it resistant to humid and moist conditions and comes in an array of colors and finishes.
5. Pay Attention To Comfort
The idea of the patio furniture is to have items for relaxation in your outdoor space hence the need to pick pieces that are comfortable even if you are choosing those that are not cushioned. You still have the room to make pillows and cushion for such furniture. What counts the most is the quality of the materials, especially the fabrics and padding. It should be comfortable, does not fade quickly, easy to clean, and resistance to dirt and mildew. To ensure that such items last longer and look their best for years to come, take them indoors during the colder months.
For relaxation, you can invest in rockers, chaise lounges, or recliners – Patio Productions has a nice selection. Try them out before you buy so that you make sure they have a firm build. Daybeds and hammocks are an excellent choice if you are thinking more along the lines of furniture you can lay on a stretch out.
6. Have Storage Space
Remember that some days may have extreme weather conditions that can damage the furniture. As such, it is wise to have appropriate storage options for them so that you can pull them indoors to protect them from damage. If you lack the space for storing them, then you can buy a weatherproof cover. Alternatively, you can purchase furniture that folds up to enhance their storage options.
7. Consider Your Budget
As you take all the other factors into account, they will all boil down to one thing – cost. As you stress over the significance of buying quality furniture, it should be what you can afford. Even when economizing, do not go for quantity over quality.
Get items that are beautiful, comfortable and last longer. You can get such at a bargain if you shop for the furniture when fall is about to start (around the end of July and mid-August).
Materials such as resin and aluminum look great and are affordable. You can also check out thrift stores and yard sales and try your luck; you may find high-quality items going for a bargain. Some may not be is such an excellent condition, needing a bit of cleaning and refurbishing to restore their former glory. Changing the upholstery and fabric for the pillows and cushions is also another way of making old patio furniture look new.