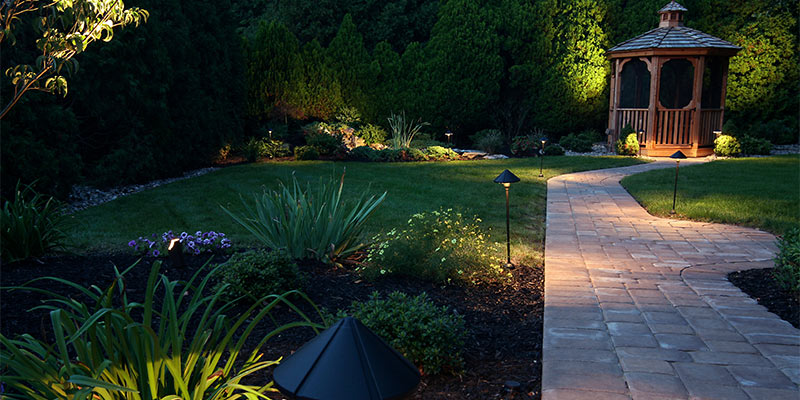 If you're lucky enough to have a garden to enjoy, make sure that it's set up in a way that you can enjoy it and relax in it at different times of the day.  Having the right lighting LED system that's energy efficient and that enhances the environment is going to pull you out of doors.
Garden lights serve many purposes.  Apart from the functional purpose of lighting up space such as when flood lighting, garden lights can also serve as security lights.    As an integral part of landscaping, garden lights are essential in creating ambience and moods in places. In fact, garden lights, whilst bringing a touch of class or elegance to the area, help you set the tone and even emphasise some special feature whether that's an architectural feature like a pergola, outdoor furniture, or the trees and greenery itself.  You can illuminate back corners and trace paths and steps.
Get creative when embellishing entryways, deck areas and outside living spaces. Nowadays, LED lights are the must-have option when one is trying to create a chill-out or dining zone outside.  Without a doubt, garden lights are also an important add-on for special events, such as when organising garden parties or during special holiday seasons, when gardens are further decorated for a celebration atmosphere.
When implemented as part of landscaping projects there are various types that can be used.  From spotlights to flood lights, wall lights, well lights and spike lights, the variety is truly endless.   You might want to embed LED lights in your deck or highlight a water feature with a submersible light feature.   LED lights provide the possibility to light exact spots in the garden area without obliterating the dark night sky and this gives a peaceful setting.  This is what makes them the ideal option for installations where light is an essential part of the exterior well-thought décor that brings about a play of light and shadows.  LED lights are also available as string lights, posts, lanterns, porch lights and table lights in order to bring your garden to life after sunset.
Some of the above-mentioned lights like wall lights, porch lights and posts are usually in a fixed location and powered through main lights.  Such lights often require professional installation and are planned out when one is landscaping and designing the garden. Solar-powered panel options are also a good idea that should be considered.  Other options like lanterns, table lights and string lights can be battery operated and these can be moved from one area of the garden to another very easily.  These are very effective and easy to add on and require no professional installation.
LED lights are nowadays considered as highly efficient illumination devices and definitely superior to traditional lights.  Available in a variety of colours and with a long lifespan, LED lights are also a good option for garden lighting because this type of technology is well-adapted for an on/off cycles.     Furthermore, they are shock resistant.
According to John Gabby from Sonica Led Lighting Shop, acquiring LED lights depends on various factors. Whilst one can find LED lights targeting different budgets, the decision ultimately depends on whether you have a professional contractor handling the job or whether you are intent on a dose of DIY.   When you have a professional contractor handling the job, your contractor might provide own advice and guidance. If you're on your own handling the light and décor of your garden, make sure that before you decide, you have considered that the LED light you are buying is adequate and fits the purpose and demands of the job.  For example, if you want to create ambient light, then you need to look out for dimming functions and colour options.
Check out the durability of the light fittings being chosen. Opt for items that have been designed for the outdoor and factor aspects like peeling, weathering, erosion and discolouring.  One item that you cannot miss out is that the lights chosen need to waterproof. If you're opting for battery-powered lights, chose models with robust batteries to avoid the frustration of frequently changing the batteries. Finally, also consider how easy it is to setup the light fixture without the need of a professional. Browsing through and reading online reviews for different brands and model will help you take the right decision.
If you're still not yet convinced that LED lights are the way forward for your garden, keep in mind that LED lighting technology leads to cleaner lower carbon emissions and the replacement of these lights will eventually turn out to be cheaper.    On the other hand, if you're already keen to the idea of lighting up your garden via LED lights, keep in mind that you can also opt for automated smart LED lighting systems that allow you to control the lighting in your garden further.