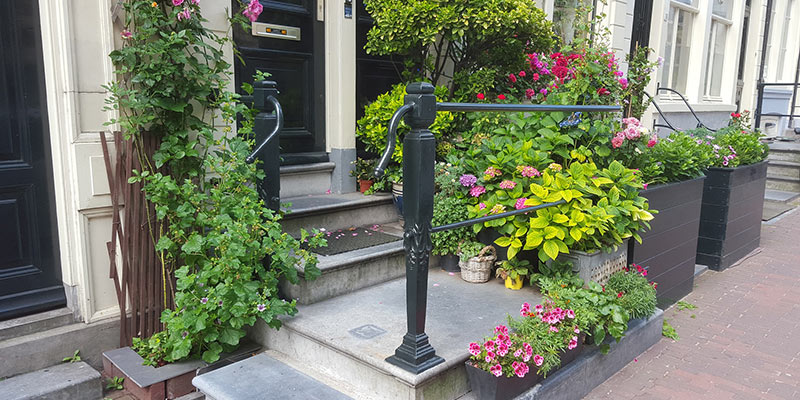 If you're thinking of selling your house, you've probably decided to refurbish the interior to make it look as attractive as possible. However, the exterior of your property is the first thing people see and you only get one shot at making a good impression. In this article, we share some tips to help you add kerb appeal to your home.
1. Knock, knock … who's there?
Your front door makes a massive statement and if it's looking a little tired and needs a new coat of paint, now's the time to do it. Choose a bold colour like a high-gloss black, or a dark maroon, or even a deep blue. Another stylish option is to fit a hardwood door. Whether your front door is painted or in natural wood, a polished brass or chrome door handle, letter-box opening and house number will add a touch of class.
2. Outdoor lighting
You can make a big impact by using low-voltage outdoor landscape lighting. A softly-illuminated pathway to the front door has a wonderful charm and accent lighting on one or two trees looks great.
3. Colourful plants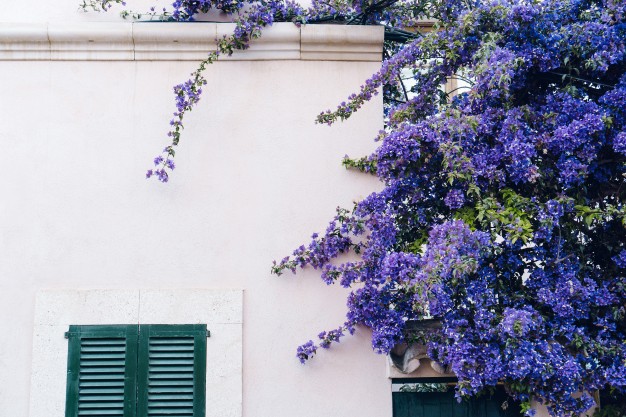 If you have a small front garden, a few strategically placed containers from your local garden centre, filled with plants of all colours, is all you need – a staggered, asymmetrical arrangement creates a dynamic display. While you're at it, the addition of a window box or two will add even more colour and charm.
4. Flower beds
Prune your shrubs and get rid of any weeds in the front garden. Plant your beds with some new flowers and shrubs. If the brick or stone borders are cracking or crumbling, replace them with a stone or decorative cast-concrete edging system.
5. Gutters and downpipes
Your home may have an old-fashioned gutter system, which normally means peeling paint, rust spots, and water leak marks. Replace the damaged gutters and downpipes with a modern vinyl gutter system, which is easy to fit and never needs painting. If you have the budget, you could go first-class with copper gutters and downpipes. This will lift your home's kerb appeal to a new level.
6. Exterior paint job
If the paint on the walls is cracking and peeling in places and there are ugly stains and marks, an exterior paint job is the answer. Page through some home decorating magazines and spend time at your local paint shop for ideas on colours that will best show off the house to prospective buyers.
7. Driveway repairs
If your concrete driveway is showing signs of breaking up and has weeds and vegetation sprouting from it, you need to make some repairs. Fill the cracks, spray the weeds and clean the area properly. You might even think about using an architectural concrete stain that comes in a range of eye-catching colours and effects.
Traffic, weathering, moss and mould growth take their toll on a brick or paved driveway. To make it look new again, first use a pressure washer to clean the surface and then treat it with one of the many sealers available on the market.
8. Garage doors
Garage doors are seen by everyone passing your house, and if they're looking shoddy then give them a lick of paint. Alternatively, this could be the ideal time to fit new automatic garage doors, which come in ultra-stylish steel, glass reinforced polyester (GRP), roller, or natural timber. Automated garage doors are just the job for people who struggle to lift a manual door – all that's needed is a click on the remote.
9. Pathways
To improve the drab concrete path that leads to your front door, why not replace it with one made of warm stone or brick, or apply a coloured concrete stain. Or you could remove the concrete and lay a path of gravel with a smart edging – golden flint gravel is an attractive option. Gravel can also be used to spruce up borders and flower beds.
10. Railings
Porch railings can deteriorate in the UK weather and start to look shabby. If yours are wearing out, replace them with top quality painted wood or painted metal railings.
11. Some creative touches
Look for ways to get creative when updating and adding kerb appeal to your home. Here's an idea: instead of a normal door mat that sits out in all kinds of weather and soon get to look worse for wear, why not create a permanent welcome mat in mosaic or natural stone. You could contrast this with the colours of your porch floor. Not only will you not have to worry about replacing the mat, but you'll impress everyone with your style and creativity.