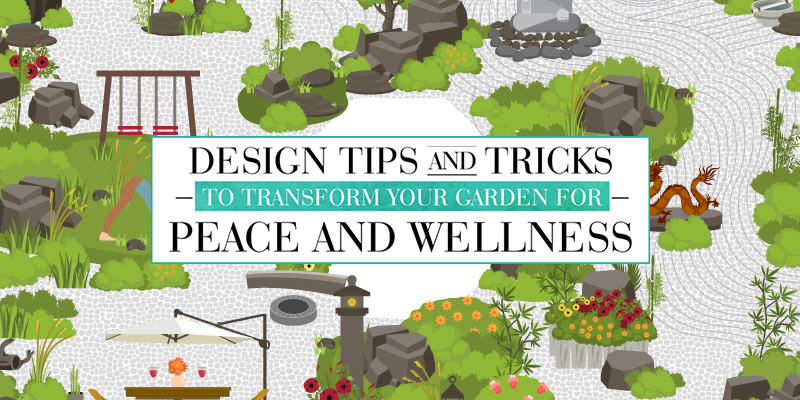 Feng Shui principles are normally applied to designing home interiors, but they can be just as useful when looking for inspiration for your garden. Our latest gardening infographic, from renowned US retailer Pottery Barn, will show you how.
Although the summer is coming to an end (did it ever really start?), now is the perfect time to get outside and enjoy the last of the warm weather. We all know that doing gardening is a good bit of exercise but did you know that taking care of your garden is actually a fantastic way to start taking better care of your mental health too?
According to research, 16% of the general population are affected by a mental health disorder at any given time and regular gardening can effectively reduce the risk of dementia by up to 36%. Your outdoor space is the perfect platform for self-care – whether that be meditation, yoga or just the simple act of gardening itself. If you apply ideas of feng shui to the style and structure of your garden, you can optimise your space to improve your well-being.
The team at Pottery Barn have come up with an insightful infographic that explores each area of the garden and how to optimise its feng shui benefits. According to the team, the north east area of the garden is the perfect place for a zen garden and an outdoor reading bench. The south of the garden is the best place for a BBQ, or using lighting such as a traditional Japanese lantern. As the infographic demonstrates, the north west is the best place to arrange outdoor furniture, especially when meeting people and discussing business, while west is best for a playground or yoga area.
From the impact of yoga to where to place your outdoor furniture: to find out more about how caring for your garden can help take care of you, explore the infographic below.
(Click to view the full size version).