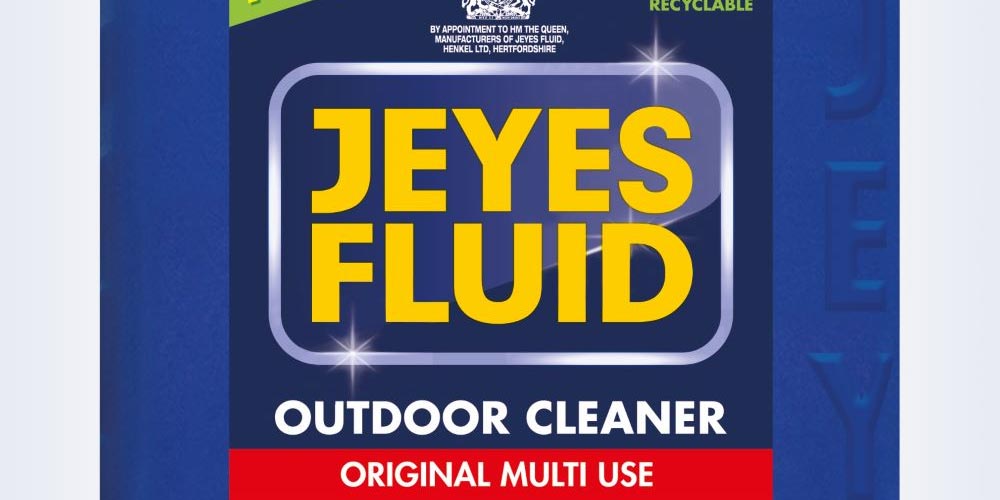 Jeyes Fluid, the British heritage brand that's been proudly keeping the nation's gardens clean for over 140 years, is leaping into the future with its new recyclable plastic bottle and updated formula. The revamped bottle will be kinder to the planet and can be used on more surfaces. It will be available mid-March from £4.49.
Founded in 1877, Jeyes Fluid has been trusted by British households for its antibacterial power that's withstood the test of time. This includes being granted the prestigious Royal Warrant by the British Royal family. From sterilising the trenches in World War I, to reducing the spread of scarlet fever in the 1870s, to now keeping gardens safe through the pandemic, Jeyes Fluid has been passed down throughout ages.
Moving into the next generation, Jeyes heritage tin bottle will be replaced, as part of its commitment to help pave the way for a more sustainable future. The new, ergonomically designed recyclable bottle will now have paper labels which are recyclable. It mirrors its predecessor in terms of its classic tin shape so that consumers can still recognise it. It's also lighter to reduce transport emissions and removes a layer of factory manufacturing and pollution.
The brown dye from the solution has also been removed to ensure it can be used on all surfaces, including lighter ones, without staining them. Additionally, the outdoor cleaner now also tackles limescale and rust, along with bacteria.
Charlotte Blampied, spokesperson for Jeyes, comments; "As Jeyes Fluid moves into an exciting new era, we look forward to loyal customers enjoying this recyclable bottle, while it stays true to its heritage. Jeyes continues to be a trusted household cleaner by millions globally, a true testament to the quality of the product. We look forward to continuing to developing and evolving the brand's packaging further as part of Henkel Laundry and Homecare's commitment to sustainability."
Jeyes Fluid, eliminates 99.9% of bacteria in garden and outdoor spaces. It effectively cleans a multitude of surfaces, helps to clean drains, limescale and rust on outdoor tables and chairs, decking areas, plant pots, greenhouses, pathways, driveways, garden sheds and more.
For further information about Jeyes products, please visit: www.jeyesfluid.co.uk