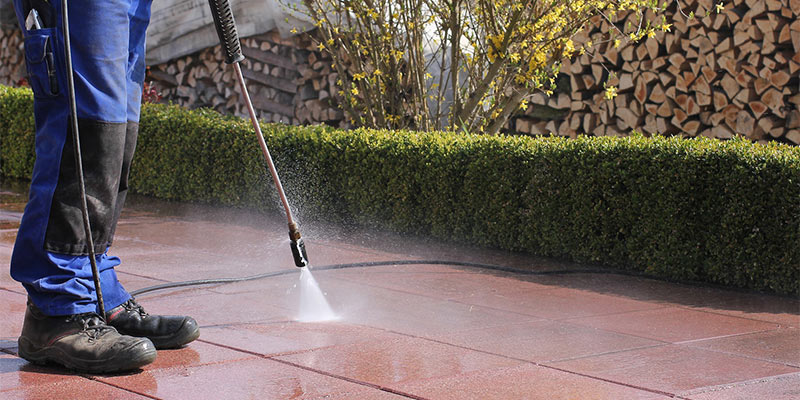 Deep cleaning your home requires specialists from time to time. However, some tasks such as stain removal or removal of a film can be highly laborious and expensive. The stain could be too stubborn or the surface area is too much for it to be scrubbed easily.
If you are in the middle of a situation where you need to pressure clean your premises but cannot afford to hire professional help, then no need to worry because this article has just the tips you need.
You can now easily either buy the pressure-washing equipment or rent it at an affordable price to do the cleaning yourself. From your house to the driveway, you can make it spotless by using these simple techniques.
Here is a list of helpful tips on how to pressure wash with your own equipment and when to seek a service provider's help.
Start With Safety
Pressure washers are extremely forceful and can cause severe damage to you or your property if done the wrong way. The high-pressure water must be used with proper safety gear and technique to get the best results. When planning to pressure-clean your home, invest in some safety gear such as eye and ear protection, gloves, boots, and long-sleeved shirts.
Additionally, don't just willy-nilly activate the sprayer on your machine. First, check the direction of the nozzle, ensure no one is standing in the way of water pressure, and plan the stream's direction beforehand. Be careful when spraying on windows, doors, and screen enclosures that are vulnerable to damage due to high-pressure water. Experts recommend that everything in pressure cleaning system works with great intensity. Therefore, it is extremely important to be careful while using the machine.
Use It Sparingly
Don't set the highest pressure settings just yet. Get used to the machine first and gradually work your way around the settings. According to professional cleaners, you should always start with lowest settings when cleaning your house or deck. When applying the cleaning chemical, you should start with ground up and then wash down, not the other way round.
Protect Your Precious Assets From Damage
Remove all the plants from your deck before activating the pressure cleaning system. Cars should also be removed from the driveway as they can get damaged from the intense pressure stream. You can also use something to cover them up to avoid any interaction with chemicals.
Understand The Machine Before Using It
If you have been scrubbing the stain off for some time without any success, then resetting your machine to the highest settings will only cause damage to the surface. It is nearly impossible to remove certain stains such as fertilizers, acorn stains, oil spots etc. Therefore, don't try to test the machine beyond its limits. Just call the nearest pressure washing service and let the professionals take it from there!
Don't Write-off Professional Cleaning Entirely
While you can certainly do some basic washing of your property, you would need experts when things get difficult. Don't try to do anything that a novice shouldn't do. These things can cause injury. Therefore, it is best to call someone who knows how to do the job competently and safely.
This is especially true if you want to clean a structure that involves one or more levels. When it comes to taller houses, you would require a ladder and a different equipment to do the cleaning.
Pressure Washing Techniques for Beginners
When you are dead-set on doing this on your own and understand the risks, then it would help to know certain techniques that will keep you safe during the process. Remember, knowledge is power when it comes to specialized tasks such as these. The more you know, the better it will be when you use the heavy-duty machinery on your own.
Common Scenarios for Pressure Washing
People resort to pressure washing when they want to clean enormous areas such as driveways, exterior walls, tall buildings, statues etc. This method of cleaning is highly effective in removing pollution, chemical residue etc. on structures in cities and towns. It also works wonders in removing hard water stains, lime, mineral deposits etc. Homeowners can use it to remove grease and oil stains from their driveway and also graffiti from their walls.
Call a Professional or Do-It-Yourself?
As mentioned earlier, it is very easy to find pressure washing equipment these days. However, before you buy or rent, be sure to discuss with specialists about the proper technique of using it. If at any time you feel that you bit off more than you can chew, don't hesitate to call your local service provider.
Tips to Find a Professional Pressure Washing Service
When you call trained experts to do the cleaning, you can rest assured that your property is in safe hands. They will not only do the cleaning efficiently but also use smart cleaning methods rather than scrubbing the stains painstakingly. This means they can do the job at faster pace.
Most importantly, you can protect yourself against a lot of damage caused due to lack of experience in handling pressure equipment. Hiring someone is always a better alternative if you are uncertain about the task ahead of you.
Pressure washing is an expert technique that requires delicate handling that only a trained technician can handle. So even while you may be confident that you can remove the stains or clean the windows using pressure, it is still advisable to call an expert.
That being said, let us see how you can hire a power washing service provider when you need one. If you are convinced that you will need a professional after all, it is better to use the tips below to select the company carefully and vet them before hiring.
Make Sure They are a Company and Not a Handyman: Many local professionals would try to pass themselves off as a trusted local go-to contact for all the specialist requirements. However, pressure cleaning does not fit in that general category. It does require trained and skilled workers who know how to handle a heavy-duty machine and clean your premises without inflicting any damage. If the handyman in your area says he can handle the job, you should still go to a proper company that has experienced technicians who are trained in power washing.
Your amateur handyman may not know the nuances of cleaning delicate areas, such as vinyl siding that requires soft washing and can get damaged with pressure. Therefore, make sure the company you choose is certified to do this work.
Don't Go with the Cheapest: Remember, you will always get what you pay for! So don't be tempted to work with the cheapest contractor in your area. You should be happy to pay whatever is reasonable for the job and get top value for your money.
Check the Reviews: This is the single most effective and reliable way to assess a company's work ethic. If you have a list of companies that you think are worthy, then do some research online and look for third-party reviews. Better Business Bureau is one of the leading portals to help customers find an unbiased opinion about a local business. You can easily find plenty of information about the company of your choice to make an informed decision. You can also interact with the potential company's previous clients to get a fair idea about their quality and commitment.
Check Employee Insurance: This is a hazardous work that involves working with heavy machinery. Therefore, you should never neglect the importance of employee insurance. Should something happen while they are on your property, you become automatically liable to pay for their medical expenses. However, when your contractors are covered by their respective companies, then you can work with them with confidence.
Ask for Guarantees: A reliable service provider will never hesitate in providing you work guarantee. You can ask for a written proof on an email that they will stand behind their work and will resolve any issue arising out of their poor performance.
Hiring a service provider is really not as difficult as it is often believed. It does take a few extra steps to get the right contractor for the job. However, it also saves you from a lot of trouble later caused by inexperienced amateurs.
Even though power washing is an expert task, you can sometimes do a bit of it on your own by renting equipment from your nearest hardware store. However, if the mission looks complicated and you have delicate areas and stubborn stains to remove, then call a professional. The tips in this article will help you make a reasonable choice that will not only be efficient but also save you tons of money by preventing any expensive damage caused due to improper handling of equipment.
So if you have cleaning on your mind, then start assessing your property and then make a decision whether to do it yourself or to call a professional.