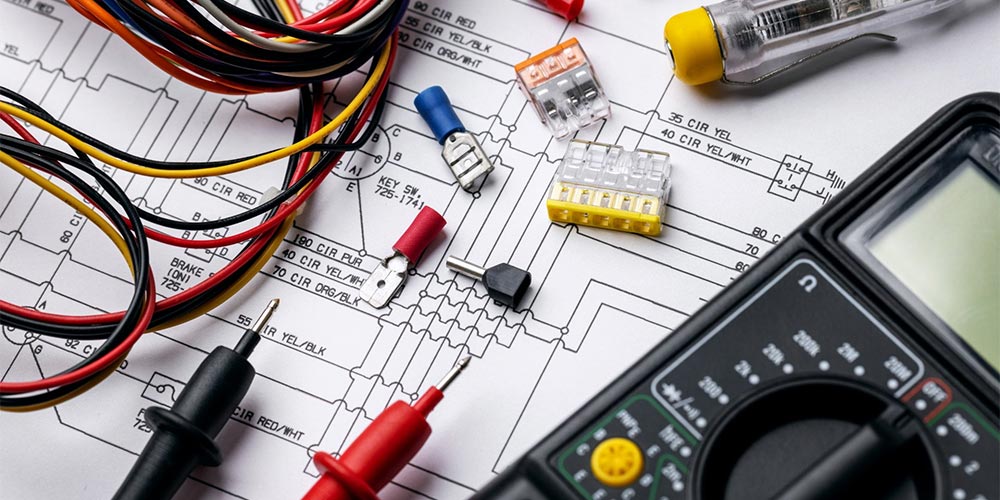 People often overlook the importance of electrical safety, yet each year electrical faults lead to 200,000 accidental household fires in the UK alone. Not only do electrical issues pose a threat to life, they can also lead to loss of property and personal items, as well as huge financial implications.
Whether you're a homeowner, landlord, business owner, developer, or a professional working in the housing market, you will need to inform yourself about electrical safety and all-important electrical safety checks. Here, we will answer all your Electrical Installation Condition Report (EICR) questions, so you can stay informed and keep your property, business, and family safe.
What is an EICR?
An EICR, also known as an Electrical Installation Condition Report, is a comprehensive inspection of all the electrical installations within a building. The examination covers everything from distribution boards to light fixtures, highlighting any faults or areas of concern that could lead to injury or accident.
During the assessment a qualified engineer will find any issues and each will be assigned an observation code. There are four codes, ranging in severity: C1, C2, C3 and F1. In order to be EICR compliant, any C1, C2 and FI faults should be fixed immediately, but rectifying all errors is generally considered best practice.
Why are EICRs Important?
So, why are EICRs important? Well, electrical installations deteriorate over time and can be affected by anything from water ingress to human error. Left unchecked, electrics can deteriorate to the point where they pose a real risk to safety. An EICR will highlight any such problems, before they have a chance to cause harm.
EICR reports will detail the state of all the electrical elements within a building, to help ensure your property is compliant with BS 7671 – the national standard for electrical installations.
If you worry over the policies regarding faulty electrics, please check out this policy guide by experts from Health and Safety Executive.
Who Needs an EICR?
From schools to care homes, factories to bakeries, private homes to social housing, all types of properties need to have a valid Electrical Installation Condition Report in place, in order to ensure they're safe to be used or inhabited.
Residential EICR certificates are there for homeowners and landlords. Since 1st June 2020, Government regulations make it mandatory for landlords within the private rented sector to have their electrical installations tested every five years. For older electrical installations, more frequent testing is recommended.
A residential EICR is also suitable for homeowners looking for peace of mind, builders, architects and engineers, as well as property developers, property managers, housing associations and councils. Commercial EICR certificates are there for all businesses. This includes office blocks, warehouses, coffee shops and gyms.
EICR Observation Codes
Electrical Installation Condition Reports involve various checks. During the inspection, your engineer will look at everything from your building's fuse boards or consumer units, to the cables and fixed wiring inside the walls. Any issues identified will be assigned one of the following four observation codes:
Code C1
C1 is the most severe observation code and it means that there is an immediate threat to the integrity of the building and the safety of those inside. Fast action is compulsory.
Code C2
The C2 code means there is a potentially dangerous defect with your electrical system and urgent corrective work should be carried out.
Code C3
Code 3 is a lower-level code defined as 'Improvement Recommended'. This generally means a non-regulatory issue has been identified, or an element of the electrical installation could do with improvement. Repair works are recommended, but not mandatory.
Code F1
The FI observation code highlights that further investigation is needed. This usually means an engineer has found something during the inspection that needs to be looked at in more depth.
EICR Remedial Works
If any issues are found during your EICR, you will need to arrange for repair works to be carried out. All C1, C2 and FI faults should be fixed as a matter of urgency, but rectifying all errors, even those considered low-risk, is best practice. Once repair works have been carried out, another full EICR will be completed, to ensure the maintenance has been completed successfully. Only then will you be issued with an EICR certificate.
How Often Should an EICR be Carried Out?
How often you should arrange for an EICR depends on the type of property you own or manage. It's recommended that commercial EICRs are completed once every five years, or every 10 years at the most, to ensure the property is compliant with BS 7671.
As for residential EICRs, government regulations make it mandatory for landlords to inspect their properties every five years. Under the Electrical Safety Standards in the Private Rented Sector (England) Regulations 2020, landlords have 28 days to arrange any repair works following an EICR.
Are EICRs a Legal Requirement?
For business owners and landlords, EICRs are a legal requirement. There are currently no legal obligations for private homeowners to have their electrical systems tested, but that doesn't mean that this essential maintenance should be overlooked. An EICR could be the difference between life and death.
How Much Do EICRs Cost?
The cost of an EICR will differ depending on the company you employ and the size and age of your property. For the most part, Electrical Installation Condition Reports are priced based on the size of the property, while commercial EICRs tend to be priced around the number of circuits inside the building. Contact us for a quote.