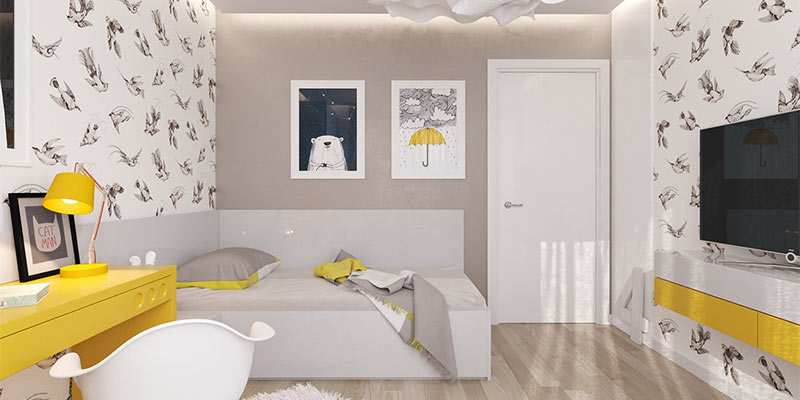 As Popular Mechanics says, "it's the walls that define your home. They're what you see day after day, at all hours, in any weather. A home's walls enclose, strengthen and hold secrets."
If your walls could talk, what would they say about you? Have you already given them the creative treatment they so rightfully deserve? With every blank wall in your home comes a creative opportunity. Don't let those bare canvases go to waste. Here are eight ways you can bring life to them.
Create a gallery wall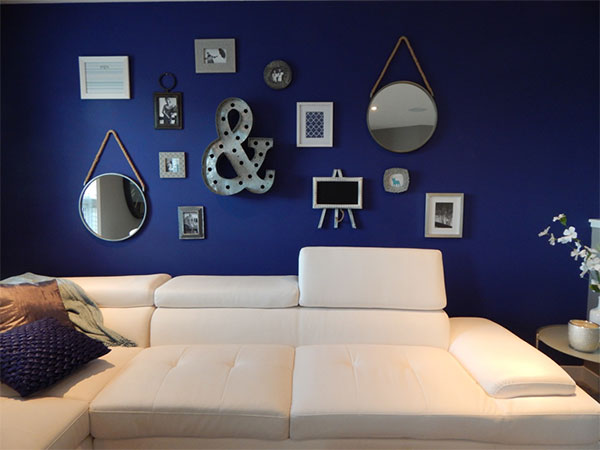 You can never go wrong with a classic gallery wall. It's fairly easy to make. Plus, you don't have to worry about making a mistake because there's no wrong or right way to do it. Just pick your most display-worthy photos and art pieces, put them on frames, and hang them on your wall. Use matching frames for a sophisticated look and random-sized frames for a more organic and funky look. Gallery walls are not only restricted to frames. You can add more spunk to yours by incorporating other aesthetic pieces such as jewelry, clocks, and mirrors.
You can also add a hint of sentimentality to your design by using old photos or post-processed black and white photos and make a collage out of them. You can hang them in strings or arrange them in rows. If you have a blank wall beside your staircase, a gallery wall is the perfect decoration to adorn it with.
Paint them yourself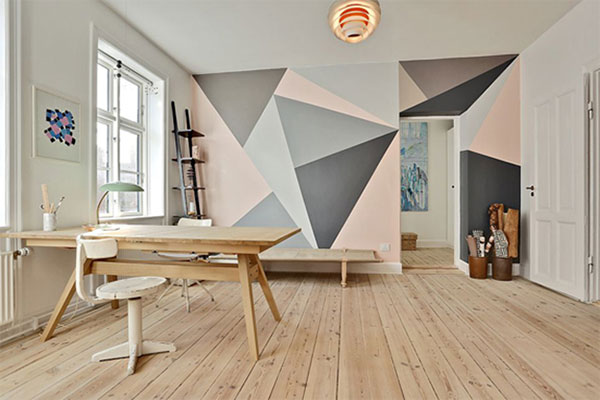 Source: Danbolig | bungalow5.dk
Let your artistic side show and give a personal touch to the walls of your abode by painting it yourself. Create a beautiful mural with your own design or with a wall art stencil. For a bolder effect, try color blocking – choose two contrasting colors and paint random geometric shapes with them. You can even use this style for the entire room. It's a good way to make a statement even without wall art and furniture pieces.
Hang one big statement piece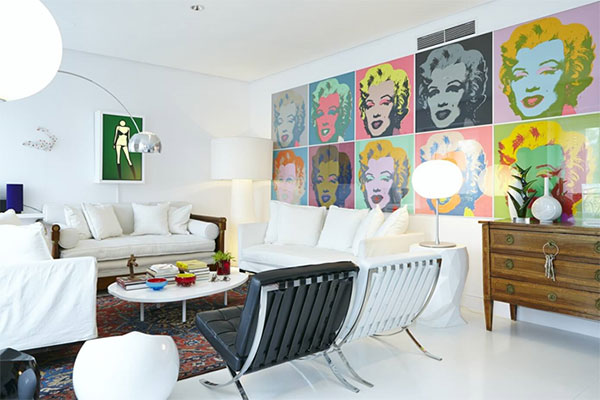 Source: trendir.com
If you're a minimalist and you don't have the time to put a gallery wall together (and it just isn't your style), a single big statement art piece is the perfect boring-blank-wall solution for you. Especially if your walls are mostly blank and painted with a neutral color, a single bold-colored, large-scale art will be enough to break up the dull atmosphere and add some energy to your place. It's a good way to make a huge statement without having to cram plenty of various frames and art pieces in one place. It's easy on the eyes and it makes a small room seem grand and feel cozy.
Put up mirrors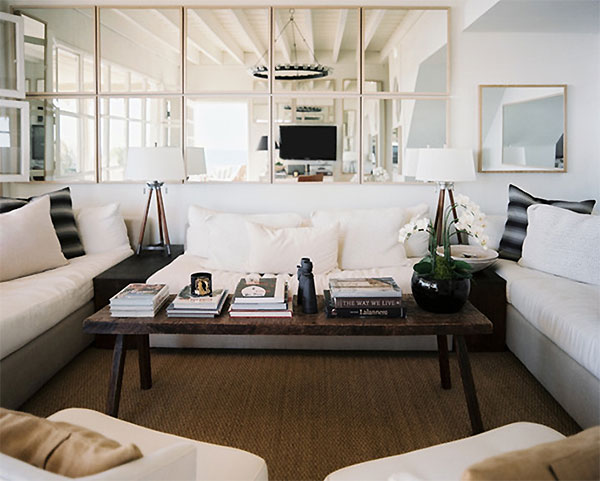 Source: lonny.com
Mirrors aren't only ideal for filling the blank spaces on your wall; they can also make your space look brighter and bigger since they reflect light and open up the space. Hang a number of mirrors in different frames and sizes or just one big statement mirror, depending on your preference and the size of the room. Professional interior designer Vanessa Deleon has a few reminders when it comes to using mirrors for decoration.
For small spaces, Deleon recommends large mirrors because it creates the illusion of depth. She also says when using a mirror to cover empty wall space, the mirror should be positioned in a way that it reflects something worth looking at–no clutter or unattractive piece of furniture should be in view. She also advises against the use of mirror as decoration in the bedroom due to the rules of feng shui and suggests it should be put in narrow hallways and staircases to create an illusion of wider space.
Never underestimate the power of good old wallpaper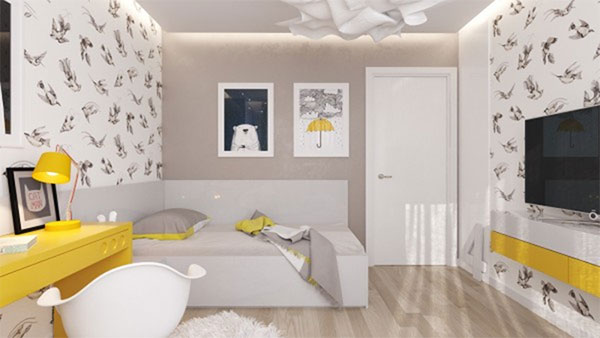 Source: home-designing.com | Mitaka Dimov
Though more time consuming and harder to replace than a paint job, wallpaper, when hung properly, can last three times as long as paint. It can also hide many surface imperfections that paint can't. Plus, it comes with plenty of colors, patterns, and textures to choose from and can easily add warmth, depth, and style to a room. There are many ways you can use wallpaper as a decoration for blank walls. You can use it cover all the walls, or just the bottom or upper half for a more classic look.
You can also use wallpaper to decorate only one wall, or a portion of it–wherever you want to draw the eyes of your visitors into, such as the fireplace or behind the TV. If you can't decide on just one design, you can use more than one, cut them, frame them, and hang them on the wall as art.
Keep it contemporary with wall decals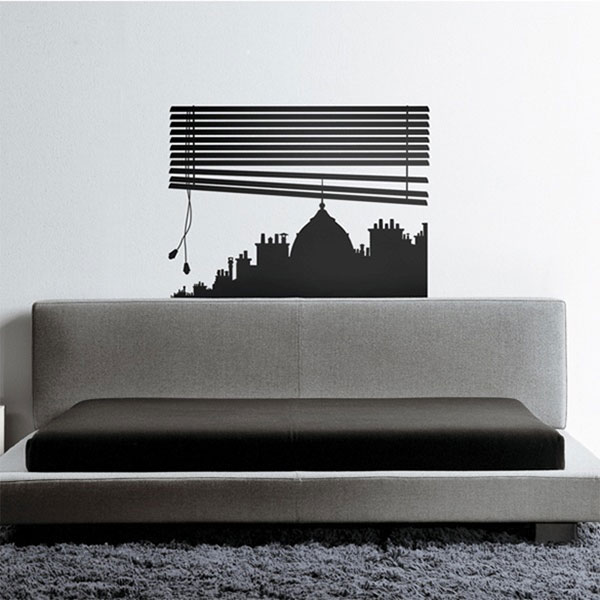 Source: freshome.com
If you don't want the commitment and hassle that comes with putting up wallpaper or painting the walls, then wall decals are the right decoration for you. They're completely removable and they can give your space the same color and energy as a huge statement art piece at a cheaper price. It also won't leave holes or do any long-term damage to your walls which makes them a great solution for renters who aren't allowed to paint or hang wallpaper on their walls.
Make a statement with wall hanging tapestries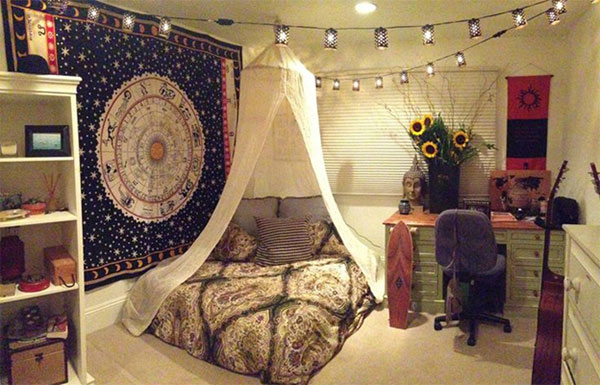 Source: blog.royalfurnish.com
Tapestries are another ideal way to dress up bare walls for commitment-phobes since they can easily be removed and replaced. They make for a strong style statement and effective conversation-starter during house parties.  You can slip them in a rod and hang the rod on nails. You can also nail them directly to the wall with push pins. Another way is to mount them on a wood frame such as a plywood board and hang them with sawtooth picture hangers. If your bed doesn't have a headboard, you can pin tapestries to the wall in place of your supposed headboard instead.
Combine the power of decoration and function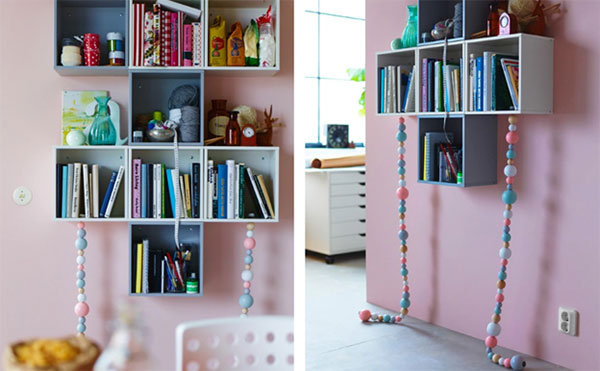 Source: ikea.com
If you have plenty of blank walls and a shortage of storage space, you might want to consider occupying your walls with crafty storage solutions to contain your clutter. You can put up one big cabinet or several artsy shelves on the wall to contain your books, plants, coffee mug, etc. You can also nail several hooks on the wall to hang your hats, bags, or jewelry. Take advantage of your blank walls by making your wall art both decorative and functional.
You don't have to be a professional artist to bring color and creativity to your home. Take advantage of the bare walls in your home and inject your personality into them by putting up art pieces and photos, painting them, or using them as creative and functional storage spaces–the possibilities are endless. Do you have blank walls in your home? How do you plan on decorating them?
Lois Sapare is an editor at Scoopfed. She is a former student journalist with a bachelor's degree in Information Technology. When she's not writing content on a variety of topics, you can find her watching pysch thriller films or keeping up with the latest buzz in the tech world.