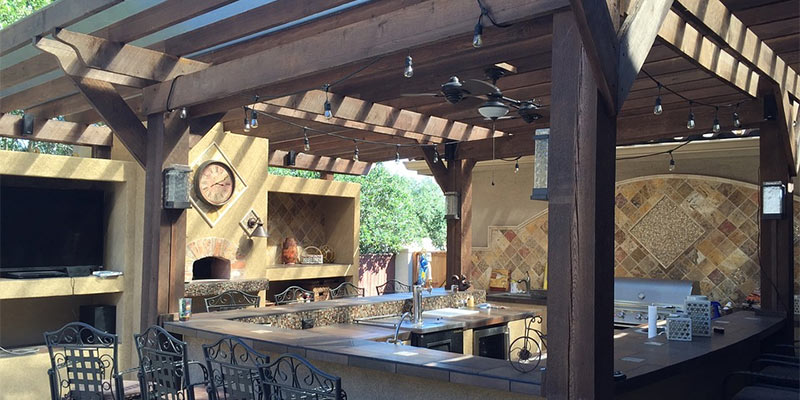 Many things usually go into designing an outdoor kitchen. It takes a lot of time from planning to the purchase the stuff that will go into it. Besides, it never comes cheap.
Here are some tips to consider before setting up an outdoor kitchen.
1. The Available Space
Small properties usually present few choices, when it comes to setting up an outdoor kitchen. However, if you have a large property, make the distance from your house to the outdoor kitchen short.This makes it easier for you to maneuver indoors and outdoors in case you want to move some kitchen appliances in and out of the house.
2. Budget
Always set a budget and work within it, as things can get out of hand anytime. You can factor in designer and contractor costs, materials, appliances,and tools as well as permit fees for building or extending. You will also need help with things like plumbing and electrical.
You should take note that the scope of the outdoor kitchen and the materials being used will affect the budget. Nevertheless, plan for small stuff and have a reasonable budget depending on your property. Do not be so stingy.
3. Type of Outdoor Kitchen
This depends on your set budget, space, lifestyle and personal preferences. You can have something basic like a grill and a counter or go for a fully functional kitchen, but remember it is the outdoors so factor in the weather and surrounding environs.
4. Permanent or Portable Outdoor Kitchen
If you have no moving plans, you can build a nice permanent outdoor kitchen. Choose a safe convenient place, use materials thatcomplement your entire home. It is important to provide some continuity in the building, to make the structure complete and presentable.
However, if you are an up and down kind of person, just equip the outdoor kitchen with movable appliances and features.
5. Appliances that go into an Outdoor Kitchen
Consider the outdoor kitchen appliances in relation to the design style. What you can cook inside, you can definitely cook outside. Besides, an outdoor kitchen offers loads of options. You can use loads of appliances in the open.
You can have any type of smoker or grill from an electric smoker to a charcoal grill. Moreover, you can invest in a built-in refrigerator and even an icemaker, and make more additions as you continue to it. Besides, an outdoor kitchen usually allows for more improvises. You can DIY loads of stuff to make it more homely, comfortable, serene, depending on your environment, and surrounding.
6. Climate and Environment
Try to place some of your outdoor kitchen appliances under a partial patio roof or a cover, especially if you live in a region with loads of rain, wind,andcold. Places with extreme weather conditions require an outdoor kitchen set near a yard.
However, if you live in regions with amild climate, you will be using the outdoor kitchen a lot more, so a bigger one will be ideal.
In relation, try to build your outdoor kitchen somewhere with a spectacular view.
7. Maintenance
An outdoor kitchen often needs loads of maintenance due to its exposure to loads of outdoor elements. You can cover some of the stuff placed or built in there, even if you are using it frequently. You will have to put in more effort when it comes to cleaning and maintaining the stuff installed in it. You can always learn ways about maintaining them from sources like BestHomeGears.
Nonetheless, you can make it simple for easier maintenance, especially if you are a lone chef.
8. Cooking Styles
Cooking outdoors is usually fun and peaceful at the same time. You can use any fuel source, cooker and improvise on loads of things. Besides, you can cook for loads of people while outside, depending on how you designed it. Its always good to read reviews about these electric smokers.
Moreover, you can even host guests there, you just have to prepare it for them, but bigger ones usually make for a good cooking and eating-place.
Conclusion
Conclusively, an outdoor kitchen is usually a versatile cooking place. You can cook anything you want and use any fuel source from wood, propane, and even charcoal. It can make a great barbecue area for fun times with family and friends.
Outdoor kitchens also make for great party areas. You can do everything on the outside without interfering with indoors or indoor kitchen for that matter. You also get the benefit of having a spectacular view, depending on where you locate it.