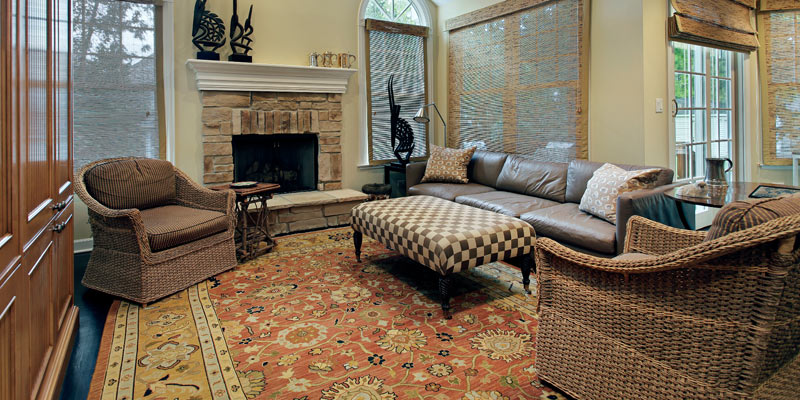 Learn how to choose the right oriental rug with our latest piece from an expert guest author.
If you have a small room in your home, you may mistakenly believe that designing the room will be simplistic. The small size of the room may fool you. The truth of the matter is that designing and laying out a small room can actually be more complicated than bigger spaces. You'll have fewer options to work with and will need to make sure each of your choices are absolutely perfect. During the planning process, you should definitely consider adding traditional rugs to the layout. Below, you'll find more tips for successfully designing a beautiful small room.
Decorating the walls
Since you have much less space to work with, you will need to use every inch to your advantage. Therefore, you should not ignore the walls. While it might be impossible to add a mural to the room, you can still opt for a few pieces of wall art. In fact, you should consider adding a few paintings or Persian rugs to your walls. The paintings will help to mesmerise your guests and using a rug as a piece of wall art is undeniably unique in its own right. Just remember to remain realistic and avoid overdoing it. Make sure you get a uniform finish and that all of your wall art perfectly complements one another.
Don't over do it
While your space might be limited, your options will remain plentiful. However, it is also important to keep yourself in check. When trying to lay out your room, it is a good idea to make the room feel spacious and open. Adding too many decorative items will make the room feel cluttered and uncomfortable. Instead of adding too many tables, lamps or other items, you should choose pieces that will not consume too much space. Adding wall art or Indian rugs will be a better choice. These items will add to the room, without consuming too much space.
www.myrugstore.co.uk has an enormous selection of small rugs that will work exceptionally well in any small room.
Use area rugs
If you approach the project with an open mind, you will create a beautiful room that will be inviting to everyone. The key is to avoid overcrowding, because you do not want to room to look busy or unbalanced. You want every item to envelop into the design perfectly, while making the room look spacious and airy. Most professional designers suggest starting out with an Indian or Afghan rug and then go from there. When shopping for the rug, you will need to choose the colours and designs carefully, since everything will be need to match it.
The placement will also play a huge role in creating the perfect layout. If you are working on a bedroom, you should consider placing the rug on the side of the bed. Not only will this provide a balanced look, but it will also provide your feet with a soft and warm platform to step on, when you first get out of bed. If you plan on putting the rug in the living room underneath the coffee table, you will need to make sure it is large enough to hold all four legs. Experts suggest leaving an overhang of 4 to 6 inches, just to make everything look balanced.