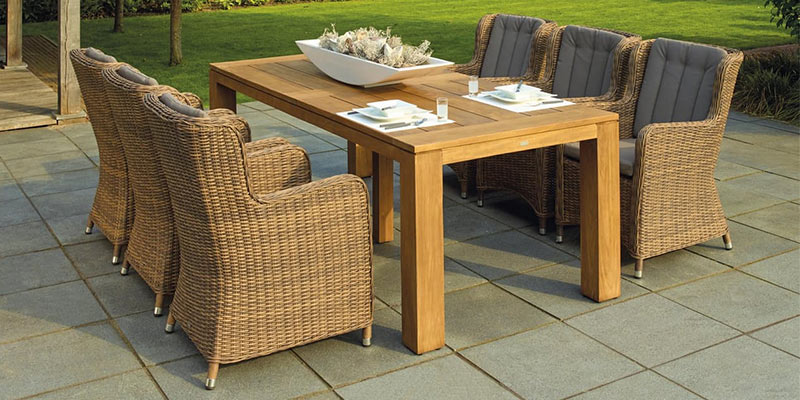 Take a sneak peek at some of the upcoming patio furniture trends for 2017.
Winter may well be coming, but the fact that early frosts and chilly winds will soon transform al fresco areas doesn't mean the beginning of the 2017 will go down all grim and glum in the deck design arena. The year to come will bring quite a few changes in outdoor living trends, and patio design and furniture aren't an exception. But which direction will deck aesthetics take in 2017, and which elements can we expect to see on chic patios in the season to come?
1. The clean charm of natural materials
Furniture designers around the globe have cherished a love for natural materials for a couple of years now, but it's only of late that they began to experiment with outdoor elements made from sensitive wood and stone.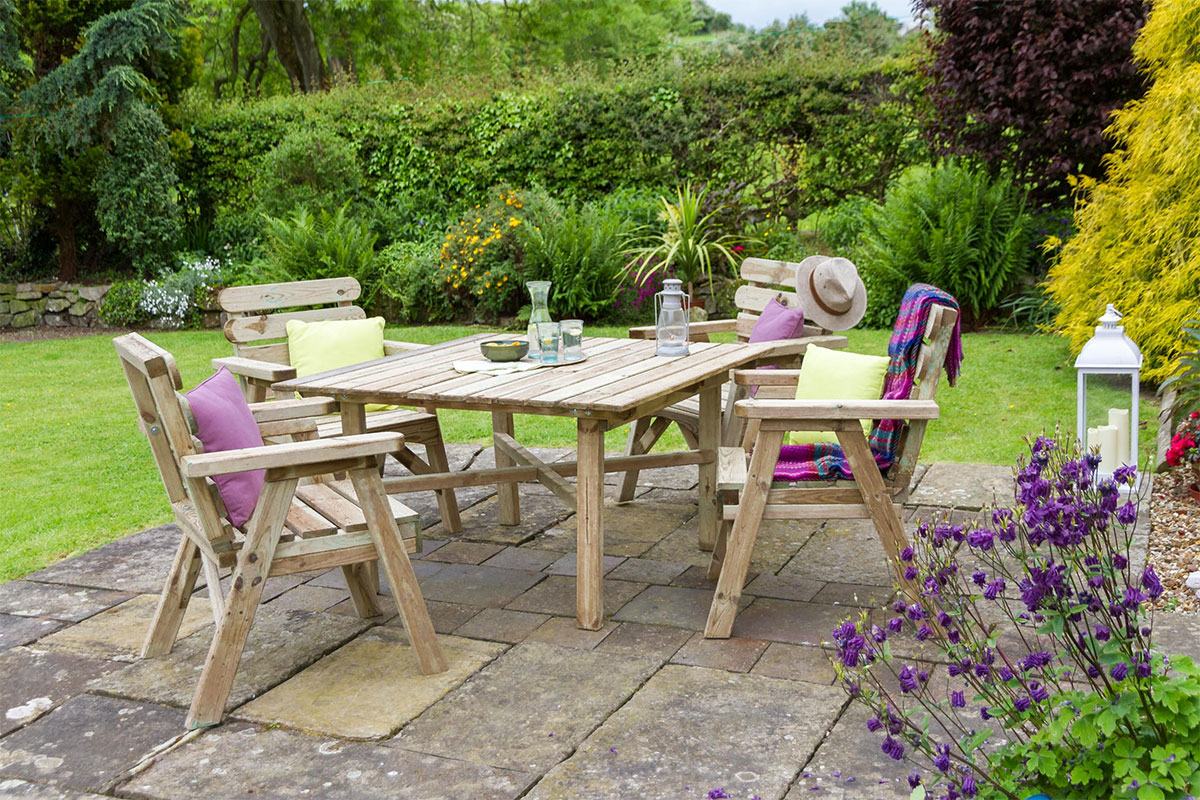 Wicker, rattan, and bamboo seating is on-trend on patio and garden room furniture scene, and so are limestone, slate, granite, and travertine pavers. Still, if you intend to bring out sensitive pieces out and plop them on the deck, it may be a good idea to coat them with a protective fabric and/or water-resistant paint and keep the elements safely stored during seasons of high humidity.
2. Where old things meet modern bling
Repurposed and revamped items made a loud entrance on the patio furniture scene a while ago and the trend will persist in 2017, too. Among upcycled garden and deck elements, pallet pieces will be most popular – but this year around, sectionals and tables made from the recognizable wooden structures will rock an updated paint coat for added interest.
In the year ahead, we'll be seeing more and more of pallet furnishings in dusky blue, earthy green, and taupe beige that will blend in well with trending colors over in the interior design arena, thus producing a seamlessly put-together home look.
3. Putting a roof over your patio's head
In the year to come, patios will loathe going roofless, and more and more homeowners will be outfitting their entertainment areas al fresco with makeshift or permanent roofing. In case your patio roof is looking a bit worse for wear, it's a perfect moment to have it repaired or upgraded. If your deck is exposed, you can estimate the cost of a roof update and see whether it would be more lucrative to build a freestanding patio roof or extend the house roofing to cover the deck.
4. Color blocking for modern aesthetics
Color blocking is changing the world of both fashion and interior design, and in 2017, its impact will spread to outdoor spaces, too. Color-block upholstered furnishings will infuse decks with a dose of contemporary aesthetics and help achieve a well-coordinated, cohesive indoor-meets-outdoors look. For a stylish take on color-block details, you can use shades of green, blue, grey, red, and beige, all of which will render a sophisticated yet spry ambiance to your area al fresco.
5. Patio, a comfy playground for all ages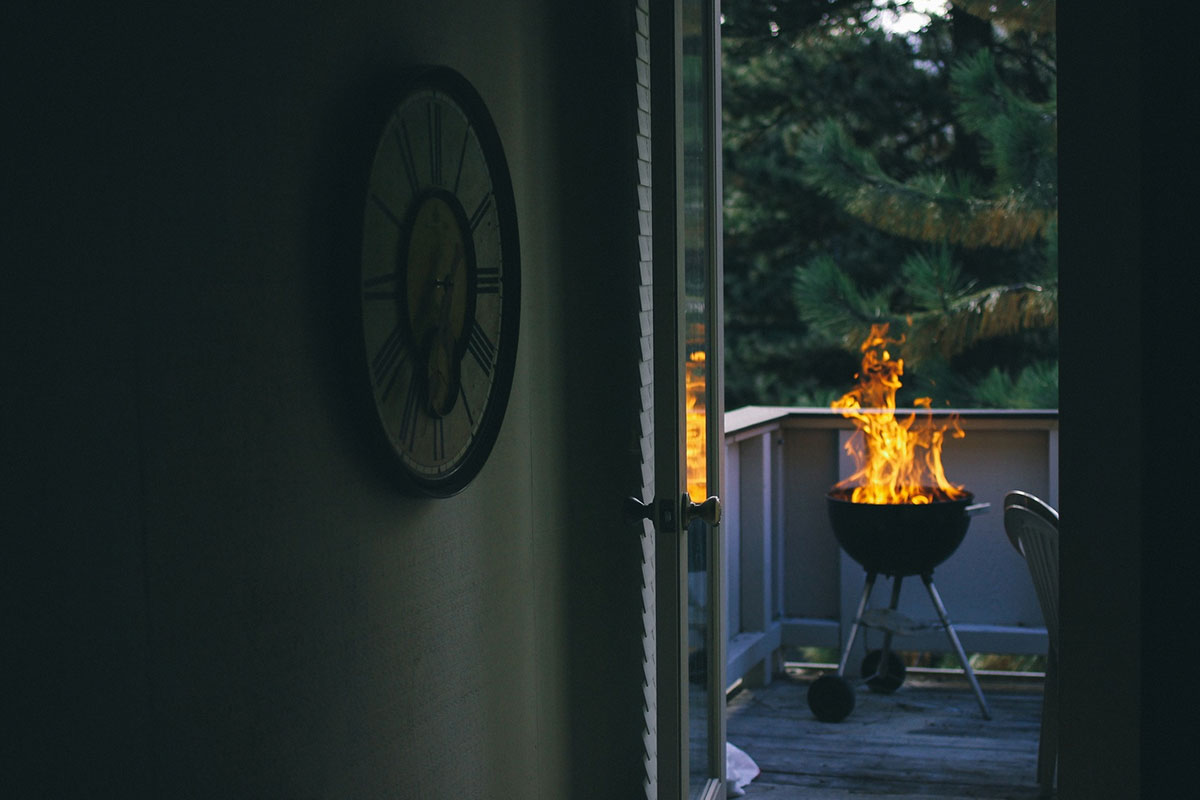 Apart from their use as outdoor entertainment space, patios will take on a few more purposes in the year ahead. Decks with designated playground area will be a major trend in outdoor living in the year to come, along with charcoal BBQs and outdoor kitchens. A space dedicated to fun and quality family time, the patio will become the focal point of living al fresco for adults and kids of all ages and entertainment preferences.
6. A Vintage touch for style and warmth
In addition to fresh patio furniture styles and undying affection for upcycled pieces, imaginative reinterpretations of vintage deck elements will also be on trend in the year ahead. A spot where antique charisma meets the 21st-century design, wooden tables and sectionals will boast fabrics with retro-inspired prints. Seating that blends concrete or stone and metallic details such as wrought iron, copper, stainless steel, or brass will be in vogue as well, a subtle garden reminder that time stands still in the lap of vintage grace, both indoors and outdoors.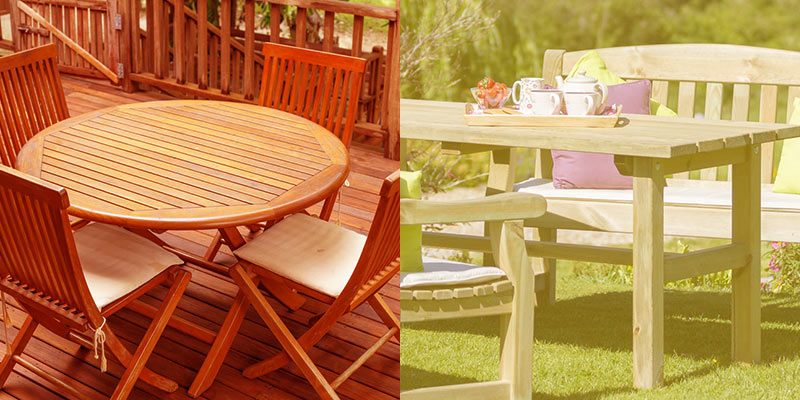 Patio design will continue to evolve in the year to come through playful experiments with color, texture, and materials borrowed under Nature's wing. Pallet furniture, natural stone and wood, a few metallic touches, color-block upholstery, multipurpose patio spaces, and unique blends of old and new aesthetic touches will provide a chic and cozy backdrop for all-family fun and games outdoors. If you want your lovely deck to stay up-to-date with design trends in 2017, make sure to keep an eye out on latest outdoor living tendencies: after all, life's too short to spend your time outdoors on anything less than a picture-perfect patio.