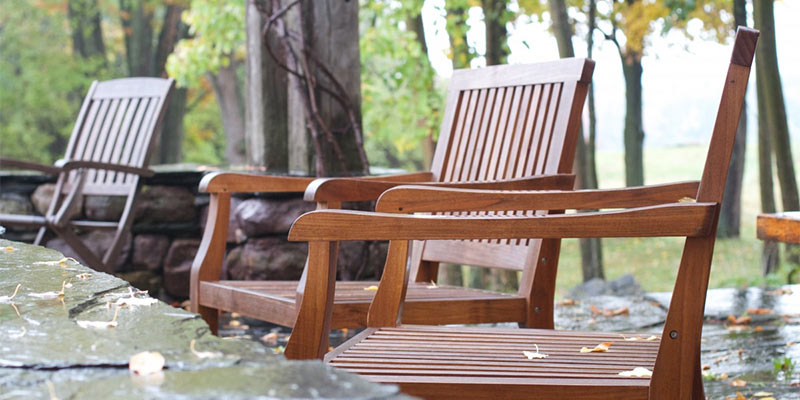 Even though teak wood patio furniture may be a bit harsh for your pocket compared to other types of furniture, it has a lot of advantages added to it. Quality equipment and machinery is typically used to create this top of the line outdoor furniture owners can enjoy for years. This type of furniture is not only aesthetically pleasing to many, it is also easy to clean and maintain its shiny look. Thanks to its natural oil component, it offers a high resistance to water, hence one of the most popular patios in the market today. With the simple steps listed below, you are able to complete a simple DIY project of cleaning your teak wood patio furniture and maintain it in pristine condition for a very long time. Here is what needs to be done.
Tools and Materials Needed
Before you proceed, you must equip yourself with the right tools and materials for the job. You will need:
Warm water
Laundry detergent
Mild bleach
Dishwashing liquid soap
Old rags for the purpose of cleaning
Bowl or bucket
Hose and reliable water source
Soft-bristled cleaning brush
Make Preparations
Before you begin your cleaning project, the patio wood must be well prepared for the process. Secure your hose to the water source and thoroughly wash down the furniture with water to make its surface clean. The process helps to dislodge any buildup clot of dust and dirt particles. As you do this, make sure not to use high pressure water hose as this may damage the structural integrity of the patio wood.
Mix the Cleaning Detergent
Take your bowl or bucket and fill it with warm water at a standard temperature. Add to it dish washing liquid soap then dip the old rag into the water. As you do this, consider any other furniture manufacturers instructions or suggestions that have been offered on the manual. You might consider using a laundry detergent with a very small dose of active mild bleach if your patio furniture is overly dirty. Additionally, avoid using strong bleach in large quantities as this may ruin the outlook of your patio furniture.
Wipe Down the Patio Furniture
Pull out your soaked up rag from the warm water and wipe down the patio furniture. You can begin from the top and proceed downwards with clear strokes to prevent the dirt at the top from running downwards on areas that are already cleaned. The primary cleaning process is aimed at removing any dirt particles on the surface of the patio furniture.
Scrub the Furniture Down
You want your teak wood furniture to maintain its natural and aesthetic look all the time. In this case, you will need a soft bristled cleaning brush to do away with any persistent dirt on the surface. To perform this step, dip the bristled brush in the water mixture and make light and rotatory movements as you scrub to do away with any visible dirt sections on the patio furniture. Do this by working your way from the top to the bottom.
Wiping down the cleaned area every now and again with a dry piece of cloth may be necessary to determine areas that have not been well cleaned. It will also improve your field of vision on the entire area to see if it needs another detergent mixed for a more successful DIY project.
Rinse the Teak Wood Patio Furniture
Once all the dirt has been scrubbed off the surface, you can use a horse to clean the furniture thoroughly. Make sure to maintain the pressure of the hose low as this could affect the structural integrity of the piece of furniture. A complete rinse should confirm if you will proceed or go back to the initial step, if there are any sports of dirt on the surface.
Finish Up Your Cleaning Project
Once you are done with cleaning, your patio furniture should be clean enough to leave it in open air to dry.
This offers the simplest guide in cleaning your teak wood patio furniture. To avoid major buildup of dirt which eventually affects the quality of your furniture, you should implement this guide on a regular basis. Additionally, teak wood is resistant to water. For this reason, you should always consider storing it well during the winter season to prevent too much water coming in contact with the wood.
Teak wood patio furniture is able to serve you for a very long time if you are sensitive of the simple factors that affect its structural integrity.