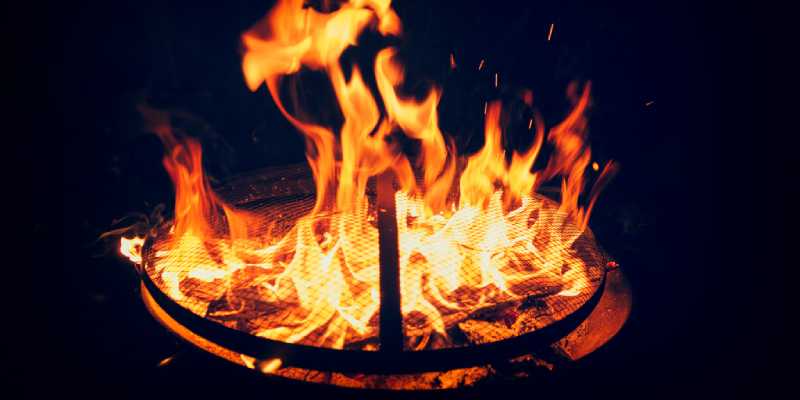 Fire pits are becoming increasingly popular with homeowners around the world because of their stylish and practical nature. Fire pits offer a source of warmth, somewhere to cook or bbq and they can even be used to entertain your guests.
There's a lot of different options for fire pits depending on your requirements and the budget you have available. Let's take a closer look at fire pits and what the best options are for you.
What is a Fire Pit?
A fire pit is simply a hole dug in the ground which is used to light a fire. Historically this would be used for cooking and might be lined with stones. As we've moved away from needing to use an open fire for cooking then the traditional fire pit has changed and the focus has shifted.
Nowadays a fire pit is all about style. Since fire pits have increasingly become an entertainment piece there have been lots of new ideas and designs circulated. Now you can find lots of different types of fire pit which is great because it means you can find one which best suits your preferences.
Popular Types of Fire Pit
If you've decided that you want a fire pit in your backyard then the last thing you should do is grab the shovel and start digging. Instead you need to take a minute and consider what exactly it is you want.
There are several different types of fire pit and we've picked out some of our favourites:
Wood burning fire pit
A wood burning fire pit, as the name suggests, uses wood to fuel the flames. This gives a really authentic feel to the fire pit with the earthy smell of charcoal and the real crackle as it burns. The real smoke makes it seem as though you're out camping and helps enhance the experience.
For wood burning fires you'll typically have a fire pit made from stone or some kind of brick. Other variations include a grill for cooking food or an outdoor fireplace which can be used on a patio.
Propane Fire Pits
Propane fire pits are extremely popular because they offer an impressive flame without all the hard work. You don't need to refill the fuel and you can have a large fire pit to provide maximum heat. Often you can include fake stones or wood on the surface making it a stylish accessory.
Generally propane fire pits will fit on a patio and most commonly they are fire pit bowls or fire pit tables. You also get some portable propane fire pits which will suit some people well.
Gel Fire Pits
Another very popular option is the gel fire pit as it burns without any smoke or smell. This makes it useful if it's near the house and you don't want smoke getting into the building. Gel fire pits offer a lot of ambience and are perfect if you want to have your friends over to huddle round it.
The most common choice for gel fire pits is the table fitting. This allows it to be easily moved around and brought indoors. You can also buy gel fueled logs to add to the look and feel of the fire pit.
Rex Garden have put together a list of the best fire types available with information on materials and costs. If you're new to fire pits and looking for the one that suits you best then it's a great central place to start.
Fire Pit Ideas
The best feature of a fire pit is that you can truly make it your own. You get to create it and put it all together so ultimately what you want is what you can get. We've seen thousands of different designs, each unique to the owner, and from these we've managed to put together a list of some of the best and most interesting fire pit ideas. For even more ideas, check out this illustrated guide on how to make a fire pit.
Before we list the ideas and let you get creative it is worth pointing out some health and safety recommendations when building your fire pit:
Ideally your fire pit should be 20-25 inches tall. This will help contain the flame but still allow you to enjoy the warmth.
Use the right materials. Certain materials, when exposed to the prolonged heat of a fire, can ignite or even explode. By using lava rocks or fire glass you'll stop this being an issue.
Sparks can fly. This should go without saying but keep any flammable liquids away from the flame. Sparks can come from the flames and this could lead to an explosion.
Now we've gone through the safety features let's explore some good ideas for your fire pit:
Fire Pit Grill
Maybe not the most original idea but certainly one of the best. Installing a hanging grill, with metal bars, over your fire pit will allow you to cook food on the open fire. This is great on a sunny day if you want to host a bbq for the family.
Pizza Oven
If you're feeling more ambitious you can swap the grill for a pizza oven! This is one of the best ideas out there but it isn't the easiest to create. Make sure you look for guidance and tutorial videos online before getting started.
Fire Bowls
One of them most common options for fire pits is the fire bowl. Generally these are made of copper or ceramic and they're best suited for smaller gardens or patios. These are stylish and add a lot of charm to your garden.
Bird Features
One of the most creative fire pits we've seen is in the form of a repurposed bird feeder. This has been emptied out and used as a small, but effective source of heat. This is one of the cheapest options out there and lets you use something that would otherwise be thrown out.
Fire pits add a lot to your home and you can really make it your own. The possibilities are endless if you have the time and energy and the effort you put in is certainly worth it. Take a look today and see if you can find a fire pit that suits you.