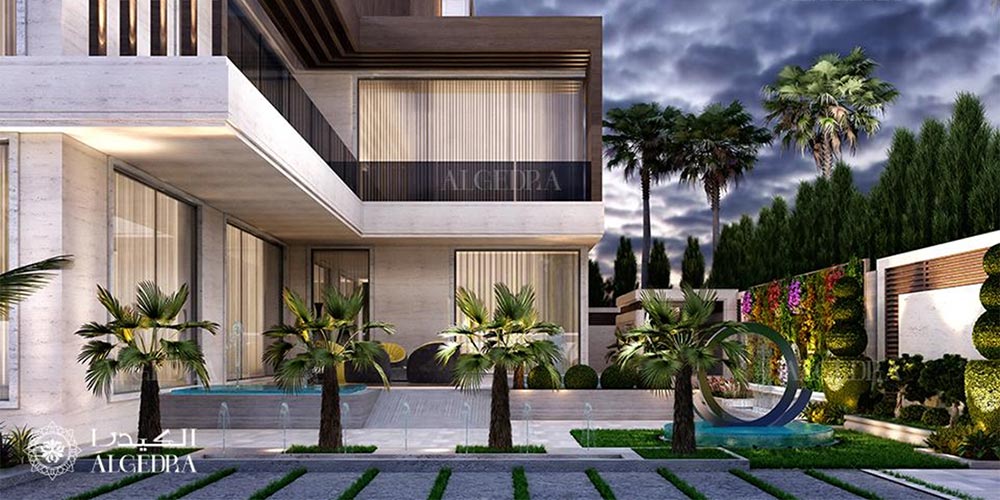 Algedra Interior Design Company was established in Dubai to serve in the fields of interior decoration, architecture, villa interior and exterior design, interior design, fit-out and project management. It has reached today's experience and reliability with quality and difference making momentum.
It has successfully completed quality projects and applications in the public and private sectors.
It is an experienced company that has provided turnkey project services in many areas such as residential design, commercial buildings, villa interior and exterior design, hospital constructions, school constructions, palace interior design, skyscrapers, office design and has successfully completed many projects throughout Dubai, Kuwait, Abu Dhabi, UAE, Turkey, Qatar, UK and all over the world. .
Company's vision is to reflect the quality of its works by following technological developments without compromising professional values.
Algedra mission is to successfully complete the tasks they will undertake in the future, as in the past, in accordance with contemporary quality values ​​and international standards.
Full Home Interior Design Tips
Interior design is an art that transforms and enriches your living spaces. Making small changes in your interior can completely change your guests' perception of your home. When you move to a new place or want to make quick changes to your home; There are always some standard changes you can make with a little effort and little cost.
Here are some interior design tips by Algedra interior designers that will give your home a brand new look.
1. Living room design
Interior designers and decorators usually recommend simple design for those who want living room design advice. Since the halls are used frequently when guests come to a large extent, the simple and elegant general atmosphere of the hall prepares the ground for a more functional living space.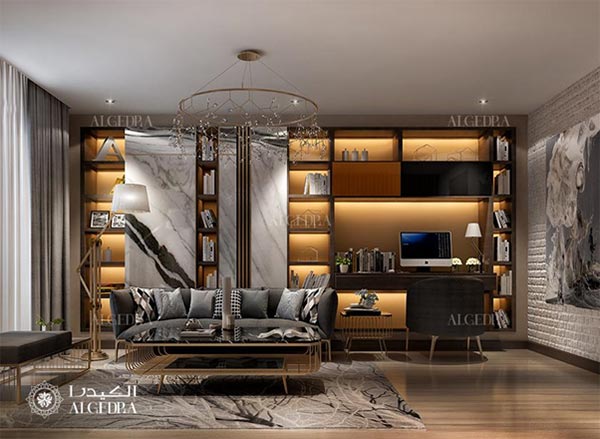 Professional decorators and interior designers of Algedra underline simplicity. Color, furniture and object simplicity are at the forefront in creating an environment where both hosts and guests will feel comfortable. You will realize that it is possible to create a functional and simple living room at the same time when you receive interior design support.
With the support of Algedra Interior Design Company, you can make your living rooms have a warm, comfortable, peaceful and stylish design. Of course, you would prefer your living room, where you spend a lot of time, to have a modern, stylish, peaceful, happy color and furniture look rather than cold colors and bad items. Decorators recommend earthy and pastel tones in living room decoration. The choice of furniture and color should balance each other, and the volume of the room should be based on object selection.
2. Customized designs in the master bedroom and kids bedroom
Kids bedroom design is usually made according to gender. However, in children's rooms, professional interior architects and decorators prepare a decoration program in a way that will contribute to the spiritual development of the child, based on gender, age, education and development.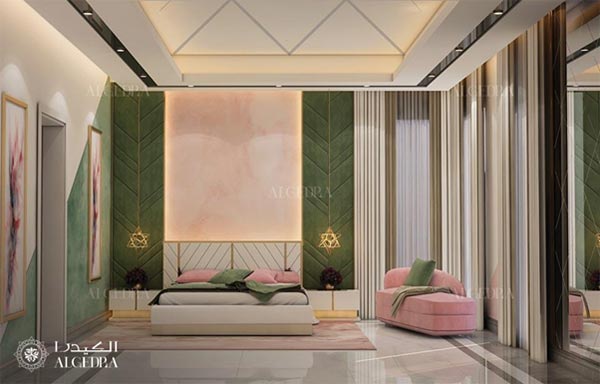 There are many styles in bedrooms; Like modern, traditional, country, loft, sports, stylish, classic, avant-garde. Bedroom design is completely shaped by the demand and decoration style of the people.
The general recommendation is to choose colors that do not strain the eyes and do not interfere mentally. Especially for those who have intense stress and sleep problems, color choices can be made that will not miss sleep, on the contrary, prepare the person for sleep.
3. Bathroom Design
Bathrooms, which are the most basic need of every home, can be designed in very different and modern ways with the materials and textures to be selected. It is possible to create and apply designs in an unlimited way in bathroom models. Bathroom design is a more privileged and difficult issue compared to other places. While choosing the water-resistant materials to be used in the bathrooms, it is also necessary to ensure that they appeal to the visuality.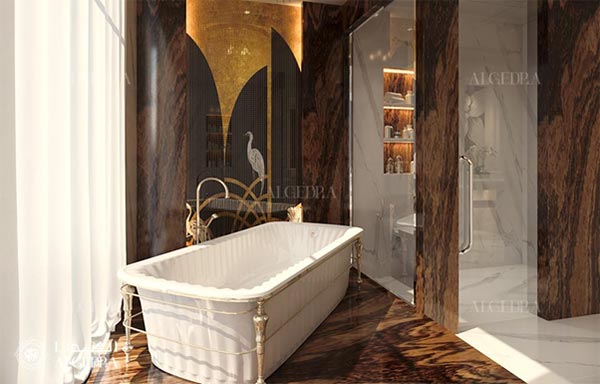 If you want to create both stylish and useful spaces in your bathroom, you can create practical and creative storage areas and store all your personal care products, from towels to cleaning items. Applying practical and smart storage solutions, especially in small bathrooms, will relax you and create a movement area in your bathroom.
To add a more natural look to the bathrooms, laying the floor with a water-resistant parquet is one of the different ideas you can apply in the bathroom. By using wood that leaves a natural and warm impression, you can make the bathroom look more spacious and create a different environment.
4. Kitchen Design
If you're like most homeowners, you'll probably start your kitchen design project by thinking about the color scheme or appliances. However, if you are a professional designer, the first thing you will think about will be the kitchen layout.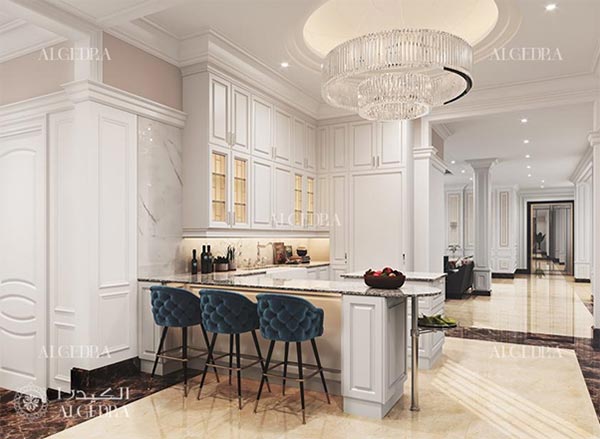 Outside of all the rooms in your home, the layout of your kitchen is the most important thing. Your experience with your kitchen as a functional space is significantly affected by how easily you can move around the space while cooking or cleaning. A professionally designed kitchen interior maximizes movement, minimizes the need to bend and reach out, and enhances your ability to use the kitchen as a multifunctional space.
5. Dressing Room Design
Have you ever thought that the layout of your dressing room design or the effect of clothes you wear during the day? How visible and accessible are your clothes and accessories?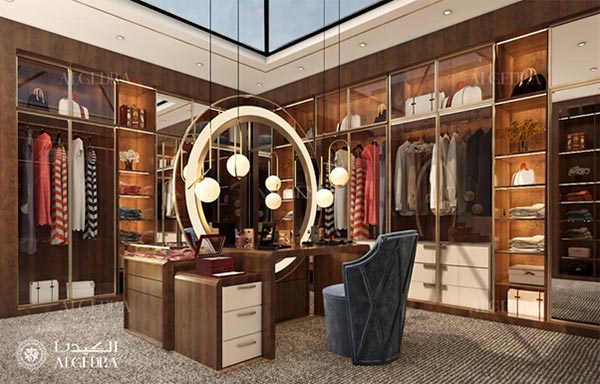 The correct dressing room design adds convenience and comfort to our lives. Functionality is very important for a correct dressing room interior. At the same time, if we think that this is your personal space, you should create a space that will reflect you and decorate according to your own taste; it will make you feel better inside.
6. Entrance Design
Entrances are the areas that make up the first impressions of our guests about our home; In addition, when we come home from outside, the entrances meet us first. For this reason, the decorations of the entrance hall and entrance corridors take a very important place that reflects on the whole house.
Moreover, although the entrance designs seem easy at first glance, they can actually be more challenging than other living spaces due to their architectural structures and generally narrow spaces. Of course, besides this, the fact that the entrances are not an active and social living space, but areas that provide the function of transition from the street to the house and the rooms also have an effect on their design to be more difficult.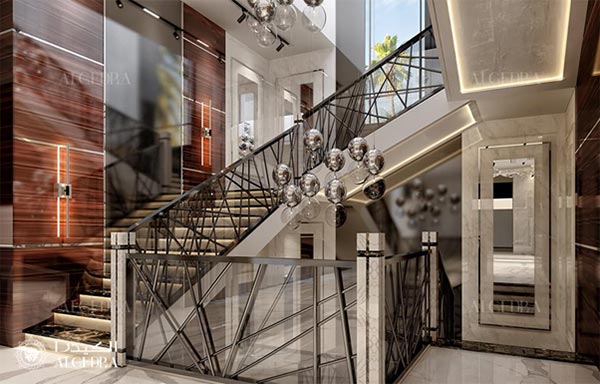 Professional interior designers follow certain decoration principles and create a special design for each house in order to make the entrance design and hall decorations not neglect and make them inviting entrances to your homes with stylish and correct designs. If you want the entrance of your home to welcome both you and your guests in a pleasant, peaceful and magnificent way, you can be inspired by the ideas of Algedra designers.
7.Dining Room Design
Usually decide on the size, color and shape of your dining room by considering questions such as where do you eat, how many people do you have a family, what kind of invitations you give.
You can complete your dining room with a cabinet such as a nightstand or a showcase. If your room is not too big, it would be better to choose glass tables and light chairs.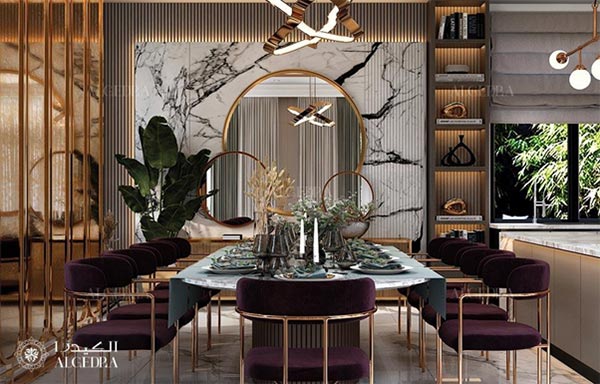 However, be careful not to overdo it when using color. In a room where you eat, simplicity will always look more elegant.
If you have a modern and simple style, you can show the difference in the furniture you use. You can bring a difference to your home by using design products.