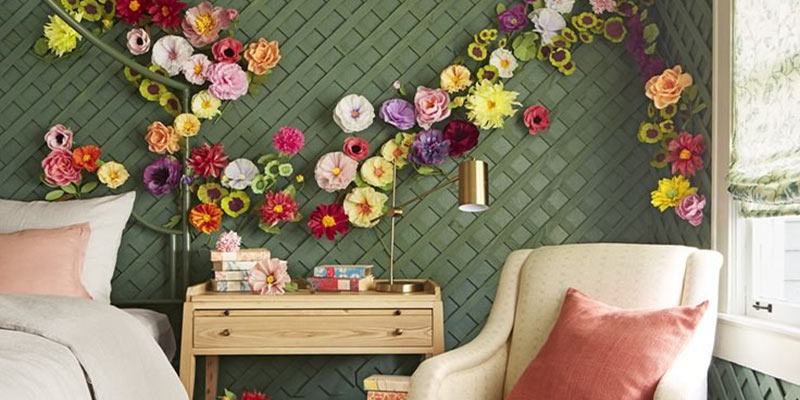 With Summer right around the corner, there's really no better feeling than opening up your windows and filling your home with light and fresh air. What if you could feel the seasonal glow of Spring and Summer in your home all year long? Garden themed bedroom decor can transform a monotonous everyday room, into a bright and vibrant space. Some garden theme décor can play a major role in creating and perfecting the garden themed bedroom of your dreams. Without it, your bedroom will be just another typical space in your house. Utilizing garden bedroom decor will allow you to create a welcoming and warm vibe. Between custom garden bedding and personalized garden decor, the opportunities to add unique twists on your themed room are endless.
Garden Themed Decor
Miscellaneous garden bedroom decor may seem like it lacks a purpose, but it can create a complete and polished look. Using custom garden decor can change your room from random and eclectic, to a themed room with intent. Mason jars have always been used for outside, boho themes for everything from dinners and picnics to weddings and parties. These charmingly decorative jars can move right into the bedroom and continue with the same theme. You can fill them with tiny succulents, or add soil and plant small, indoor flowers in them, bringing the actual garden inside to your garden themed room. If you prefer something more directly related to gardening, head to your local hardware store and purchase a metal watering can. This garden bedroom decoration can be used by itself as a perfect accent to your themed room, or you can fill it with beautiful, blossoming flowers. What better way to create a garden theme indoors, then to bring in an actual garden? Another cute DIY idea for garden bedroom decor uses picket fencing, which you can at any hardware store and refurbish. These pieces of white picket fence look charming as a headboard for your bed or just as an accent piece to set in the corner of your room. Maybe you want a bit more of a statement-making floral display? Check out this how-to video on a gorgeous, boho-chic flower headboard you can make today with a glue gun and tape! It could also be used as an accent wall and will bring the color and flower power all the way up to your ceiling!
Garden Themed Rugs
Rugs are a great way to turn a boring and cold room into a warm and cozy retreat. To get a cute garden theme started, consider using a throw rug as the centerpiece to your themed room. Adding in an adorable daisy or rose shaped rug can give your garden bedroom and decor serious boho vibes.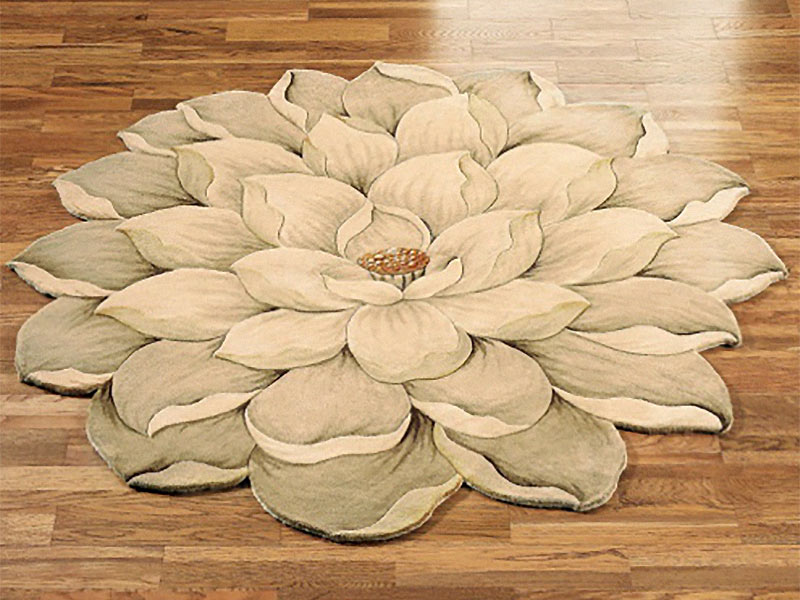 If you prefer a more classic take on a garden theme and decor, try a vivid, floral throw rug. These usually have bold, decorative patterns that can liven up a mostly white or monochrome toned room.
Maybe you're wanting a simple, more subtle take on a garden bedroom decor. In this case, you should consider a throw rug in simple, pastel Summer and Spring colors, like pinks or greens. Without a throw rug, a room that has tile or hardwood floor can leave a sense of emptiness, like the room is unfinished. If your room has this feeling, even after incorporating other garden bedroom decor, a garden themed throw rug can be a quick fix that will leave your room feeling inviting and pleasant. Garden themed pillows    Pillows are a fantastic way to add in personalized garden decor to your themed bedroom. Throw pillows can be put on your bed or a bedroom lounge couch. If you prefer traditional bedding, find pillows that compliment the color scheme you've utilized in other accents of your garden bedroom it's decor. Think of colors that you'd see in a real garden or pasture of flowers and stick to either bold or soft hues. If you want your custom garden bedding to be neutral in color, soft browns and tans will compliment your design. If you've decided to keep the scheme of your garden bedroom decor strictly to color and have avoided excessive patterns, a flower shaped  throw pillow might be a nice accent here.  For a personalized touch, use pillows monogrammed with your first or last initial. You can also find pillows that have quotes embroidered on them, or better yet, hand stitch them yourself! If you go this route, be sure to choose a saying that reflects positivity and contributes to the positive vibes that match the rest of your garden bedroom decor.
Curtains and Draperies
It's important to keep your themed bedroom decor feeling light and airy. Gardens are all about growth and renewal, so try to choose accent pieces that will allow your room to feel Earthy. You want the natural sunlight to fill your garden themed bedroom, so avoid light-blocking or dark colored curtains. White colored drapes will let in plenty of sun and can provide a neutral touch to your garden themed room, helping you avoid overdoing it. Other colors in light shades, like yellows, tans, and blues can help open up a room that may feel small. Lace also fits into the delicate garden theme and could be an excellent choice to add a feminine touch to the rest of the garden bedroom decor you have. Alternatively, if you have chosen to go the unembellished route with major accent points throughout your room already, the curtains can be a great place to add some flair with floral patterned drapes or bold shades.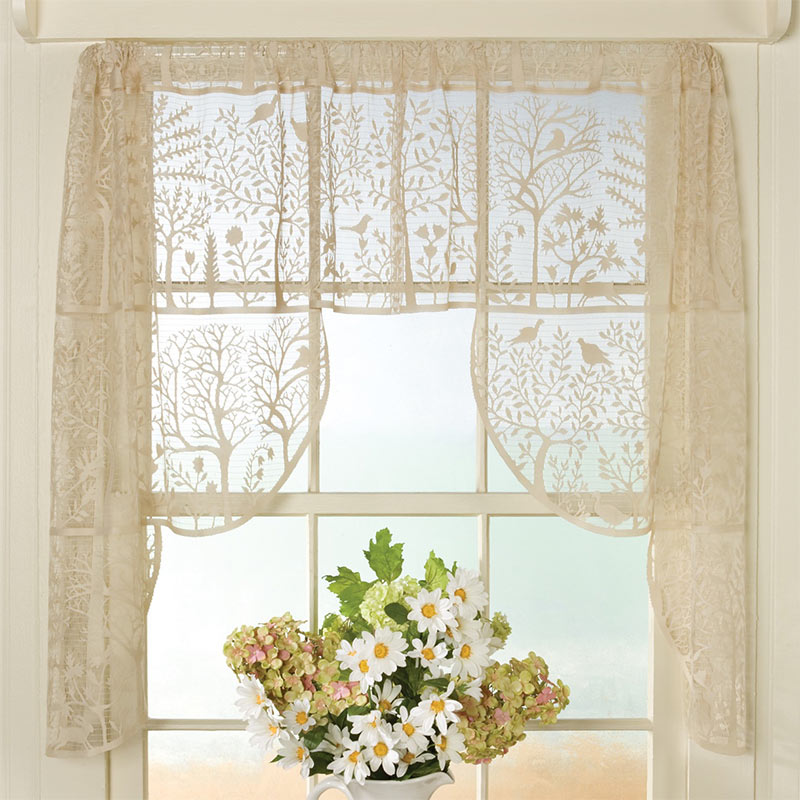 Garden Themed Bedding
Bedding may be one of the most basic pieces of a room when developing a theme, but choosing the right garden themed bedding can make all the difference in adding the finishing touches on your garden themed room. Just like with the rest of the accents discussed, balance is crucial. So, when considering new bedding to accentuate your garden bedroom decor, think about what you've already done. Have you already flourished the design in the key accent points of your room? Do you have a nice mix of floral patterns and soft-hues? Maybe you chose to use bold colors to brighten up an otherwise dark room. If your garden bedroom decor already has plenty of vibrant color, whether bold or soft, use your custom garden bedding as a chance to even it all out. Try using bright, white bedding to freshen up the room and bring light into it. White compliments any color with ease, so you won't be battling to find a set of bedding that will match your other garden bedroom decor. White goes especially well if you have soft browns or tans throughout your color scheme. Alternately, if you have used a lot of white, accented with light hues in the rest of your design, you can bring out some Earthy tones by choosing deep greens and browns for your bedding. If you want bedding that really shows off the vibe you have going with your other garden bedroom decor, find a themed blanket and sheet set. You can purchase beautiful floral patterned bedding for very affordable prices and paired with a comfortable quilt, your room will tie together perfectly.