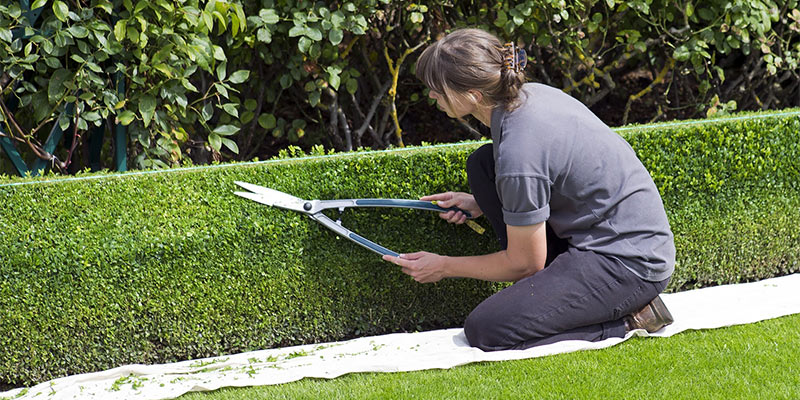 Those beautiful summer months are finally almost upon us, which means it's time to get out into the garden and prepare it for the warmer weeks ahead. There's nothing more exciting than that first glorious day when you can swing open those patio doors and enjoy a sunny afternoon in the comfort of your own garden, but it's always that little bit better when your garden is in good shape. There's nothing more distracting than a messy, overgrown garden, so getting out and preparing the garden now is going to be hugely beneficial.
General Tidy
Before you begin to get to work on the greenery in your garden, it's a good idea to have a general clean around and throw away any items that may have become damaged over the winter months, rubbish that has blown into the garden from surrounding areas or simply just throwing away items that you don't want to keep. This will help you to focus on what you have and what needs sorting.
Prepare your Grass
Quite often, after a heavy few months of rain and strong weather conditions, your grass can become damaged and start to go brown. If you notice that this has begun to happen to your grass, apply some grass fertiliser to the area and you'll have fresh, green grass in no time. This will help to make sure your lawn is fresh and ready for lots of fun throughout the summer, as well as making it look better as a whole. You also need to ensure your grass has been cut, as this is often a job that is left for those warmer, drier days. Trim the outskirts to ensure no grass is growing over and you'll have a beautiful lawn that will look irresistible on a sunny summers day.
Trim Hedges and Bushes
One of the main areas of your garden that can create a messy, overgrown look is the hedges and bushes. Whilst they're great for staying in shape for many weeks, the moment they begin to grow out of shape is the moment your garden suddenly looks messier and untidy. This isn't ideal when you're using your garden frequently and you may find that it will distract you from relaxing and winding down in the sunshine. Grab your trimmer and your step ladder and get to work on re-shaping and trimming your bushes and hedges. Once you have shaped your hedges and bushes you will notice that your garden stands out more, it will look fresh and there will be aesthetically pleasing too. If you're not sure about tackling them alone, you can always hire a gardener to help with the difficult projects!
Refresh the Furniture
You're going to need plenty of clean garden furniture throughout the summer, especially if you intend to throw the odd BBQ or garden party, so it's time to give the furniture a good cleaning. Leaving your furniture outdoors through the winter can often cause discoloration, rusting and other damage, so make sure your pieces are back to a good condition and safe before you come to use them. For wooden pieces, you can look at re-staining or re-varnishing the wood to bring it back to life. This will instantly add colour and refresh the piece completely.
Wash and Clean your Tools
Mud and dirt are a nightmare to remove, especially from sharp gardening tools. The best thing to do is clean them before you store them away, but if you didn't have the time to do this beforehand, now is the time to give them a good wash and clean them down. By doing this, you can see which tools are still suitable for use, which tools have past their time and need throwing away and also give yourself a shiny, fresh toolbox. It'll help to make your gardening projects more exciting too, if you're working with fresh tools rather than dirty, muddy ones.