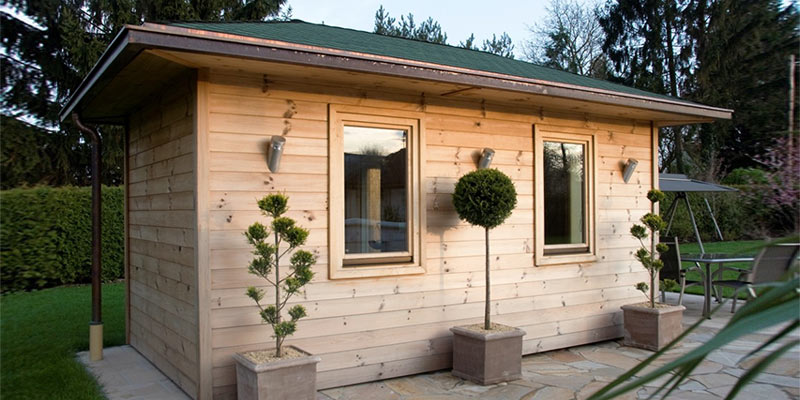 When you imagine your dream shed, you will generally think about one of the traditional and rustic wooden ones.  This is due to the fact that wood has been the material of choice for sheds as it provides traditional good looks, durability and can be painted with treatments to stand out more or blend into its surroundings.
When you get a wooden shed, there is a choice of construction with the most common being overlap, tongue, and groove as well as shiplap.  Overlap sheds are created by overlapping pieces of board which are then hammered to the vertical struts of the walls.  A step up from this will be the shiplap shed where each board interlocks.  This will make the walls stronger and more weather repellent.  The top of the range is the tongue and groove which is a superior choice for any shed owner and offers a completely watertight and rigid structure.
While shed traditionalists might shudder at the thought, but a plastic shed is worth considering as well.  Once the walls, ceiling, and floor have been bolted, the shed will be virtually maintenance free and provide good protection from the elements.  One issue is that they can become a bit steamy in the summer months and the cheaper ones will often be a bit flimsy.
A metal shed will also typically be maintenance free like their plastic counterparts and they are an excellent choice for people looking for secure storage.  These sheds are generally easier to erect than a wooden one, but they can also give a municipal toilet facility feel to the garden.  If you are looking for a place for quiet contemplation, these will also be the worst places to go when it rains.
Size It Up
There is nothing worse than having remorse over a shed that you purchased only to find that it is unfit for purpose.  When it comes to a garden shed, you should always remember that bigger is generally better.
Your garden shed can be used for a range of activities from potting plants to being a workshop.  You might want to use it to store garden furniture or your bicycles.  There are also times when you might want to use to it all of this.  This is why you need to ensure that you provide enough space to see you covered for everything.  If you want additional versatility, you should look at a shed that has an attached awning.  The awning is a great solution for people who need a covered area for activities such as chopping logs when the weather takes a turn for the worst.
If you are getting a shed for the allotment, the size you can get will be dictated by the terms of your rental contract.  Most allotment associations will have a stipulation relating to the maximum size of the shed and this can sometimes be as small as 6 by 4 feet.  While this size shed leaves a lot to be desired, it will have enough space for your plant post, tools, and other implements. If you don't believe us check out these from https://www.quick-garden.co.uk/garden-sheds.html
Pent Or Apex
The type of roof your shed has is something that you need to consider.  There are generally 2 choices available and they are the pent and apex.
The apex roof which is V-shaped will provide you with better storage and head height.  It will also provide faster water run-off because of the sloping eaves.  The pent roof is a single slated roof section and is ideal for allotment sheds.  You can fit gutters to the lower edge of the roof and attach it to a water butt to get the water you need for your plants.