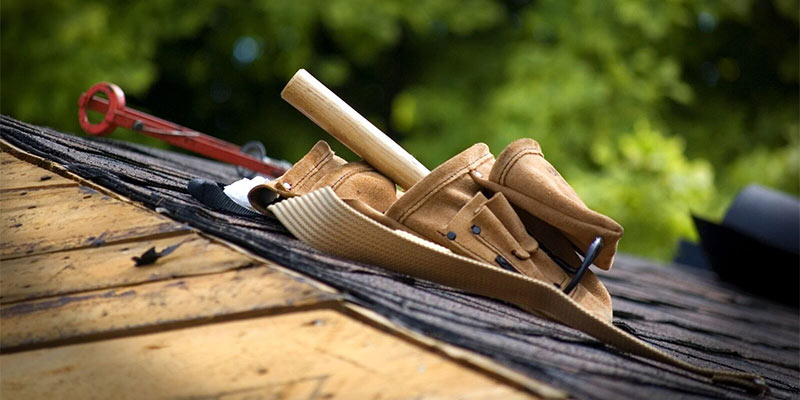 Having your roof replaced is the kind of job that should only be done by professionals. After all, the entire process requires skill, knowledge and more importantly, the right materials and tools. And any little mistake may lead to big issues afterward. If you insist on getting your roof replaced, you need to get the basics right. This means having the appropriate tools and supplies necessary to complete a roofing project. In this article, we'll present a definitive roofing material checklist that you should know when roofing. Let's check them out.
Safety Tools and Equipment
When you're doing a roofing repair or replacement, your safety should always come first. This will not only prevent you from experiencing accidents but it will also make the work faster and smoother. Below are some roofing tools and equipment to ensure your safety from beginning to end:
Ladder or scaffold: For safety reasons, using a ladder or scaffold when doing a roofing work can be the easiest and fastest way to get on and off your roof. Besides, this option can prevent you from acquiring any injury and more importantly, saves time in doing the job.
Fall protection kit: If you insist on repairing your roof shingles, it's best to have a fall protection kit in place in case of emergency. Be prepared with a roof anchor, rope lifeline, safety harness, and even a lanyard so you can rest knowing that you're protected from a possible fall while working on the roof.
Helpers: Repairing or replacing a roof can be a dangerous task. Hence, it's best to get a dependable helper who can help you make the job faster and safer. Not only that but hauling some materials will be much easier if you have a buddy who can lend their hands for assistance.
Tools and Equipment for Roof Repair or Replacement
There can never be an easy way to have your roof repaired or replaced. Each work requires thorough attention and preparation to complete the job right for the first time. If you're aiming for a successful roofing work, here are the tools and equipment that you can use for repairs or replacement:
Crowbar: You don't have to fret about removing those hard-to-remove nails because a crowbar can do such work for you. With this kind of tool, dislodging nails can be done easily and quickly.
Chalk line: To make sure the proper placement of your roof shingles, never hesitate to make horizontal and vertical chalk lines. That way, you can be sure of the exact positioning of your shingles which means a lesser room for mistakes.
Hammer or roofing nailer: Everything about your roof installation will be much faster if you use a hammer or a roofing nailer. However, it's important to consider the industry's guidelines when it comes to nail replacement so you can install a new roof properly.
Flat head shovel: Of course, a roof replacement requires you to remove the existing shingles and you can do it through the use of a flat head shovel. It will make the job less tedious and dangerous.
Roofing nails: One of the most important roofing tools is the nails. Perhaps, you should only use the proper nails to accomplish the job as expected.
Sealant: Your roof replacement will not be complete without applying the sealant. Make sure you apply it in areas where waters can penetrate such as the skylight, chimney, flashing and even the roof vents.
Final Words
Working your own roof can be a challenging experience. Without the right amount of skills and knowledge, everything will be put into waste. So you better equip yourself with the fundamentals and get the right combination of tools for roofing. Hence, we hope you find this article helpful to find the tools and equipment necessary for your big roofing project.