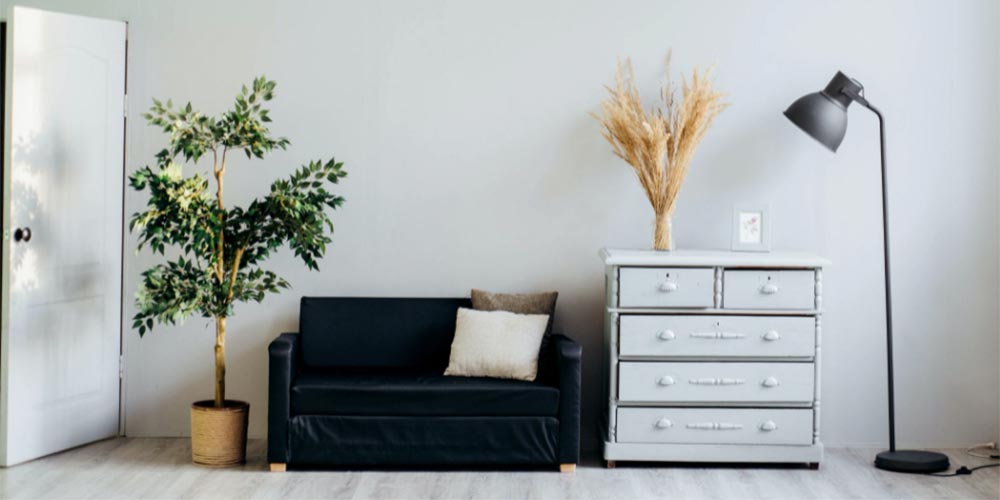 The Scandinavian style is typically characterized by minimalism, simplicity and functionality. This design trend has been popular for decades now in both the residential and commercial world because it's clean, uncluttered and offers a sense of calm that many people find relaxing.
If you want to create this vibe in your home but don't know where to start, here are 10 tips for how to create an authentic Scandinavian interior design.
Use Natural Materials in Your Home
Scandinavian style is all about bringing the outside indoors, so use natural materials that mimic mother nature. Wood and wicker are often used for furniture because they are organic but also durable enough to withstand regular wear.
These two elements create a feeling of warmth in any room, making them perfect choices for your home's décor. Using stone or tile can have a similar effect if you choose pale colours instead of darker ones like black or grey. If using wood on walls, cabinets or worktops remember to ensure there isn't too much contrast with other features in the room otherwise it will look busy, rather than balanced and stylish .
Once you have chosen your materials, ensure they are mixed and matched throughout the space to avoid a disjointed look.
For example, wooden furniture can be complemented with fabric upholstery or wicker baskets .
This can create an authentic feel that is consistent across all areas of the room.
Be Mindful Of Your Lighting
Scandinavian style décor often features clean lines which means minimal heavy window coverings such as drapes and shutters (if any at all). Instead you'll find lots of windows letting in natural light, but this isn't always enough, so additional lighting is needed.
You don't want to introduce too much light otherwise the room will become overcrowded and look like it needs some dark areas for contrast. What you can do is think about your lighting on a base level before opting for lamps or chandeliers etc .
This means choosing table, floor and ceiling lights with shades that diffuse rather than spotlight bulbs (this also helps save energy). If possible choose LED uplighters as they provide the perfect amount of ambient illumination without being overbearing.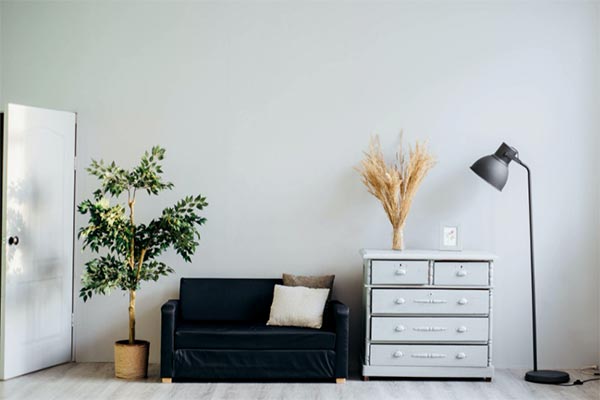 Create Seating Arrangements And Living Spaces That Encourage Conversation
Scandinavian style isn't typically thought of as overly comfortable but this doesn't mean you can't create a relaxing atmosphere.
One of the best ways to do this is by adding comfy seating and furniture that encourages people to gather together in one space .
This means opting for sofas and armchairs with comfortable padding; choosing rugs, cushions and throws; layering up with blankets if it gets chilly; using coffee tables as surfaces for drinks or books; setting out cushions on chairs (this helps avoid back strain); All these small changes will help make your home cosy but also encourage social interaction between family members and friends.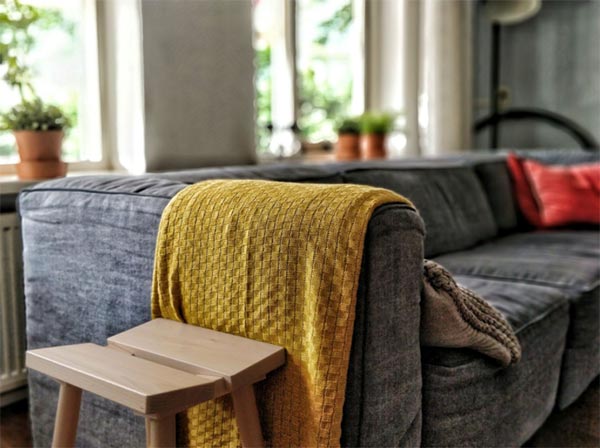 Switch Out Heavy Furniture For Light Pieces That Are Easy To Clean
Scandinavian décor is all about creating a modern and minimalistic environment but that doesn't mean you should neglect aesthetics in favour of practicality.
If your home has more traditional furniture, don't be afraid to get rid of it even if this means sacrificing some storage space .
This move will allow you to add lighter pieces instead, such as desks or sideboards with glass tops; coffee tables which can double up as dining room tables (if they have drop-down leaves); corner units with open shelving which allows for easy access while also freeing up floor space. This style looks contemporary and stylish so won't clash with existing décor which means you can get rid of heavy items without having to worry about a design overhaul.
Light Wood Flooring Will Achieve The Scandinavian Style You're After
Scandinavian design is all about light colours, particularly pale hues which offer a sense of openness. For this reason hardwood flooring in lighter shades is the perfect choice .
This type of décor works well with painted wooden floors that have been sealed to enhance their natural colour or distressed surfaces that look aged but retain their sleek finish.
Alternative options include white laminate flooring if you want something more affordable; stone tiles for an on-trend monochrome style; and vinyl tiles for quick DIY transformation without breaking the bank. As mentioned earlier, beware of using dark wood as it will make your room feel smaller rather than bigger so think carefully before making any final decisions.
Create Less Clutter To Achieve A Clean And Minimalist Space
As well as light colours, a key element of Scandinavian style is a streamlined and clutter-free look.
This means only displaying the bare essentials in terms of accessories; placing furniture away from walls to allow for free movement around the room; opting for baskets or storage units; not overloading surfaces with clutter etc.
Add Dashes Of Colour For An Accent
One way to create a cosy atmosphere without sacrificing the look is by adding splashes of colour. This doesn't have to be in large doses either. Try experimenting with throw cushions or rugs which can brighten up your space quickly and easily. If you do want more vibrancy but feel it clashes too much, don't worry as this isn't necessarily a problem. Instead choose complementary colours such as reds, yellows or oranges alongside soft grey hues for example; these are closely related so will work well together rather than being discordant.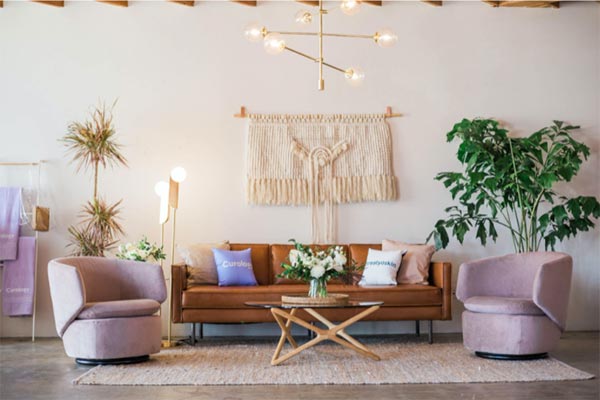 Mid-Century Modern Furniture
Mid-century modern furniture is another common feature of this style due to its clean lines, slender frames and sleek surfaces.
This type of furniture offers a contemporary look but also has an old world feel which will give your space character without domineering the room. If you look at Nordic House for example, you will get a real feel for the types of furniture pieces I'm talking about.
Typical Scandinavian furniture is characterized by being light in colour and material, with a lack of embellishment.
Using Soft Furnishings
Scandinavian style is all about creating a fresh feel which means using natural materials for furniture pieces and accessories . This also relates to choosing soft furnishings rather than bright, bold colours that can overwhelm the room.
Soft furnishings are great for adding pops of colour without taking over the look, so have some fun with this when looking at upholstery fabrics for sofas and armchairs.
Neutral Colours Are Key In Scandinavian Style
Generally white is the popular colour in these types of properties, with pale greys also making an appearance. However if you want something slightly different, instead try using light blues or soft yellows which will make your home feel calm and relaxing without being bland.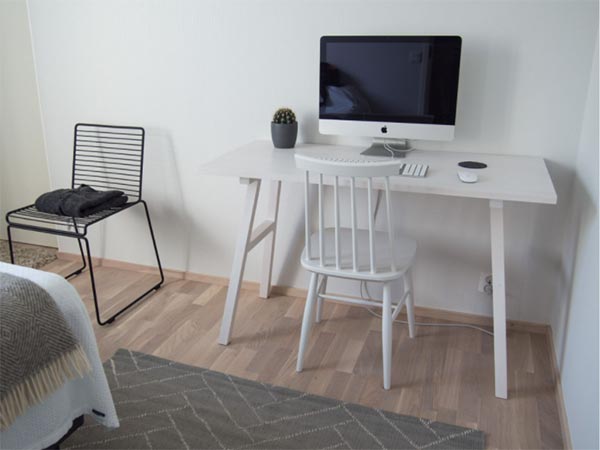 The fact that Scandinavians tend to spend lots of time outdoors means they understand the importance of creating both cosy interiors and fresh exteriors. This can be achieved by looking at choices for flooring, exterior paintwork and landscaping; all three of which should complement each other nicely. So if you are thinking of re-doing any one area, it's worth considering what type of impression they will create together.
By following the tips above, you should have everything that you need to create a stylish Scandinavian-style home. It's easy to see why Scandinavian interiors have become so popular as they are modern, stylish and don't cost the earth.