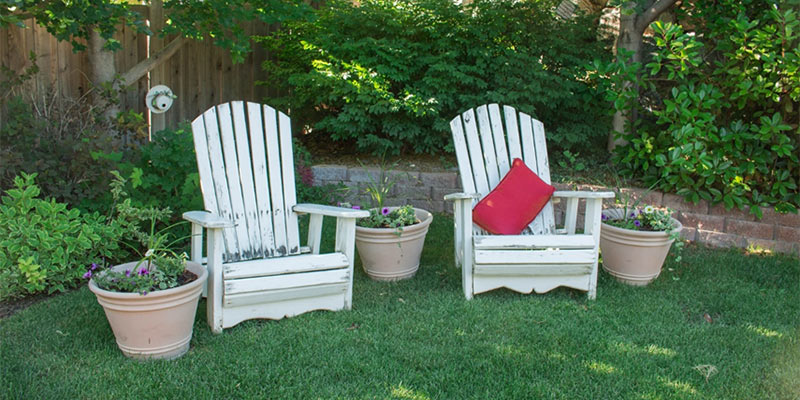 Having an extension of your indoor living space is a treat that you cannot overlook or neglect.  If you have 3 square feet or 3 full acres, you need to take advantage of this additional living area so that you can participate in the benefits of breathing in the fresh air – yes, even city air counts.
There is something that happens to our bodies when we are outside, no, we aren't talking about the glinting and glaring at the sun when you first walk out of a building.  It is necessary to connect with the world around you and being outside does this, even if it allows us to just watch from a balcony.
So how do you create the perfect outdoor space?  Follow our steps to achieve outdoor bliss by reviewing each section and cultivating an answer that suits you.
Space
As expected, you need to first consider how much space you have. You can only work with what you have.  If you have an outdoor balcony, can you use space vertically?  If your yard is large, do you want to section it off for different areas?
How will you use your outdoor space?  If grilling is your goal, then make that your priority in working around.   Are you looking to have your kids and their friends over often?  Then you need to define adult areas and kid sections.  They can overlap, but often you will find that designating this – even if unofficially – helps to know what you need and where you need it.
Seating
Every outdoor space needs seating whether it be for dining or sitting on a cozy couch or around a fire pit. Look at the areas and decide what kind of seating will go where, then consult reviews for the best type of chair to place there.  Comfort is key, and because of the elements that the outdoors present, you will want to take these factors into consideration when making a furniture purchase.  While aesthetics are very important, and we will get to those as well, nothing makes an area more enjoyable quite like having a comfortable place to sit.
Adding Functionality
Now that you have decided on how you would ideally use your outdoor space for, you need to add functionality to each area, or the area overall.  These are the components that are critical to using your space how you have dreamt of using it.  You know you want to cook outside, and you have the room for dining al fresco too.  Don't worry about choosing the grill that has all the bells and whistles, choose the grill that will cook the food that you like to eat!  Is entertaining on your list? Make sure you have a grill that can take a lot of food at once, and a table to accommodate as many people as you would like.  Is your outdoor space sunny?  Maybe consider an umbrella for shade or a canopy to give shelter from the sun.  This is where you determine the basics, will you eat, play, dine, or read in your outdoor space – then decide what is the one thing that you need to do that.
Making it Personal
Here is the fun part.  You've asked yourself how you dream of using your outdoor space, you've put the basics into place to make that happen.  Now close your eyes and what does your dream space look like.  Is it full of flowers that envelope you?  Do you see yourself sitting in a big cozy Adirondack chair with a book under the stars?  Then you need a blanket and pillows that fit on your cozy chair, you'll need a string of lights that give off a glow to compliment your glass of wine and friendly conversation.  Is it candlelight that you are dreaming of?  Make sure that you get décor that is suited to outdoors – and doesn't need to be moved in and out each time, or else you will be less likely to use it.  Where will you store your blanket when you are not outside?  Maybe you want a little basket that sits next to your chair for easy access.  Can a trellis help to give you the floral feeling you crave?
Enjoy!
Finally, enjoy your space.  It will grow as you spend time out there and become a reflection of your personality.  You will bring games outside that once sat inside unused.  Learn that you love to hear the birds, and maybe put a bird bath, or bird feeder nearby to delight in.  A candle holder that you no longer use on your dining room table may find a new home outside.  This is your home as well, and it should be as comfortable as sitting inside on your favorite chair or couch.