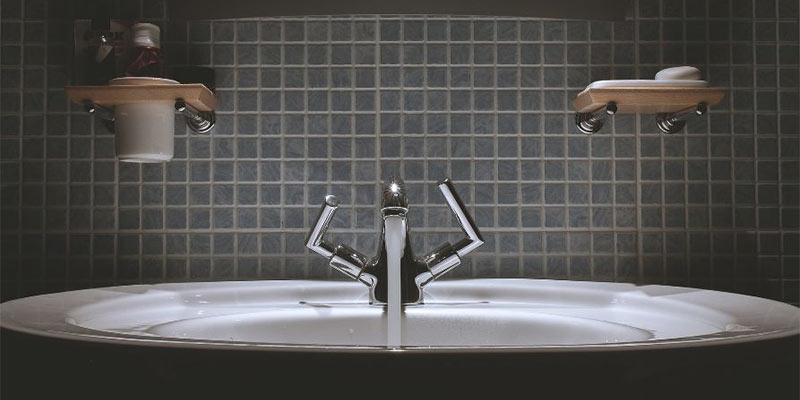 The modern interior design style is characterized by simplicity. This style is best suited for busy individuals, who despise clutter above anything else, and who appreciate the beauty of simplicity. If you want to design a minimalistic bathroom, that can accommodate all your necessities while maintaining a clean and modern design, we have some ideas that will help you achieve your goal. Keep on reading to discover the secrets of a modern and efficient bathroom.
Color choices
To achieve the illusion of a big space, and that overall clean and simple design, white is your best bet in terms of colors. Other neutral colors can also be used in moderation. For example, a touch of beige or cream or even light brown can add a little warmth to the space, while gray and touches of black can give an elegant vibe to a modern bathroom.
Materials
To maintain the overall simplicity vibe, it is advised to use a limited palette of materials. Choose the same material for both the floors and the walls, and pick the same material for all the furniture. It is advised to use large-format tiles with narrow grouts to give the illusion of continuity. The most popular materials for modern bathrooms are marble, limestone, granite or veined stone for the floor and the walls, nickel and porcelain for the fixtures, and various types of wood for the furniture.
Lighting
Ambient lighting is essential in order to make the bathroom feel bright and breezy. Make sure to opt for several light sources placed in strategic locations, rather than a single light source placed in the middle of the ceiling. The medicine cabinet requires special attention in terms of lighting. Opt for lights that emanate from the mirror for optimal visibility, and place a few lights above and below the cabinet to make the walls seem brighter.
Tech innovations
The modern style is not just about design, but it is also about integrating modern technology in your daily life. There are numerous gadgets and accessories that can make your bathroom more interesting. For example, if you enjoy spending a lot of time in the bathtub, you might want to opt for a bathroom TV to keep you entertained. You don't have to worry about how the TV will integrate in the overall bathroom design, as you can opt for a TV mirror frame to hide the television. For a futuristic experience, you can also opt for a voice controlled system. If you would like to listen to your favorite music in the bathroom, you can opt for built in speakers or for a portable, waterproof speaker.
Furniture
Since this design style is characterized by simplicity, the furniture must be minimal. Opt for a floating vanity to create the illusion of a bigger space, and a couple of cabinets, just enough to hold all your bathroom necessities. The trick with the minimalistic style is that you don't want to have your necessities in clear sight, so make sure to opt for a smart storage solution underneath your bathtub or within your shower.
Decorations
Modern bathrooms don't really call for decorations, but if you want to add a personal touch to this space, there are a few ways in which you can do this. The easiest solution is to opt for interior plants. Just make sure to choose plants that thrive in high humidity. You can also use some candles to add a little warmth to this space. Avoid paintings, and if you insist on other decorations, you can find inspiration in the Zen interior design style. Both the Zen and the modern style are inspired by simplicity, so they blend well together.
Tips and tricks
To achieve a breezy vibe in this room, always look for solutions that create the illusion of a bigger space. Big, frameless mirrors are your best choice. You can also opt for glass panels around the shower of the bathtub.