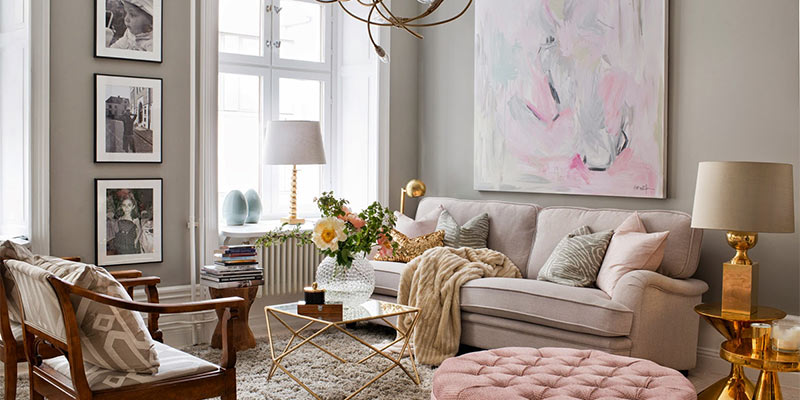 According to Pantone, "A quiet and peaceful pink shade that engenders an aura of innocence and purity" can begin to describe the Millennial Pink color called Pale Dogwood.
Whether the color is called Rose Quartz, Pale Dogwood or Blush (or even Scandinavian Pink or Portland Pink), trendy dusky pink shades are everywhere, – not just in the fashion world but also in home decor and textiles.
In an Internet obsessed world, where sensational trends and pretty pixels seep into our lives as fast as ink seeps onto paper, it's impossible not to notice the new shades of pinks. Millennial Pink evokes a mysteriously dreamy feeling that lures us to a once favorite distant memory that's a bit more polished than reality but within grasp. It's cheeky. It's sophisticated. It's nostalgic but new. It's toned down, desaturated and muted but young, fresh, and glamorous all at the same time.
So, what is Millennial Pink? And how can this esteemed color be incorporated in your home decor?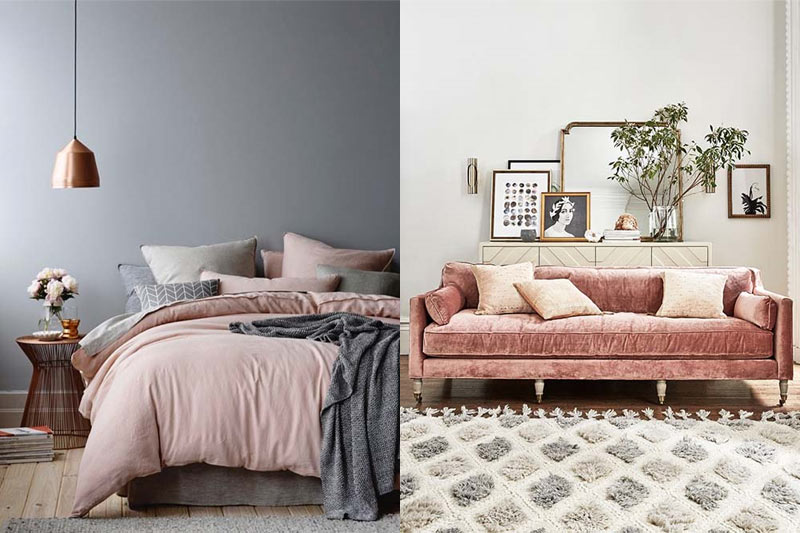 via lifeschic.com and thesplendidguide.com
1. Contrast Old with New
Combine Millennial Pink with any other color, from soft, cool grey-blue to a down-to-earth light or dark green or "greige" or even vibrant dark red. This new color that some call "blush" works wonders. When we see the contrast of a desaturated pink velvet couch and a fancy luxe brass table lamp, we are speechless.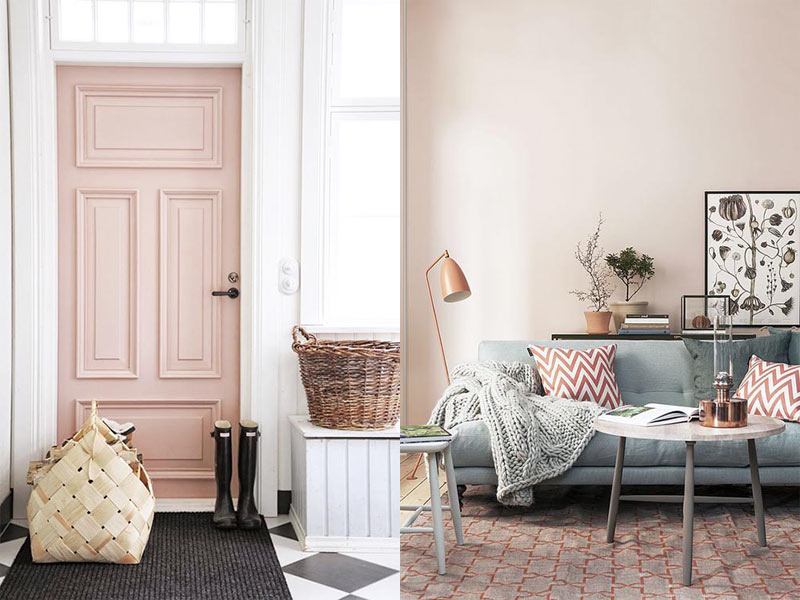 via homeyohmy.com and crimsonapril.com
2. The New Nude
What exactly is sensational about this blushing hue? Well, for one, it's new. And two, it's neutral and soft enough to be considered a "new nude." Instead of cream or beige, Millennial Pink is becoming the new nude for home decor. While black and white will always be a classic, the creamish, beigey, soft pink color is the perfect degree of pink that fits right in with the neutral and nude palette.
Thinking about hanging a soft pink curtain over any window and keeping it at the trendy ceiling-to-floor length in a beige dining room with white chairs and tan cushion? No problem. Want matching pink bedsheets and duvet covers in a light grey bedroom with cream pillows and a cream rug? Looks good.
Whether you call it rose quartz or pale dogwood or any other name, blush is the new nude, and we can't deny it.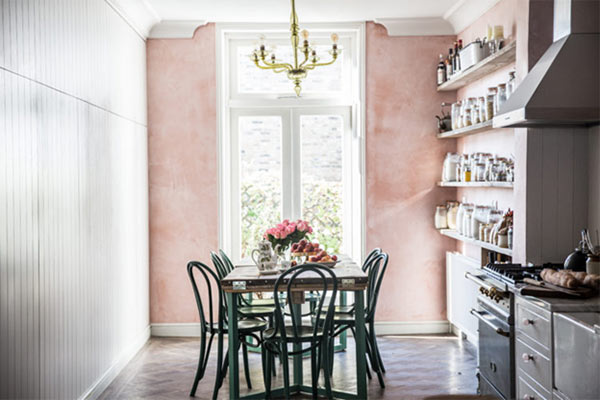 via thisisglamorous.com
3. Paint the Wall with Millennial Pink
Don't have the time or budget to pick out pink furniture pieces and accessories? Paint is an easy and affordable way to incorporate a fresh new color into your home. Even though painting a wall may at first seem daunting, it can actually be a simple way to add this dreamy pink to your interior decor. You might be pleasantly surprised with the wonder of a soft pink accent wall. There are many beautiful soft pink shades and paint colors to help create the perfect relaxing environment. Millennial Pink shades are fresh but not vibrant or loud. The colors are uplifting, relaxed, and neutral for any decor.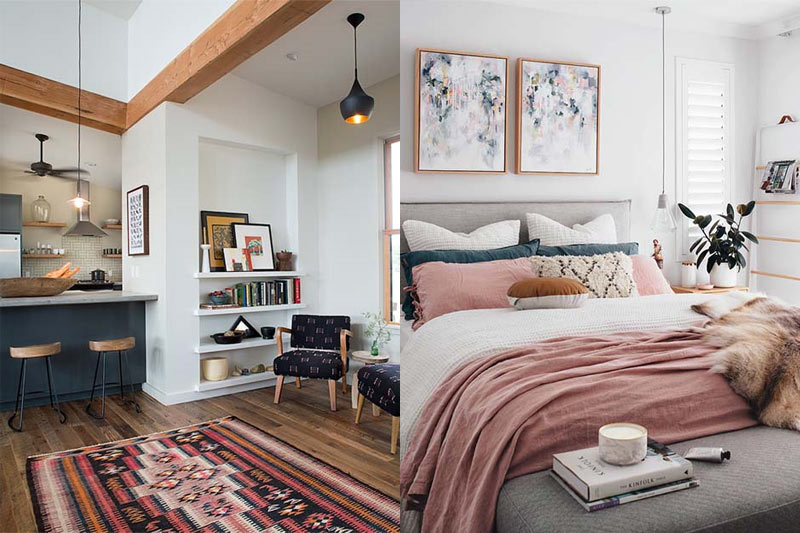 via ksarahdesigns.typepad.com and archzine.fr
4. Layer with Pink on Pink
For a posh and eclectic home decor, incorporate soft pink rugs and textiles in your space. From throws and blankets, decorative pillows and bedsheets, wall tapestries, curtains, and rugs, there are plenty of pretty pink options for almost every surface in your home.
For a truly luxe look and interior decor, layer antique pink rugs — either floral, geometric, or tribal patterns — with faux fur.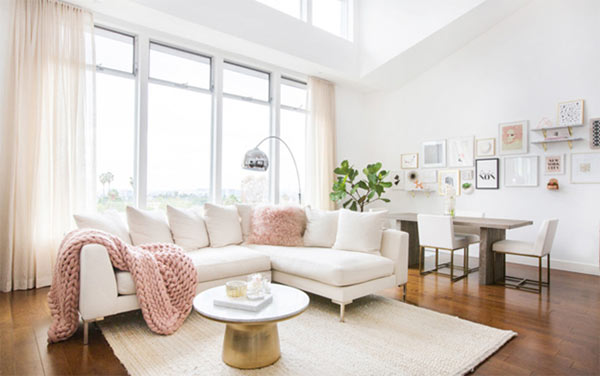 via homepolish.com
5. Furnish with Pink Pieces
If you have the time and budget to shop for one or two new furniture pieces, swap out an old couch for a new pink couch or accent chairs. Choose a Modern Midcentury furniture piece in this new color for a contemporary update that's easy and neutral. Pair with other neutral colors such as beige, grey, (or even greige), or of course black and white.
Not enough pink? Upgrade your home decor with a rose quartz side table or coffee table. Deck the windows with pink curtains. Add texture with a gallery wall that showcases pink themed art pieces. There are more than enough big and small ways to incorporate the sensational Millennial Pink into your home.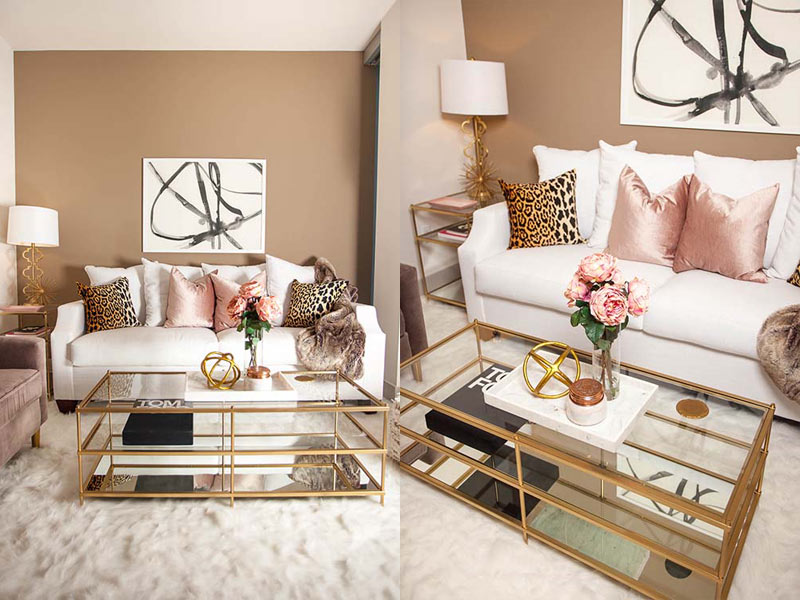 via thedarlingdetail.com
6. Accent with Pink
Want a touch of pink but don't want to commit to the Millennial Pink trend? Start with accent pieces and finishes. From rose gold pull knobs to rose quartz coasters to brass table lamps and copper pendant lights, warm metal finishes are adding a touch of glamour to home decor. Just remember to incorporate enough pieces to create an accent color. Otherwise, one or two pieces in the trendy new color will look inconsistent and unintentional.
Need more ideas?
Check out Decorating with Millennial Pink: 3 Tips to do it Right.
About the author
Lucy Parker is the Resident Design Consultant at HomeDecorAZ.com. When she's not busy helping clients with interior design projects, Lucy writes blog posts related to home décor. She's also a foodie who loves traveling and enjoys movies (except horror).
Image Sources in order of appearance:
http://www.missalicedesigns.com/blush-pink-is-the-new-neutral-and-how-to-incorporate-it-into-your-decor/&sa=D&ust=1513562412235000&usg=AFQjCNEwrC820D08XYOl0hUAe_5lB_220w
http://www.lifeschic.com/tag/minimalista/&sa=D&ust=1513562412241000&usg=AFQjCNEZGFTv6NQ1NTbX7hIOUGunBJQB5g
http://thesplendidguide.com/2016/09/weekend-browsing-14/&sa=D&ust=1513562412243000&usg=AFQjCNHCi2HioLuqu2hLjdDoHGVuR6_eGQ
http://www.homeyohmy.com/craving-blush/&sa=D&ust=1513562412238000&usg=AFQjCNFCc2e-QhD867skNCJXHhhQbM7QeA
http://www.crimsonapril.com/wood-concrete-minimalist-soft-pink/&sa=D&ust=1513562412242000&usg=AFQjCNGsgEIkcyQyQeOgWmJooJMYyS61tQ
http://www.thisisglamorous.com/2016/08/at-home-with-skye-mcalpine-london/
http://ksarahdesigns.typepad.com/my-blog/2012/12/interiors-i-love-ann-lowe-design.html&sa=D&ust=1513562412238000&usg=AFQjCNG6T_3MUrhs05w1rYWLM-MGvN2LXQ
https://archzine.fr/deco/deco-avec-couleur-bleu-canard/&sa=D&ust=1513562412236000&usg=AFQjCNFWRzcF5MHecxPWKPhb-19TQAOWkQ
https://www.homepolish.com/mag/the-glamorous-hollywood-home-of-marianna-hewitt&sa=D&ust=1513562412237000&usg=AFQjCNEQsdZE5Tt4TUaXtHVVtaur8Q_6Ag
https://www.thedarlingdetail.com/le-living-room-laurel-wolf/&sa=D&ust=1513562412234000&usg=AFQjCNFpOTflH6PCmyH4aGL0ahbiyPYRXQ
https://www.thedarlingdetail.com/le-living-room-laurel-wolf/&sa=D&ust=1513562412236000&usg=AFQjCNEdfn7RtoquD_4zmtCRpUF3YN6oMw