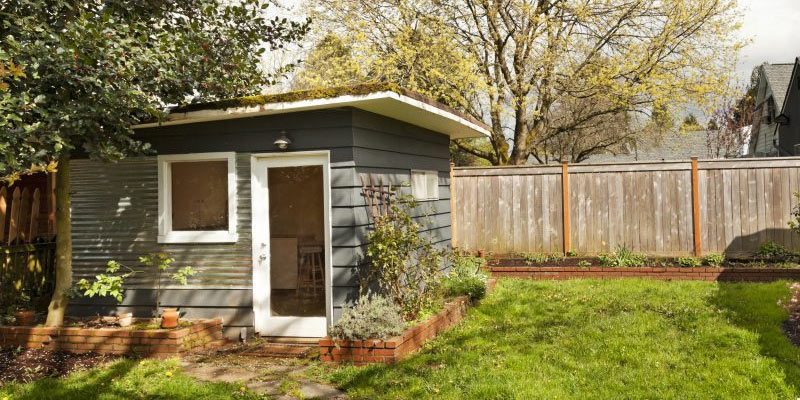 Why would you want to transform your garden shed into a home office?
Just think of this: no having to leave the house at the crack of dawn; no standing at a dingy bus stop in the pouring rain; no cramming on to public transport with disgruntled commuters; no more using up all your precious energy before you've even sat down at your desk.
Having a home office in your garden shed helps you to create a solid separation between your home and your work but with all the conveniences and comforts of your home environment.
A garden shed is a very basic structure, so in order to transform it into a home office, there's several things you need to take into consideration.
Form Your Vision
A successful garden shed transformation project needs to rest on a well-thought out visualisation of the end product.
When planning what you'd like your finalised garden shed home office to look like, consider the following:
What kind of work do you intend to do in the shed?
What is your budget?
Do you have a shed at the moment? Is it up to the job or will you need a new one?
What location in your garden will work best?
The answers to these questions will guide you through the process, highlighting the particular steps you'll need to follow in your project.
Maintenance
So that you don't run into any nasty problems down the line, your garden shed will need a good dose of TLC before you can get stuck into decorating.
What issues do you have in your shed right now that will need sorted out? Make a detailed to-do list of all the repairs and upgrades you need to undertake.
Check your roof – is it structurally sound? If it leaks or lets in a draught, repair it so it is completely damp-proof.
You'll likely be spending hours a day in your shed office so your comfort is absolutely crucial. If you're so chilly that your hands seize up as you type on a frosty keyboard, you're not exactly going to be productive!
Insulating your garden shed is incredibly important. Your roof, walls, and flooring should all be insulated, keeping you lovely and toasty, no matter what the weather is like outside.
Any other potential problems you notice, like cracked windows, loose wooden panels, and creepy crawly-friendly gaps, should all be sorted. Keep the shed as airtight as possible!
Wire Up
To work most efficiently in your home office, you'll need a good source of light, heat, and a strong Internet connection.
It's best to recruit the services of a professional electrician to wire up your shed for you, installing all of these amenities.
Choosing different kinds of lighting, including a desk lamp as well as an overhead light, will give your shed office depth, making it feel lovely and cosy – a really enjoyable space to spend in.
Any other electronic devices you need, like a fax machine, a phone, or a printer, should be installed too.
Security
You are putting in a lot of effort to make your shed a functional and enjoyable space to work in, so securing it from thieves should be high on your list of priorities.
Install sturdy locks on the door and windows to make it difficult to break into your shed office.
Placing blinds or curtains on your windows is also advisable to prevent people peeking inside to window-shop the contents of your shed.
Aesthetics
To keep you motivated and relaxed in your shed office environment, inject a bit of your personality into the decor.
Your choice of paint, plants, prints, photos, and rugs will really tie the office together.
As well as carefully placing your decorative pieces, to make your space more aesthetically pleasing, set up clever storage solutions to keep things organised. Storage benches, shelves, and hanging racks are all good options.
Get To Work!
These steps to successfully transforming your garden shed into a home office will keep the process streamlined, ensuring that you don't miss out any important details.
Your resulting home office should be a warm, well-lit, and organised space that is enjoyable to work in – so much so, that you may find yourself excited about getting to work!