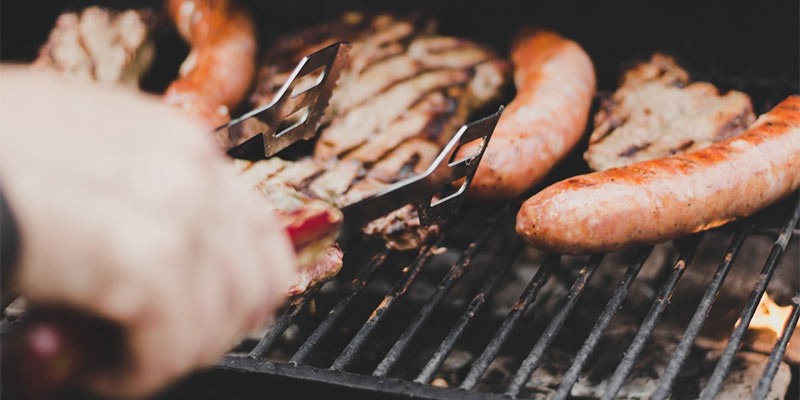 With the bbq season approaching us soon it is time to stock up on the necessary tools and accessories that you will be needing to smoke up the grill. It is wise to have everything ready before you start smoking up ribs, briskets, bbq chicken and burgers as you don't want to start a bbq unprepared.
So we have designed a list just for all the home bbq grillers to help you all acknowledge with all the necessary accessories that you all need for a bbq or grill. Let's have look at these must-have items:
1.Grill Scraper or also known as a long handle stiff wire brush for the grill
While you are making bbq it is very important to clean the grill and scrape it before putting on the next batch. If you don't scrape the wastes, your fresh batch of meat will be coated with burnt leftovers from the previous batch. Try getting a mounted grill brush to get the most efficient outcome.
2. Long handle grill tongs
Tongs are ideal accessories to turn and move the meat rather than using a fork or any other stick or spatula. This is because the tongs are delicate and don't let the meat fall apart while turning or moving it. While if you will be using a spatula or a fork the meat in the smoker might fall apart and ruin in the process.
3. Gloves
Grill gloves are an absolutely essential accessory that you cannot bbq without as you are going to be constantly working around the heat and flame it is vital that you keep your hands and arms well protected. These gloves are ideal for this purpose.
4. Instant-read thermometers
When you are BBQing large pieces of meats like briskets and pork shoulders it is very crucial to know whether the meat is cooked through to the core. These type of wireless thermometers are ideal for BBQing meats. The best part is that these are ideal for big racks of meat. It gives very accurate readings and tells you exactly when the meat is cooked perfectly. You can easily observe the temperature of the meat sitting almost 300 feet away from the grill and the thermometer will give you alerts as soon as it reaches your desired temperature.
5. Charcoal chimney starter
Are you tired of using the old school method of heating up the charcoal for the bbq by lighting it up with fluids? Then this is the ideal solution for you. The chimney has been designed to make a charcoal fire hot without using any kind of fluids and hence is an absolute must-have while you are planning to do a BBQ. Prefer to use gas? – you can find great deals online if you're in need of a new BBQ gas bottle.
Conclusion
These amazing tools and accessories are going to help you in every way possible when you are going to be grilling the meats for a bbq party. These tools are a must have and every bbq lover should have them for a better bbq experience.