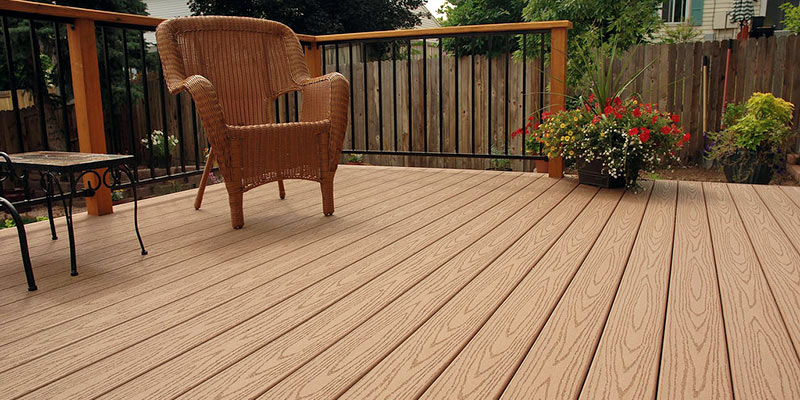 If you have a fair amount of garden space (or even if you don't!) installing decking to your garden can not only make it look better in the decorative sense it can also mean your garden is a lot more practical as you find yourself using it more and more. Of course, greenery in the garden is always a great thing, but sometimes too much grass or plain patio can cause a garden to look a little neglected and bare, not to mention the mud that is generated during the (frequent) British rainy days. Installing decking doesn't have to cost a fortune or be a huge, difficult job like many might think, but the finished result can be extremely pleasing. If you haven't already invested – here are a few reasons why you should before the sun arrives!
It transforms your living space
The popularity of decking in the modern garden cannot be mistaken, one of the reasons for this being because decking can definitely act as an extension to your original living space, so if you feel like your current home is a little claustrophobic or you are lucky enough to have a garden but don't feel it really contributes much to the house, decking can really unite the two, meaning that after it is installed it has transformed a once neglected space into somewhere to sit out and enjoy like you would your living room (weather permitting – of course!) If you are a dab hand at decorating and design, you can choose a decking that is totally natural in colour and decorate it with potted plants or even vegetables – it really doesn't have to look plain or artificial.
The options are endless
Gone are the days where decking was a total novelty and there were only a few options to choose from. Nowadays there are a range of different materials you can choose which, in turn, all come in different colours and textures, so it really is a case of choosing a type that suits your garden and your needs. For example, softwood decking is the most affordable and readily available in the UK. It is a pre-treated type of decking but before purchasing you should carefully consider the product's warranty. A material for decking that is increasing in popularity is the composite decking due to its durability. The tough material is a combination of plastic and wood which does not suffer from shrinkage and swelling like regular timber decking, meaning it will last longer. Once you have decided on your materials, you can decide on the design you want to go for – would you like stairs in your decking? Perhaps you want a totally clean, polished finish or maybe you are imagining something a little more rustic? The choice is totally yours.
It can level uneven ground
Uneven ground in your garden can be a pain, particularly if it makes your grass look odd or patchy or there isn't really a suitable surface for garden furniture or the likes of a barbecue. Installing decking over the top of uneven ground is not an issue and it will create a fabulous flat surface that is really easy to work with, whether that's planting shrubs or entertaining guests. Being built on a structure, decking also has the ability to make use of any awkward spaces that were previously redundant.
It looks amazing when lit
Enjoying your decking in the evening or at night is a must, and there is something quite magical about decking being illuminated against its dark surroundings. It is amazing how much character and atmosphere lighting the outside of your home can create and as well as creating the ideal setting, many decking lights turn on automatically meaning they also act as the perfect security measure. Recessed lighting is a great option as the lights will literally sit level with the surface of your deck so no unnecessary decoration or overcrowding of the deck will occur.