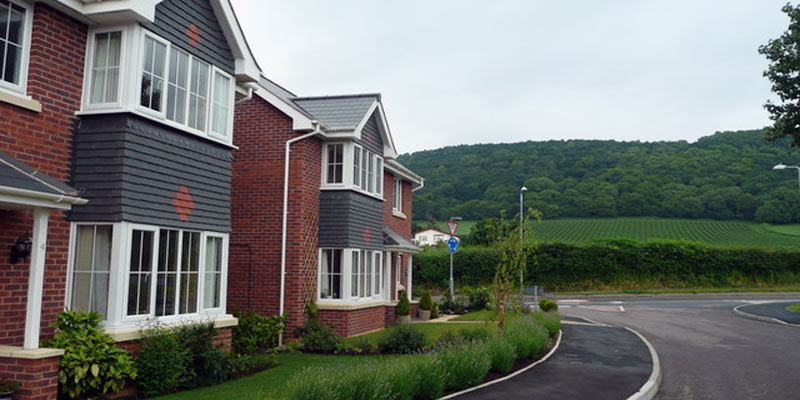 Soon, the UK will be home to a huge increase of garden villages and towns (these are new communities built on brownfield land and surrounded by greenery).
With millions of pounds in funding going towards the construction of nearly 20 new sites, how will this rise in homeowners and private outdoor spaces affect future gardening trends in the UK?
How to describe a garden village
There are several features of a garden village. Essentially, a garden village is:
Made up of between 1,500 and 10,000 houses.
Part of a single, self-contained community.
Typically surrounded by a lot of green land.
Establishing their own identities is an important part of a garden village. Usually, garden villages have their own schools, shops and transport stations; which makes this type of living space perfect for families and first-time buyers looking to lead the picture-perfect life.
The government plans to give £6 million towards funding 14 new garden villages and a further £1.4 million to support three new garden towns (similar to garden villages, only larger). Expect to see garden villages across the UK, including: Devon, East Northants, Derbyshire, Lancaster, Cornwall, Lincolnshire, Stratford-on-Avon, Hampshire, Essex, Cumbria, Merseyside, Oxfordshire, Cheshire East, and Runnymede and Surrey Heath. There are also plans to build garden towns in Taunton, Aylesbury, and Harlow and Gilston, which are anticipated to provide an extra 200,000 homes.
The change in garden trends
A growth in garden villages also means a rise in private outdoor spaces and communal areas, not to mention an increase of potential consumers who are looking to decorate their gardens. So, what does this mean for future garden trends? Here are a few to watch out for:
Decked areas
Expect to see more people purchasing composite decking boards for family get-togethers and barbecues. The construction of more garden villages means more people looking to make the outside like home. This, in turn, means more decked areas for people to sit and socialise outside of their houses.
Old-style garden furniture
The future of garden furniture is retro. We'll see more natural, traditional materials — such as teak and rattan — to create a more rustic look, as well as a rise in woven and crochet techniques for the retro effect.
Whirlpools and hot tubs
As more people will be private homeowners with access to gardens, there's likely to be a trend for making the most of these spaces with luxury items, such as hot tubs. These are great additions to any outdoor space, especially if you have a rural view of the surrounding countryside.
Summerhouses
Sun houses are attractive, useful and perfect for creating an extra room for families without having to pay for an expensive house extension — ideal for first-time buyers in new garden villages. Typically, these are small and easy to fit into your garden with enough room for a few chairs and a table to unwind with drinks and food, so these are likely to be a big hit for garden village homeowners.
Exterior illuminations
Spending time in your gardens shouldn't be restricted to daytime. From filling jam jars with twinkling LED fairy lights, to hanging Chinese lanterns between deck posts; illuminating your garden in a creative way is set to be a big spring and summer trend.
Artificial lawns
Having your own garden is likely to be a bonus for many people moving into garden villages. But for others, the idea of maintaining a front and back garden might seem daunting. Therefore, it's predicted that there'll be a rise in demand for artificial grass to make outdoor maintenance easier. If you've decked much of your back garden, you can add colour by creating a small space of artificial grass on the ground level, or putting a full artificial lawn at the front of your home that you don't have to keep weeding and watering.
New garden villages and established communities
Garden villages will provide the country with approximately 50,000 new homes. As a result, we should see a rise in manual work and job opportunities in these regions, which will help to drive money to several parts of the UK. Fortunately, garden villages are built with their own facilities, including schools and general practices, which should also help to create more jobs and facilities in a district.
Although there may be a rise in traffic and an increase in commuters on local buses and trains, the impact of garden village on neighbouring communities appears mainly positive, while the effect on future gardening trends could cause more variety and creativity in the industry.
Sources:
http://www.telegraph.co.uk/news/2017/01/02/new-garden-towns-villages-provide-200000-homes-ease-housing/
http://www.dailymail.co.uk/property/article-4087946/What-garden-village-welcome-one-nearby.html
https://www.thesun.co.uk/news/2517967/garden-villages-towns-what-where-why/
https://www.insidermedia.com/insider/wales/hot-tub-company-doubles-in-size-with-new-showroom
https://www.chesneys.co.uk/outdoor/heat-collection/the-heat-collection-of-barbecue-heaters/heat-500
http://www.telegraph.co.uk/business/2017/09/09/developers-verge-building-fewer-homes/