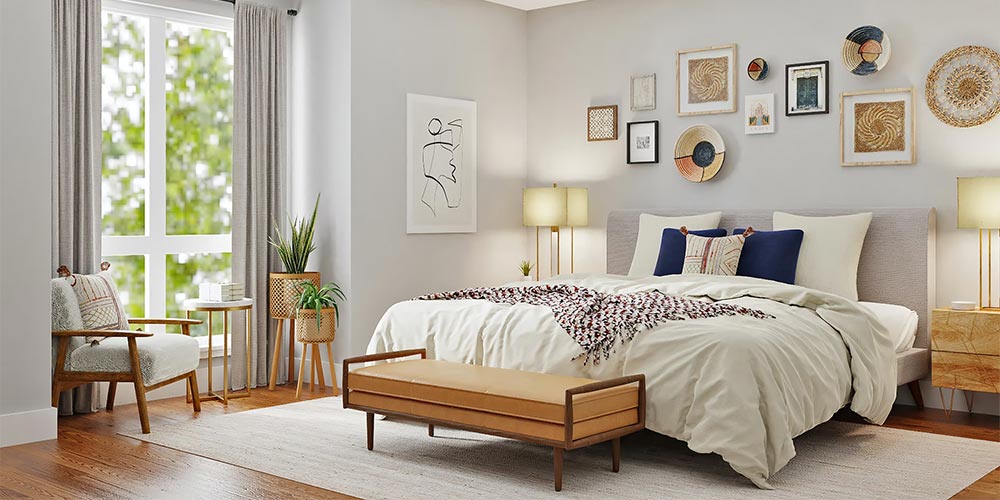 When you're designing your home, it's easy to overlook the bedroom, as it's not a room where you regularly host guests.
Still, the bedroom is a vital part of any home, as it's the room in which you sleep and relax after a busy day.
If you want to turn your drab bedroom into a beautiful space that you can be proud of, then you're in luck: it's easier than you think.
As well as the obvious tricks, such as tidying up and adding more storage solutions, there are other, more inventive ways that you can transform your bedroom, as we discuss in this article.
Add A Signature Wall
A signature wall is a great way to reinvigorate your bedroom's décor without repainting the entire room. By choosing one wall and making it stand out from the rest, you can incorporate darker colours and bolder patterns into your bedroom without making the space too dark and gloomy. For a simple signature wall, you can paint one wall a different colour from the others. If you want to make your space really unique and luxurious, then you could consider using patterned wallpaper to draw the eye to your favourite part of the room.
Whatever colour or style you choose for your signature wall, you need to make sure that the finish is flawless, as the wall will be very noticeable, and any blemishes will detract from it. If you're not confident in your painting and decorating skills, then consider working with 10 Building Maintenance. As a professional decorating company, they can send a dedicated house painter to paint your signature wall and ensure that the result is perfect.
Change The Window Coverings
The window coverings you have in your bedroom could make a major difference to the way you view your space. If your curtains or blinds are old and don't cut out light well, then they could also be hindering your sleep, so you should consider replacing them if you haven't before.
There are many blinds and curtains out there, so you can find an inventive design that suits the design of your room. If you can't find curtains that you like, then you could consider getting some plain curtains and cutting them or dying them a new colour to turn them into the perfect drapes for your bedroom.
Upcycle Old Or Boring Furniture
Plain, flatpack furniture can look boring and make your bedroom look very generic. If you want to personalise your bedroom and turn it into a unique space that you can be proud of, then you could consider upcycling your furniture.
This approach is a much cheaper way to reinvigorate your bedroom furniture without buying bespoke, handmade pieces. There are loads of ways to upcycle your furniture so that you can create something that suits your tastes and is one-of-a-kind.
Turning your bedroom from a purely functional room into a relaxing oasis doesn't have to cost a lot of money or take up loads of your time. Use these tips to help you get some ideas to transform your bedroom.