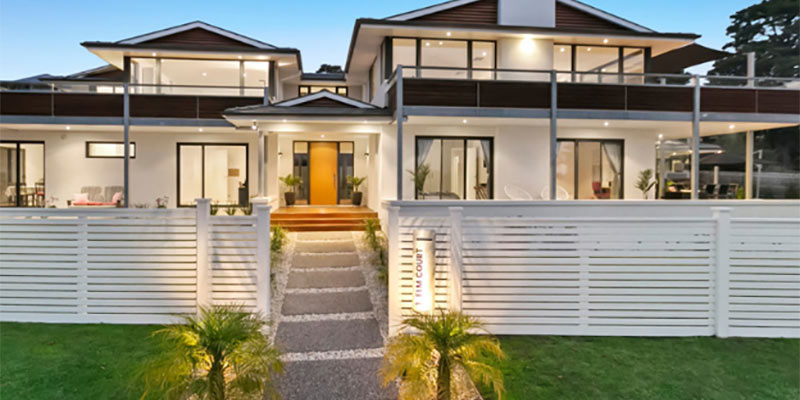 Spring is still a few months away, but it's never too early to start thinking about ways in which you can upgrade your garden and outdoor space. We often think of our gardens as a sanctuary, where we can relax in the quiet of nature and let what we've planted flourish and come to life. Of course, there's always room to upgrade.
While interior design is always evolving, the backyard takes a back seat and has largely stayed consistent in its trends. But in 2019, some fresh ideas are emerging. Here are some of the outdoor trends our Décor Aid's residential interior designers have kept an eye on, and take note of how you can incorporate them into your space for the best presentation possible.
Bold Fencing
Having the freedom to lounge around your yard without pesky neighbors intervening, or being able to let the family dog out without the worry of him escaping is a luxury that you should absolutely indulge in. Fencing is practical and functional, but gives your yard a cleaner look. And while a white picket fence is reliable, it's also pretty predictable. This year, you should think about taking your fencing in a different direction that's bolder and more creative. Look to structures, colors, and styles that are a bit more expressive and represent the style of your family.
Our designers are leaning towards an emerging trend in fencing that combines contrasting neutrals, like white and grey. While the white is clean and minimal, it can get dirty, so contrasting it with grey not only gives it more visual dimension, but aids in keeping it looking tidy.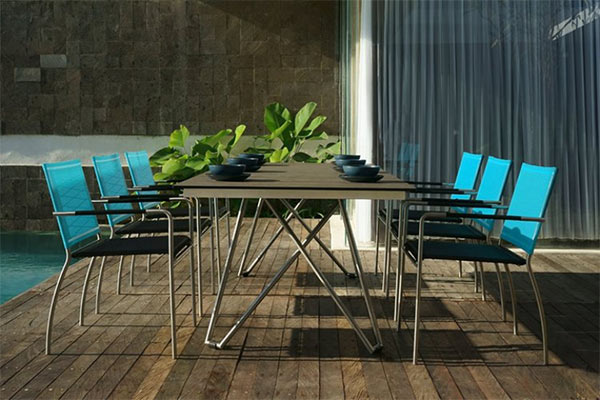 Metallic Furniture
While you'll notice high shine metallic furniture is making waves inside the home, it hadn't quite made its way outside yet. Until now. Homeowners and renters alike are looking to make the most of their outdoor spaces in whatever capacity they may have them, introducing reflective and glossy furniture with a metallic edge to their outdoor gardens. Outdoor chairs, side tables, and dining tables that feature metallic finishes are all finding their way onto the market, and with good reason.
Not only are these pieces stunning on their own, but the reflective nature of these metallics will capture the sunlight and refract it, creating a stunning effect. They'll also add an inarguably elegant and luxe sense to your space, no matter the size or environment.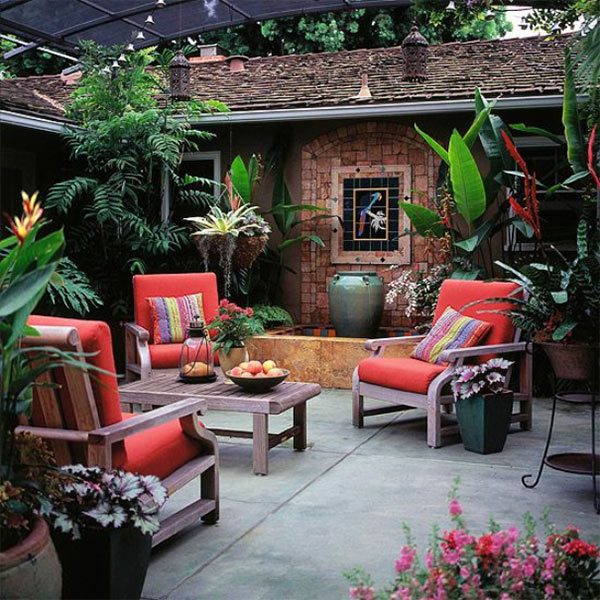 Tropical Influences
No need to take a vacation when you can get that tropical feeling right in your own backyard garden. Look to add some variety to your garden and introduce some tropical inspired plants to the mix. Shades of orange, pink, and yellow, as well as large leafy greens and climbing trees will evoke that same exciting energy that a trip to the Bahamas does.
You can also transform your seating area into a tropical paradise through the inclusion of this same palette. Introduce orange and pink into your pillows or cushions, providing a comfortable arrangement that's also easy on the eyes. Tropical inspired decor can be sprinkled throughout the area, from table lanterns, tiki torches, and other lawn ornamentation. Choose some of these elements on your next garden shopping spree, and you'll feel like you're on an exotic getaway without leaving the yard.