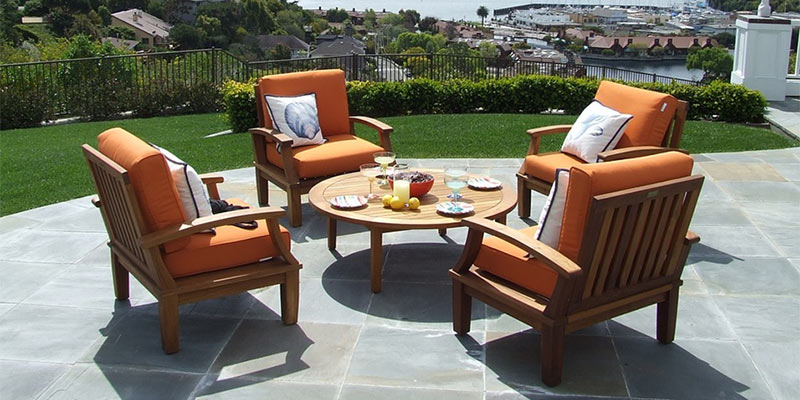 Your garden – a colourful oasis of calm, a place of retreat to and enjoyment, delighting in everything that nature has to offer.
You want it to look fantastic and there are many ways of doing this from plant choices to accessories. But some of these accessories come at a price but seem to offer very little in the way of added value to your garden.
Value is not just financial worth; it is also about adding accessories that add function, practicality and interest to a space. And this is exactly what these low-cost gardening accessories add to your garden.
Relax and Dine with Garden Furniture Perfection
The first investment to make in your garden that adds value to it is garden furniture – but if you think this comes at a high price, there are new products coming to market all the time and price tags are being squeezed in the consumer's favour.
Garden rattan furniture, for example, is stylish, sturdy and durable but is well within budget. Looking resplendent with weather-proof cushions and seating, it is the perfect choice for your garden.
As well as dining sets, the current trend is to think informal lounging in the garden. Just like you do in the interior rooms of your home, designers are suggesting we use the garden as an outside lounge.
Thus, there is an increasing range of fantastic outdoor sofas that add hours of relaxing in the garden much more pleasant and comfortable. With plenty of space in your garden, opt for a fantastic L-shaped rattan sun sofa, complete with matching coffee table.
Or for the must-have up-to-the-minute look, opt for a day bed, complete with shady canopy for when the mid-day sun is at its hottest.
Pops of Colour with Weatherproof Cushions and Rugs
These are at the very bottom end of the price scale but are worth the investment for your garden this summer.
The idea is to use your garden in as many different ways as possible, from lounging and relaxing, to dining and entertaining – and that means buying accessories that make it the ideal outdoor space for you and your family.
We love the idea of weatherproof large 'floor' cushions for the lawn, perfect for adding pops of colours, kids will love these, encouraging them to spend hours in the garden rather than skulking indoors.
As well as floor cushions, take a look at some of the brightly coloured weatherproof rugs that are on offer too. Fantastic for use on the lawn as well as the patio and decking, they can be used just as they would be in an indoor room. Use them to mark out the area by adding a boundary the eye can appreciate, as well as a zing of colour underfoot.
Get Arty with Sculptures
We are not talking plastic resin gnomes or plaster cast ducks but abstract pieces, as well as traditional sculptures that add notes of interest to the garden.
There are some amazing examples of modern, abstract garden sculptures with soft curves and interesting shapes. Or, stick with the traditional and enjoyable shapes of statues for the garden.
Choose heavier materials that contribute to their longevity as well as their ability to withstand all seasons in the garden. Stone is a great material that delightfully weathers over time.
Level the Playing Field with Decking or Patio
Lawned areas are fantastic but they need mowing and when you have a busy work and family life to balance, whipping round the grass once a week becomes a chore.
Cut down on the grassed area with a well-placed, beautifully designed and professionally installed patio. Or, if you garden has undulations, a decked area is perfect for creating a functional and practical level platform.
If they make your garden more usable and versatile, they are a garden accessory that will prove a hit not just with your family, but with potential buyers when you do come to sell.
Add Luminescence Without the Price Tag
In the past, lighting your garden has always meant a professional electrician, along with wiring and special weatherproof and waterproof fuse boxes.
However, lighting is always worth the investment but if the budget won't stretch to a professional sparky and weatherproof gizmos, cast your eye over the latest ranges of solar powered outdoor lighting.
If you still think it is a weak form of lighting that lasts half an hour at sunset, think again. Solar panels and chargers have come on leaps and downs since those dimly lit early days. It is now tough to decide if lighting in a garden is mains powered or solar powered, the technology is now so advanced.
As well as lights with individual solar panels, you can also buy string lights or netting that is perfect for lighting pathways, pergolas or even plants themselves. In a sheltered garden, they can be left out all year but most people keep them neatly packed away, protecting them from the worst of the winter weather.
Which of these ideas will your try?
Rattan Direct have a massive range of outdoor and conservatory rattan furniture, as well as garden accessories that add practicality, function and interest to your garden @RattanDirect