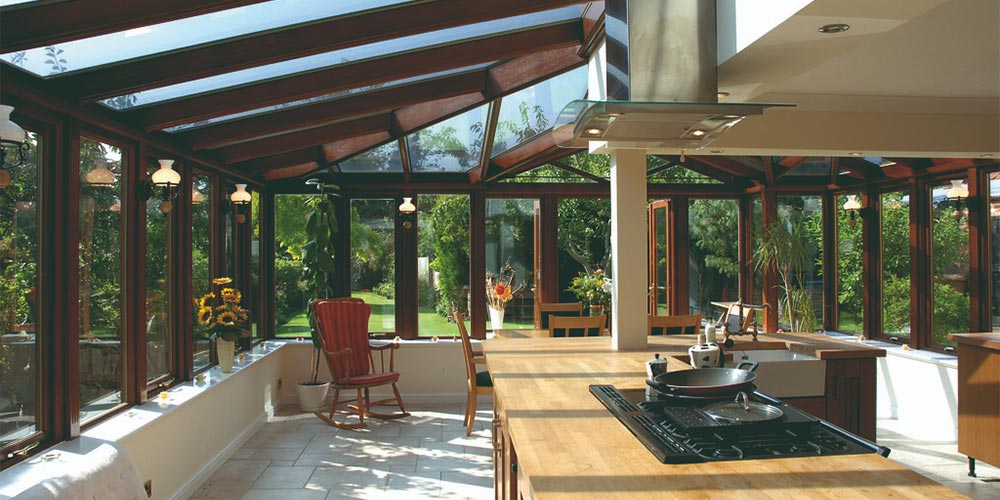 Adding a conservatory to your home is a relatively low-cost way of increasing your living space and adding value to your property. They help you feel more connected to the garden and are a great place to spend time if you want to get more natural light into your daily routine.
However, a conservatory can be an awkward place to style, and it can sometimes be challenging to make it feel like a part of your home.
Here are our top tips to help you transform your conservatory into a welcoming space where you'll want to spend time.
Add Some Colour
Most standard conservatories are a combination of UPVC and glass, neither of which you can do much about. Typically, your conservatory will be built against an external wall, and this can give you a large blank canvas to get creative with. Try adding some bold colours or statement wallpaper to create an attractive focus for the room.
You can also inject some colour through the furniture you choose. Gone are the days when wicker or rattan conservatory furniture was monotone and boring. You can now find lots of exciting new ranges with a wide choice of styles and colour options available.
Get Creative with The Flooring
A conservatory is often a space that connects the garden to your home; as such, it makes sense to use hard-wearing, easy to clean flooring such as tiles. This gives you a great opportunity to add an interesting feature to your conservatory by choosing patterned or coloured floor tiles. Another option is a hard-wearing vinyl which can provide the impression of tiles at a fraction of the cost.
Update Your Conservatory Roof
Many conservatories can be freezing in the winter and too hot in the summer, reducing the amount of time you can enjoy using them. Thankfully it's now a relatively simple process to change your old style conservatory roof with a lightweight solid tiled replacement. Manufacturers such as Direct Roofing Systems can tailor-make replacement roofs, ensuring a perfect fit for any size conservatory.
By updating your roof, you create a room that can be used and enjoyed all year round. The temperature can be easily controlled, meaning that rather than being at the mercy of the seasons, you can use your conservatory as a permanent living space.
Bring the Outside In
Your conservatory is the link between your home and garden, so why not ease the transition by using plants as decoration. There are many house plant specialists that will be able to provide expert advice on which plants will thrive in your conservatory environment.
Image Source: https://www.flickr.com/photos/133418222@N05/17503175864