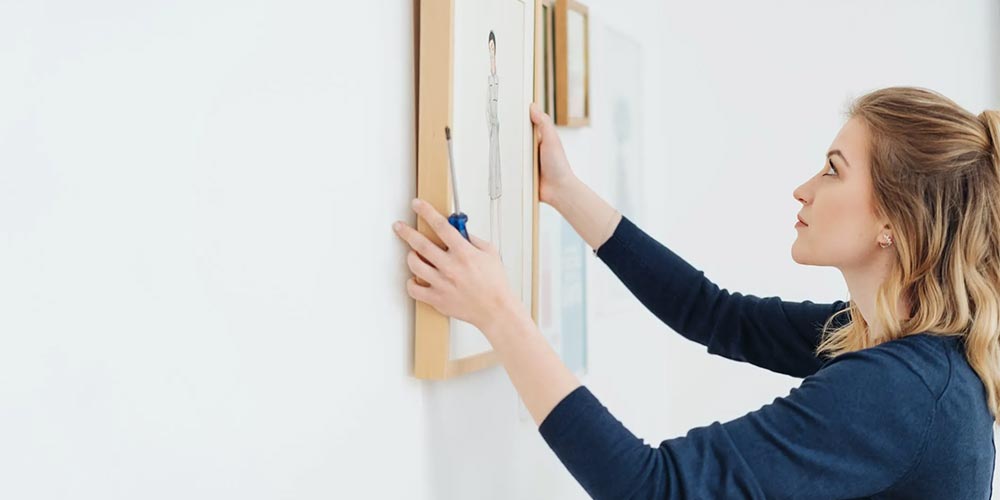 You might think it is hard to stamp your own style into a small space. Whether it's a bathroom, bedroom or compact home office, you might feel your options are limited in terms of decorating your room.
Fortunately, there are plenty of ideas you can use to put your wall space to good use. Maximise your space by bringing your personality to the room, creating a functional living area that's as comfortable as it is stylish.
Install Shelves
Too much clutter can leave a small room feeling disorganised and claustrophobic, so make the most of your wall space by installing shelves to keep loose belongings together.
Use them to keep all your books in one place or position small succulents. Whatever you choose, the practical shelves are a great way of freeing up space.
Shelves are not only just functional, but can also make a great design statement. Floating shelves create visual interest and make a beautiful centrepiece, all while taking up less space than bulky cupboards and drawers.
Invest In A Vertical Radiator
Keep your room feeling both stylish and cosy by fitting a vertical radiator. These highly efficient electrical heaters can warm any small living space, and with their slick contemporary design, they're perfect for maintaining style.
Installing a vertical radiator can not only help you save floor space, but can also help you create an aesthetically pleasing living area. Designer models from Trade Radiators bring a slim modern design, one that allows you to leave your room feeling both spacious and sophisticated.
Hang Up A Wall Mirror
Adding a mirror to any small room creates the illusion of space, and can often make a cramped living area feel much larger and brighter. While the most obvious reason for hanging a mirror may be to check your appearance, it can also be used to reflect light, making a small room feel more spacious.
The various types of wall mirrors come in different styles and sizes, and investing in one is a great method of brightening up your room. Check out this guide to the different types of wall mirrors on the market.
What's more, their attractive design can make a beautiful focal point. A contemporary circular mirror creates a fresh modern look, while a mirror with a vintage frame is perfect for a classic interior.
Add a Wall Lighting Fixture
Wall lighting is a great way to illuminate your small living space. Not only is it highly functional in brightening up a dark room, but it can also create a comforting mood on those dark winter nights.
Installing some ambient lighting adds interest to a bare wall, and it can also make a visually striking design statement. On top of this, a wall lighting fixture can free up some much-needed space, leaving a small living area feeling larger than it actually is.
Maximising Your Wall Space
When it comes to decorating a small room, make the most of your wall space. Adding some practical but stylish features can bring new life to a living space, and leave it feeling both comfortable and refreshingly spacious.