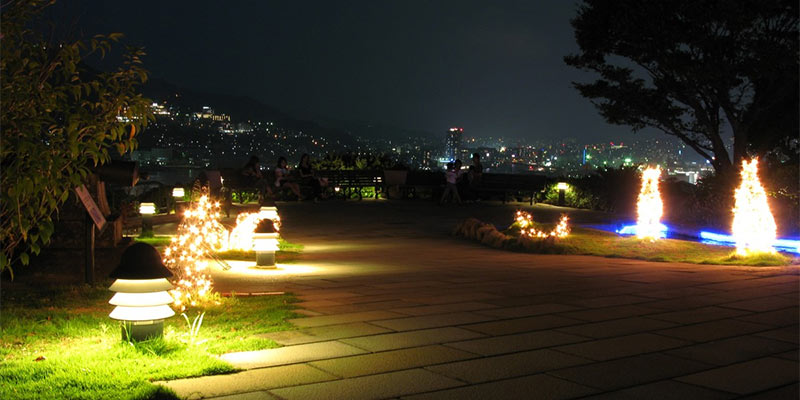 Days end, coming home to your illuminated garden is a welcoming treat. Illumination lends a radiant glow that can be enjoyed anytime of the day. Illuminated Gardens look great in sunlight and are always fascinating at night.
The Beauty
Lighted gardens have a current stylish look. Select the proper lighting for full appreciation of your garden after sunset. Oil Lanterns add glitz and glitter during the day and an ephemeral radiance after sundown. The scenery materializes due to the delicate illumination after dusk and as the flame's sculpted shadow dances against the background. Whether you illuminate your garden from the inside out or cast shadows at dynamic trajectories, landscape illumination brings out the natural beauty of well cultivated garden beds. With the right design you could enhance the beauty of a pool, the majesty of a fountain or a hidden path at night creating specatular lighting effects.
Security
Secure, well-protected garden should be your primary concern. There are many safety precautions that should be taken while arranging your lighting design. All equipment should be tested for weather resistance, this also means the equipment should be waterproof. A well-illuminated garden scene is most inviting. Also consider stairs and paths when lighting your garden. Hundreds of thousands of people visit the emergency room each year in accidents that could have been prevented by well placed landscape lighting. Also if your daytime garden party runs over time, you will never be forced inside. Anyone can solve these outdoor lighting problems, regardless of level of home repair experience.
Styles of Garden Illumination
Up lighting is used for lighting vertical forms such as trees, walls and sculptures. Down lighting mimics natural illumination, this is when a fixture is mounted above and radiated downwards.
Moonlight effects can be created by putting the attachment far above the ground.
Sturdy forms of plants like Yucca or surfaces like a lawn are great for producing shadows.
Spotlighting is applied in moderation to isolate large statues, trees, plants and architectural adornments.
Floodlights produce impressive silhouettes by embracing a huge space with extensive rays of light.
Accent lights are smaller attachments installed near the ground. They are the delicate basis of ornamental illumination nearly everywhere in the garden.
Broad beam angles are used for spreading lighting to illuminate large areas like flowerbeds, lawn spaces, boundaries and shrubs.
Cross technique is used to isolate and emphasize elements such as an urn, archway knotted tree bark and other areas.
Silhouetting method is used to emphasize the contour trees, palms or doorways.
Ideas for illuminating your garden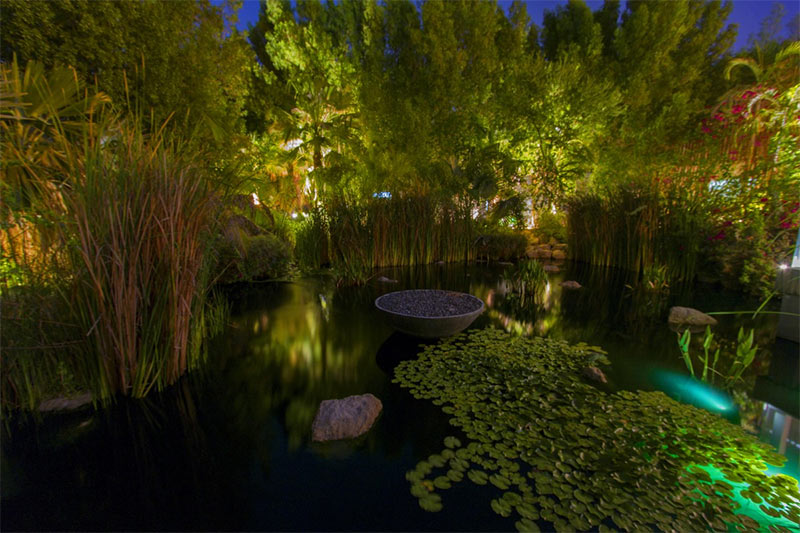 There are a wide variety of attachments and lighting angles that provide an enthralling environment in a dark garden. They are useful in the forefront, in the middle or the background according to your taste. The three primary types of illumination are up lighting, down lighting and side lighting. Use all three for the outcome that best suits your tastes.
Low-voltage lighting is the easiest way to bring lights outdoors. There are kits available that supply everything necessary to complete a job: a weatherproof transformer (this drops your household current form 120 volts to 12), lights and mounting posts, connectors and power cables. The only tools required are a screwdriver, wire stripper, wire nuts, a spade, silicone sealant and a weatherproof outlet cover if one is needed.
Installation is quick and easy if you already have an outside outlet where you plan to install your new lighting system. The outlet should be weatherproof and protected by a Ground-Fault Circuit Interrupter (GFCI). This protects you from a short circuit in damp locations. They are also helpful in protecting your family in bathrooms, kitchens, basements and garages.
Solar landscape lighting fixtures are also popular and easy to install. Just find an aread with enough sun and put the light in the ground. The sun will do the rest!