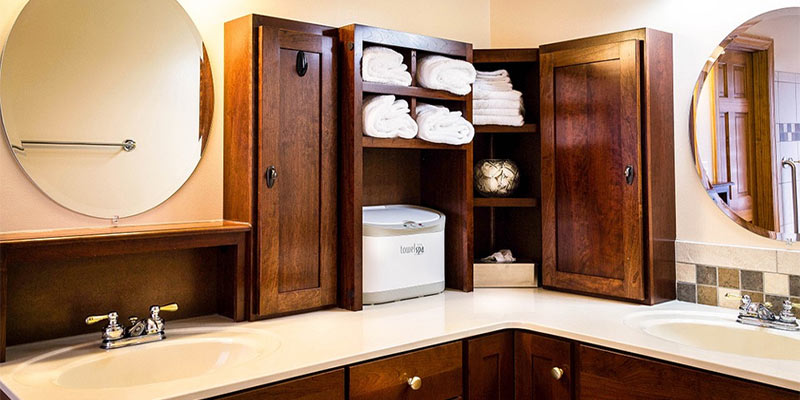 Space often is a major constraint when it comes to bathrooms and toilets. This is all the more true in some big cities of the country where home and apartment rentals are going through the room. However, at the same time, there is no denying the fact that as the size of the family increases and as members of the family grow in size, there certainly would be the need to renovate or give a facelift to your bathroom and toilet. When we talk about such changes we have to bear in mind the cost factor and such things.
If we spend some time and effort and take information and knowledge we can be able to create some of the best bathroom cabinet designs without having to spend a fortune. At the same time, we can have something that is cute and pretty and also something which has great utility value. At the end of the day it should be able to offer you the best value for money.
The Importance Of Being Classical
When planning for refurbishment of bathroom, you could explore the possibility of placing some well thought out woven baskets. They come in different sizes and shapes and it could be a great way to place your fluffy towels. You could save money on cabinetry and could also save storage space which is so valuable. These woven baskets add a touch of class and ethnicity and therefore they do offer very good value for money.
Use Mirror Cum-Cabinet
Instead of having mirrors and cabinet separately, it would be always better to go in for an inbuilt cabinet which is covered by a mirror door. This will help you to keep your toiletries and other things inside and will save big space as far as bathroom and toilet walls are concerned. You also will be able to save money which otherwise you may have spent separately for mirrors and cabinets. This is one of the most cost effective and space-saving options as far as small bathroom cabinet designs are concerned.
Look At Ways To Save Space
You must know how best and how judiciously you can save space. For example if you wish to have a big bathtub you must cut down on the sink space and perhaps even the space for movement. You must find out ways and means by which you can have the best tradeoff possible. You cannot have the cake and eat it too. You must know where to make sacrifices and where to use the space so saved. You may have to take professional help for this.
Make Productive Use Of Windows
In many homes there could be bathrooms with hardly any walls. Hence hanging a mirror could often become a sticky problem. However, there could be an answer to this problem. All that you have to do is to look for a nice window which remains shut almost throughout the year. You could use the same for hanging your mirror and thereby save space and also be ingenuous.
About the Author
Kate Riley is the content editor at All Above Bathroom, Sydney's finest full-service design and renovation firm, specializing in residential & commercial bathroom designs.Find more updated information about bathroom Designs at http://www.aboveallbathrooms.com.au/.